About Women's, Gender, and Sexuality Studies
Broadly, Women's, Gender, and Sexuality Studies is an interdisciplinary field of inquiry analyzing social justice in the structures of power, especially as they are grounded in gender, race, sexuality, ethnicity, nationality, ability, and other inequalities, and as they configure historical and contemporary struggles for social change.
The women and men who enroll in our classes each semester gain the opportunity to understand how social, historical, and psychological forces, organized by the central concept of gender, shape them as individuals; to attain a fuller understanding of human behavior, culture, and society made possible by investigating women's lives; to acquaint themselves with the experience of women of different economic classes, sexual orientations, and cultural and racial backgrounds; and to transfer the critical and analytical skills they acquire in the study of gender and society to other classes, beyond the campus to other activities, and eventually to their professional careers.
Employers today are increasingly aware of gender and diversity issues, and recognize that Women's, Gender, and Sexuality Studies majors are trained to deal with them. Many graduates work in social change and nonprofit helping organizations, where they apply what they have learned to real-life problems. The Women's, Gender, and Sexuality Studies major also provides excellent preparation for transfer into a variety of programs in such areas as Women's Studies, history, sociology, anthropology, psychology, and English, as well as professional training in law, medicine, and social work.
Transfer Preparation
Many colleges and universities offer baccalaureate degrees in this field. Students planning to transfer to a four-year college or university need to know which courses completed at Santa Monica College will be accepted at the specific college/university. Please consult a Counselor. SMC has transfer articulation agreements with the many UC and CSU campuses, as well as many private and out-of-state institutions.
Degrees and Certificates
Associate in Arts Degree for Transfer - Social Justice Studies, Gender Studies

18 units + General Education Requirements
This program involves the understanding of the history, sociology, and politics of women, gender, and sexuality in society. The program examines gender and sexuality-based oppression throughout history, and also the ways in which women have taken power over their lives. Students will better understand the impact of women, gender, and sexuality on various cultures at various times, and evaluate changing social patterns and the effects of institutions and cultural assumptions. The program can lead to a variety of careers, including a community organizer, political lobbyist and political strategist. This degree may also prepare the student for further study at the baccalaureate level.
Note: The Women Studies degree has been converted into Social Justice Studies Associate Degree for Transfer. Current students can still obtain the traditional Women Studies degree as long as they have maintained continuous enrollment at SMC.
Program Level Outcomes
Upon completion of the program, students will:
Exhibit strong academic behaviors, evidenced by their timeliness, regular attendance, participation in class activities, adherence to the College Honor Code, and awareness of their opportunities and obligations as students.

Demonstrate through oral and/or written work knowledge of comparative issues of social, political, and economic position in the workplace, family, cultural institutions, the historical basis of gender-based subordination, the female experience, the male experience, the LGBTQ experience, relations between women, men, and gender non-binary people, intersections of ethnicity/race, class and gender, violence against women, cultural images of women and men, social roles of women and men, and movements for social change.

Demonstrate the ability to evaluate evidence and make compelling arguments that advance a critical analysis of the power relations experienced personally, as well as those that exist more generally in society based on the understanding of the intersectionality of gender/sex, race/ethnicity, class, sexual orientation, age, physical ability, and how these constructs are socially constructed through the economic, political, and cultural structures of society in the United States, as well as globally.
Potential Career Options
---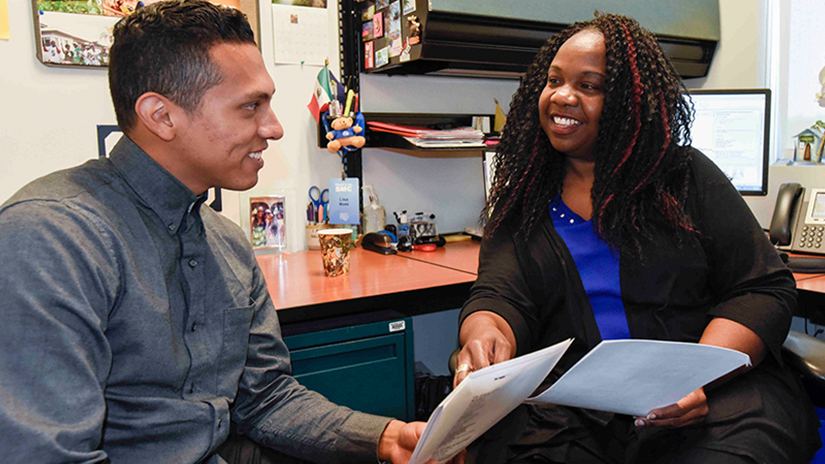 Need help planning for your major?
Our counselors are here to help you plan your academic classes, goals, and needs.
---