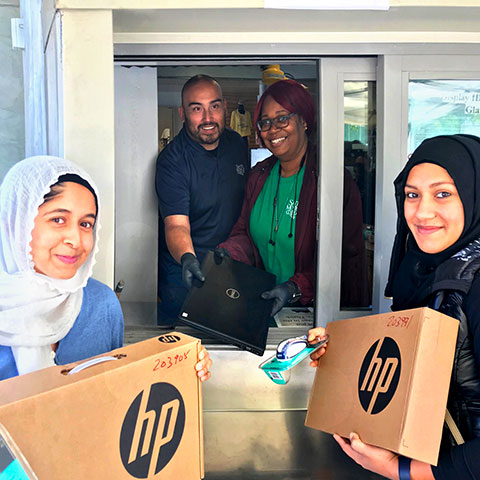 Santa Monica College shifted its classes and student support services to online and other distance learning platforms in early spring to provide continuity while protecting students and employees during the COVID-19 pandemic.
To make sure students and employees have the technology they need, SMC launched a free laptop-lending program.
The college purchased 4,000 11.6-inch Chromebooks that meet the functional requirements for online courses and support services. The laptops can be borrowed on a long-term basis by students who need a computer to continue their education at home, and by instructors, counselors, and others who need up-to-date technology to teach classes and offer special programs and student support services online.
SMC has provided computer and internet access to students for decades through the SMC library and on-campus computer labs. With the campuses closed, the Chromebooks give students who depended on those facilities a way to continue their studies, communicate with their instructors, and meet with their counselors.
"SMC is determined to make the distance learning experience as smooth and equitable as possible for everyone involved," said Nick Mata, Associate Dean of Special Programs. "We consider this part of our mission to support our students as they pursue their education and career goals, and to support our instructors, counselors, and other staff in providing the programs and services our students need and count on receiving from SMC." - Nick Mata, Associate Dean of Special Programs