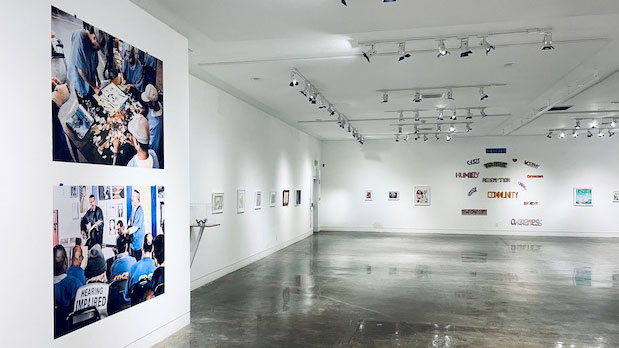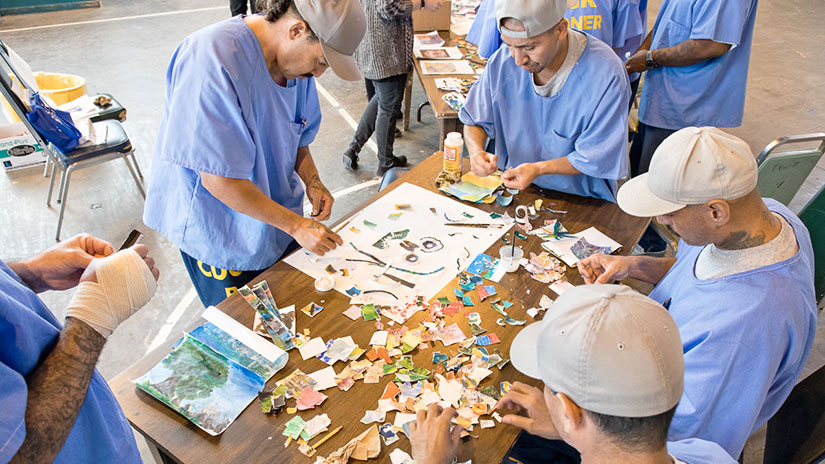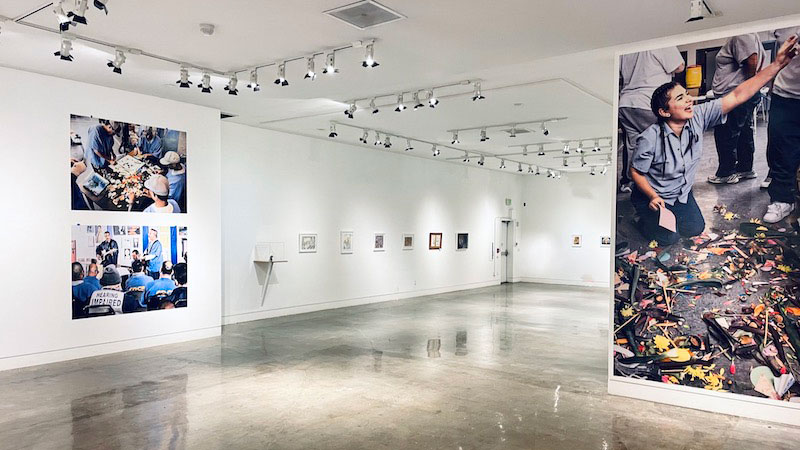 Art + Transformation
An exhibition in conjunction with Prison Art Collective and The Broad Stage's production of Fidelio
January 14 - March 1, 2022
We have all heard the quote "Change is inevitable, Growth is optional." Over the past 2 years we have played this story out over and over, a pandemic, being distanced, displaced, and separated, we have had to rebuild communities, political divides have grown and collectively we have had to lean into different means of communication, coping, and healing. Throughout the Winter and Spring Terms of 2022, the Barrett Gallery will engage SMC and the surrounding community through an exhibition and activation in conjunction with Prison Art Collective exploring the transformative power of the arts. The gallery will become a space for student explorations across departments, workshops for the community, panel discussions and more. We will have the opportunity to take a deep dive into what and how a gallery can act as a conduit for change, growth and discussion.
Prison Arts Collective works to expand access to the transformative power of the arts through collaboration and mutual learning that supports the development of self-expression, reflection, communication, and empathy through providing multidisciplinary arts programming in correctional institutions and the justice-impacted community. This exhibition will include work made by people currently and formerly incarcerated, centered at PAC's mission is the ability for art to transform and change lives for the better.
Throughout this living, growing exhibition Santa Monica students from Art history, Studio Art, Dance and beyond will have the opportunity to respond to the work on the walls through performance, group workshops and course assignments. This exhibition is an opportunity to engage the Santa Monica community at large in dialogue in and around the power of art to transform, the issues of mass incarceration in our society, social justice, healing, along with the ability to build and lean into community for growth and change.
This exhibition is in conjunction with The Broad Stage production of Fidelio, a part of this exhibition will be focused on mass incarceration and the healing and transformative power of art. Prison Art Collective will feature work in different mediums and lead students in a workshop and conversation about the work of people experiencing incarceration.
To learn more about Prison Arts Collective, visit the Prison Arts Collective website for more information about the exhibition and gallery.
Select Programming February 2022
Monday January 24, 31 and February 7, 12 p.m.: Movement and Meditation with Professor Katlyn Greiner.
Join us in the SMC art gallery for 45 mins of calm. Shut off your brain and turn inward by focusing on the union of breath and movement. This series will be an introduction to breath (pranayama in Sanskrit), meditation (dhyana), and movement (asana). A few mats and props will be provided, but please bring your own if you have them.
Tuesday February 8: 10:30 a.m. Empathy @ Center: An Empathy Centered design workshop with Cole James
Empathy @ Center a workshop with artist and Professor Cole James. This workshop explore the idea of empathy through line, space and community. This will be a 2hr workshop with guided prompts, materials included. All work created will be included in the exhibition.
Dance Department Rehearsal 1:30: Throughout the exhibition the Dance department will be moving and interpreting the work and mission of PAC in the Barrett Gallery. Rehearsals are open for public viewing.
Tuesday February 15: 3 p.m. - 6 p.m. PAC Panel and Workshop, Rising panel
Prison Arts Collective (PAC) inviteed Santa Monica College's community and beyond to a creative arts workshop and panel discussion in connection with their exhibition at the Barrett Gallery. The workshop was led by Dominique, John, Robert, and Raúl, experienced teaching artists who are PAC alumni, and offered the public a chance to experience the creativity, reflection, and engagement of a PAC class. The panel discussion, moderated by PAC founder/director Annie Buckley, featureed the four teaching artists and explores how the arts impact individual and communal transformation.
The RISING Program is committed to empowering students with the successful transition into college after incarceration. RISING supports the enrollment, retention, graduation, and transfer of system impacted and formerly incarcerated students and aims to support the academic, social, and emotional well-being of participants by providing services that are focused on access, equity, and inclusion.
Thursday February 17 11:15 a.m.: Breathing Free Screening (Free hour) Art History ART 214 + East Wing
Created against the backdrop of a worldwide racial reckoning, a pandemic ravaging our prison population and the 250th anniversary of Beethoven's birth, this stunning production celebrated Black artistry to convey a dream of justice, equity ... and breathing free. The Broad Stage was proud to introduce the trailblazing Heartbeat Opera to LA with this compelling work, which mingled exhilarating movement with excerpts from Beethoven's Fidelio, Negro Spirituals and songs by Black composers and lyricists Harry T. Burleigh, Florence Price, Langston Hughes, Anthony Davis and Thulani Davis.
In 2018, Heartbeat Opera collaborated with 100 incarcerated singers in six prison choirs to create a contemporary American Fidelio told through the lens of Black Lives Matter. The daring adaptation pitted corruption against courage and hate against hope with imaginative staging. While we hoped to have presented this Fidelio in February 2021, we are grateful to the company for the gift of Breathing Free. We hope this introduction of Heartbeat resonates powerfully, and when it is safe to return to live performance we intend on bringing Fidelio to The Broad Stage for its West Coast Premiere.
-The Broad Stage Learning guide
Tuesday February 22: 1 p.m. - 4 p.m. Self Help Graphics Printmaking workshop
Self Help Graphics & Art Barrio Mobile Art Studio (BMAS) serves our mission to nurture emerging artists and present Latino art to a broad audience, and address the vast demographic that is Los Angeles, while also expanding our audiences and community beyond the East Los Angeles and Boyle Heights communities.
Rising panel (TBD) 5 p.m. Weaving a Narrative: An evening of art and spoken word w/Black Collegians and Rising Program.
A spoken word workshop and RISING members shared their experiences as students at Santa Monica College.
Explored weaving a narrative together. Participants were encouraged to bring an item of clothing to cut and transform into a collaborative quilt/wall hanging.
Thursday February 24: 11:15 a.m. - 12:30 p.m. Co-Directors Heartbeat Opera + Fidelio Discussion.
The team behind Heartbeat Opera and Fidelio in a panel discussion around the process of building their productions.