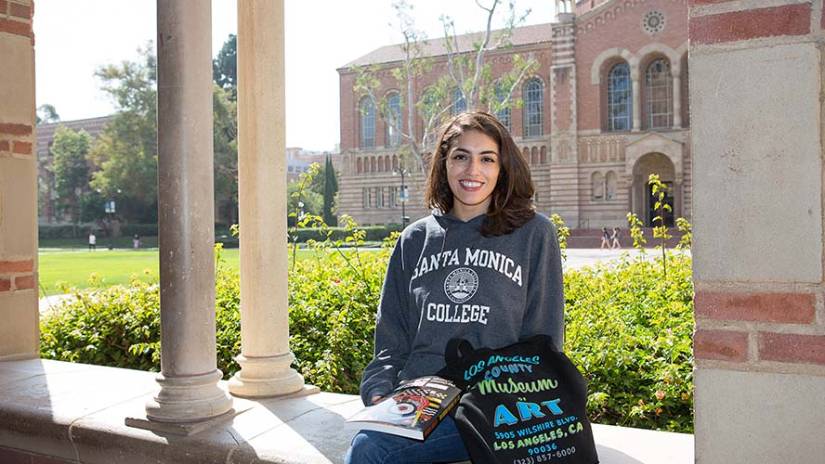 Looking at Santa Monica College alumna Jackie Lopez today, you'd never guess how steep her climb has been. A UCLA scholarship student majoring in anthropology and minoring in art history, this adventurous young woman spent August in Portugal, excavating a 4th century basilica. She participated in the prestigious Mellon Summer Academy, an intensive pre-professional experience for college students exploring museum careers.
The summer academy, in turn, was Jackie's springboard to the Mellon Undergraduate Curatorial Fellowship, which she began mid-September. The two-year position at the Los Angeles County Museum of Art (LACMA) has her being mentored by Dr. Stephen Little, the distinguished museum professional who heads LACMA's world-class Chinese and Korean art collection. It comes with a $10,000 annual stipend, plus summer housing and professional development support.
To understand how remarkable all that is, let's hit the rewind button.
The Courage to Try Again
Born and raised in South Central, Jackie can't remember a time when she felt confident. Between her Mexican dad and Salvadoran mom, she grew up straddling cultures. After her parents divorced, Jackie's mom, Ana, supported the family as a hotel housekeeper.
"I felt a huge weight on my shoulders to provide a better future for us," says Jackie, the only one in her family to finish high school.
A B-average student at Manual Arts High, Jackie didn't consider four-year colleges. "I was completely insecure and too freaked out by the financial-aid process to even apply," she recalls.
She tentatively enrolled at SMC in 2010, only to belly-flop. Math was a problem—she'd always hated it and regularly ditched class in high school. At SMC, she tested into pre-algebra.
As old friends left for UC campuses, Jackie grew despondent.
"I felt lesser," she says. "Like there was something wrong with me." Soon she was battling anxiety and depression. Some mornings, she dissolved into tears on her hour-long bus ride to Santa Monica. After a year of earning mostly D's, F's and incompletes, she enrolled closer to home at a Los Angeles community college. At first she flourished, earning A's and B's in Mandarin Chinese and history. But it didn't last. The crying episodes returned, and by spring 2012, Jackie stopped attending classes.
"That was rock-bottom," she recalls. "I was afraid to leave the house. I basically was a shut-in. I also developed an undiagnosed form of OCD. I had rituals around cleaning and cleanliness."
She never sought counseling or medical help. "I just decided to crawl into a little cave in my room and just hang out there for a while," she says.
Two years passed.
Then in late 2014, Jackie found the courage to try again.
Baby Steps—and a 'Random' Decision
Nothing too ambitious. She signed up to volunteer at the L.A. County Natural History Museum.
"It was a good baby-step," she says, "close to home, and just three hours a week." Training to be a certified gallery interpreter brought Jackie back into the classroom, which she found "really inspiring and moving."
By fall 2015, she felt confident enough to apply for a paid job as a survey-taker at Universal Studios theme park. Working the graveyard shift during Halloween Horror Nights was exhausting but exhilarating. She made new friends with coworkers. Most were actors and entertainment industry wannabees—including her boyfriend, Rob Pardini, an aspiring screenwriter who now works in post-production at a Burbank studio. When a coworker mentioned wanting to sign up for classes at SMC, Jackie tagged along. At the registrar's office, she impulsively enrolled in a course called "Methods of Archaeology."
That random decision changed her life.
The course instructor, SMC Archaeology Program director Brandon Lewis, would become "a mentor and a dear friend." She took more anthropology courses. Her grades skyrocketed; even math became tolerable. When Brandon invited Jackie on a summer dig in Freixo, Portugal, she went. Twice.
Last fall, she enrolled in Walter Meyer's "Art History 1." Affectionately known as "Caves to Cathedrals," the survey course covers art from the paleolithic to gothic periods.
Walter noticed Jackie right away. She was one of the students who always sat in front, raised her hand, asked questions after class.
"I was blown away," says the art history chair, "by the way she approached school with such fierce determination."
So when Walter informed the class—as he does every year—about an opportunity to apply for the Mellon Summer Academy, he wasn't surprised to see Jackie show up at the information session he'd organized. Jackie listened intently as LACMA coordinator of curatorial fellowships Hilary Walter and SMC alumna Iman Al-Almani, a 2018 summer academy participant, described the program. To build a culturally diverse pipeline of future museum leaders, the Mellon Summer Academy has supported hundreds of underrepresented students since its inception in 2013. A 2018 demographic study found that intellectual leadership in American museums is currently 80 percent white, in stark imbalance with urban populations.
LACMA is one of six major encyclopedic museums participating in the Mellon Foundation-sponsored program. The others are the Museum of Fine Arts, Houston; Philadelphia Museum of Art; High Museum of Art in Atlanta; Nelson-Atkins Museum of Art in Kansas City and the Art Institute of Chicago. SMC has placed a student in LACMA's summer academy every year. In 2019, two were selected: Jackie and classmate Nasir Sajdah, now an art history major at UC Berkeley. But Jackie is the first Corsair to make it to the next level.
Each museum awards two summer academy students to return in the fall as Mellon Undergraduate Curatorial Fellows. Jackie was one of LACMA's picks.
A Fiery Transformation
The insecure shut-in had become a brainy ball-of-fire. "I've never been a better student," says the SMC graduate, who earned her Associate's Degree with honors, finished with a 3.7 GPA, and got admissions offers from UC Berkeley and UCLA. She credits Adelante counselor Paul Jimenez with keeping her on track while juggling a busy schedule.
For the past two years, Jackie has held down a part-time job at the Griffith Observatory. Last month, she and Rob celebrated their third anniversary as a couple. With the stipend through her LACMA fellowship, they could finally afford to get their own apartment in North Hollywood.
At UCLA, Jackie has already landed a work-study job and an internship.
She is not overconfident. Being paired with Stephen Little in the Chinese and Korean Art department won't be easy.
"I don't know anything about Asian art," she admits, though her two semesters of Mandarin may help. "It's going to be a steep learning curve. But I'm excited about the curatorial part and how it ties in with archaeology."
Jackie got a preview in the Mellon Summer Academy when she and four teammates created a virtual exhibition around LACMA's fabled Marjorie and Leonard Vernon Collection. She knew little about art photography going in—certainly less than her peers, most of whom were art history majors, some from elite schools like Smith College, UCLA and USC. But Jackie brought other important skills to the mix. Like the time she pointed out how including a photograph of an abandoned Native American settlement in an installation focused on otherworldly, magical spaces amounted to offensive cultural stereotyping.
"My team members were like: 'Oh, you're right! We should make this a talking-point.' They were looking at the lines and the way light plays in spaces, and I was thinking as an anthropologist," Jackie says.
More such anthropological thinking would be welcome in museums, according to Walter Meyer.
"The art world is so dominated by whiteness," he says. "Getting alternate voices to spearhead change is important for the discipline of art history, and it's smart for museums to connect with increasingly diverse populations."
You're More Formidable Than You Think
Jackie is amazed by what she's accomplished.
"Back in 2013, I was afraid to leave my house," she says. "Now I'm going on trips abroad for a month!"
She isn't sure what the future holds. More field work in archaeology. Perhaps a graduate degree. For now, she's excited to be studying at UCLA and meeting regularly with her LACMA mentors. She can't wait for next summer, when she'll work full-time on her own curatorial projects and mentor the next crop of Mellon Summer Academy students.
In November, she'll return to SMC to rally Walter Meyer's students to apply for the program. To them, she's already a celebrity: one of the "amazing alumni" he showcases on the first day of his Caves to Cathedrals course.
Being a role model is important to Jackie. She has a message for "all the first-generation kids, the Mexican and Salvadoran and Central-American diaspora, the dropouts, women of color, people with depression and anxiety, kids from South Central and older students and anyone else that needs to hear it," she says.
"I want to encourage them to keep fighting! I'm out here representando a la patria and doing my best to advocate for us all. If I can do it, you can do it better. You're more formidable than you think!"
* * *