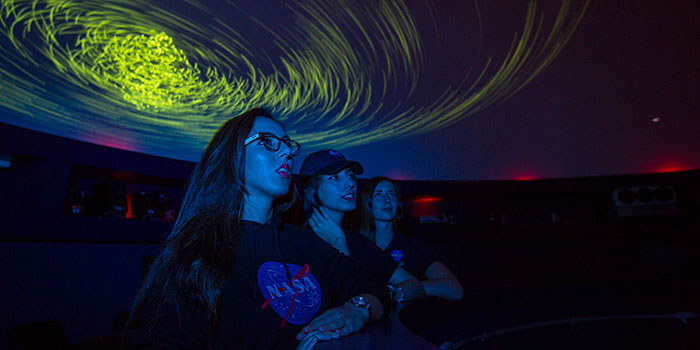 SMC NASA MC3I- MUREP
Santa Monica College is one of four community colleges nationwide to receive the NASA's Minority University Research and Education Project (MUREP) and Community College Curriculum Improvement (MC3I) grant. The grant provides SMC support for three years to provide training for professors teaching Science, Technology, Engineering and Mathematics (STEM) courses, expand STEM course offerings at the college, and provide internships at our partnering institutions the NASA Jet Propulsion Laboratory, UCLA & USC.
Contact
Cyndi Bendezú Palomino- NASA Project Manager
NASAMUREP@ smc.edu
310-434-4059
Location and Hours
Drescher Hall 301E
Monday-Friday: 9 a.m. - 4 p.m.
SMC Jet Propulsion Laboratory - NASA Summer Internship

Perform research during a paid internship with the SMC/NASA-JPL Summer internship program. This program provides MC3I Santa Monica College students full-time summer internship opportunities at JPL to underrepresented students pursuing undergraduate or graduate degrees in science, technology, engineering, and mathematics disciplines.
SMC Student Eligibility Requirements
JPL-SMC Interns will be paid stipends around $6,000 for the summer
All applicants must be U.S. citizens
Must be enrolled SMC student (high school students are not eligible)
All applicants must be full-time students, sophomore or higher
All applicants must have a cumulative GPA of 3.0 or higher
You are committing to a ten-week paid internship program. Transportation and lodging will not be provided.
Start of Internship: June 2019
End of Internship: August 2019
How to Apply
You must complete all three applications below by the stated deadline.
Log Into Your SMC Google Apps
The SMC-JPL Application is live.
Complete the following three applications:
All Applications Due Tuesday, December 11, 2018, by 12 p.m.
Feel free to use the JPL Resume Template as part of your application.
All internships have a stipend, with the exception of SIRI (independent study course credit)*
MSP – Maximizing Student Potential in STEM
SIP – Summer Internship Program
YIP – Year-Round Internship Program
SURF – Summer Undergraduate Research Fellowship
NASA Internships, Fellowships, and Scholarships (NIFS)
NCAS – NASA Community College Aerospace Scholars
SIRI – Student Independent Research Internships*
Events

Laurie Barge, PhD, Guest Lecture
NASA Mars Reconnaissance Orbiter
Tuesday December 5, 2017
11 - 11:30 a.m.: STEM PhD Pipeline
11:45 a.m. - 12:45 p.m.: Mars Reconnaissance Orbiter
Science 157