Not On Our Campus: No Hate SMC Campaign
Report Bias on LiveSafe Report Hate to 211 LA County
Services
24/7 emotional support line: 800-691-6003
Coronavirus is Not an Excuse for Discrimination
As SMC's Superintendent/President Dr. Kathryn E. Jeffery reminded us in a March 6 memo, this college is committed to inclusivity and diversity, and SMC prohibits unlawful discrimination and harassment in any arena of college life. The fear and panic around the coronavirus have led to a spike in xenophobic, racist and discriminatory behavior, especially against individuals of Asian descent.
According to the Center for Diseases Control & Prevention (CDC), diseases can make anyone sick regardless of their race or ethnicity. This means those in the SMC community who are of Asian descent are not more likely to get COVID 19.
Remember: There is no excuse for racism.
Students, Staff, and Faculty: Make the Pledge
Make the Pledge Today: No Hate at SMC
SMC Students, Staff, and Faculty Who Made the Pledge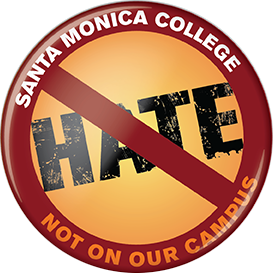 "I pledge to speak up and to speak out against all forms of hate, bias, bigotry, discrimination, harassment, and bullying. I will not tolerate intolerance based on race, ethnicity, national origin, immigration status, sexuality, gender, religion, ability, age, or socio-economic status. I will work together with my community and my peers to create a more inclusive and safe campus community that celebrates the power of diversity."
Complaints & Reporting Centers
Guides
Helpful Articles
Videos
Past Events
2020 Webinars
Demonstrating Care for Black Employees (USC Race & Equity Center): June 4, 12 p.m.
"Chinese Virus:" Why Anti-Asian Racism is So Contagious
USC Race and Equity Center & USC Asian Pacific American Student Services
Thursday, May 28, 11 a.m. - 12:15 p.m.
A Townhall on Redefining Safety and Security in the time of Coronavirus/COVID-19
April 25 at 3 p.m.
Racial Equity in Online Environments (PDF Flyer) April 23 at 12-1:30 p.m.
Inglewood Morning Sessions Film Screening
Tuesday, April 16, 5-7 p.m. at Science 151
Film screening and Q A with SMC Campus Police, Black Collegians and the film director Jay Gerren.
Eradicating Stereotypes Discussion
Thursday, April 18, 11:15 a.m. - 12:35 p.m. on the quad
With Title IX associates.
Tuesday, November 6, 2019
11:15 a.m. - 1 p.m.
In Front of the Library
Cookies
NOOC No Hate Button Giveaway
Health and Wellness Booth
Proud to Be Banner Signing: Why I am proud to be SMC?
Taking the NOOC Pledge
Student Speakers:
Isabel Rodriguez
Alexa Benavente
11:15 a.m. - 1 p.m.
In Front of the Library
Cookies
NOOC No Hate Button Giveaway
Health and Wellness Booth
Proud to Be Banner Signing: Why I am proud to be SMC?
Taking the NOOC Pledge
Student Speakers:

Isabel Rodriguez
Alexa Benavente
Wednesday, November 7, 2019
11:15 a.m. - 1 p.m.
In Front of the Library
Cookies
NOOC No Hate Button Giveaway
Health and Wellness Booth
Proud to Be Banner Signing: Why I am proud to be SMC?
Taking the NOOC Pledge
After Election - Faculty Discussion
Thursday, November 8, 2019
11:15 a.m. - 1 p.m.
In Front of the Library
Cookies
NOOC No Hate Button Giveaway
Health and Wellness Booth
Proud to Be Banner Signing: Why I am proud to be SMC?
Taking the NOOC Pledge
Speakers
Building a Bridge activity
Resources