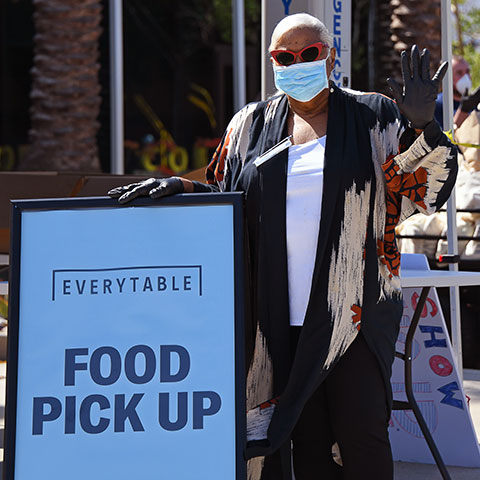 Santa Monica College started a weekly drive-thru pop-up pantry in April 2020 to serve students who are food insecure. The drive-thru pantry was designed as an alternative to on-campus food resources inaccessible to students due to campus closures during the COVID-19 crisis.
SMC Superintendent/President Dr. Kathryn E. Jeffery (pictured) said that the college's goal is to ensure that students know, and feel, that SMC is here to support them. "It is hard for students to focus on classes when they are hungry!"
At the first drive-thru pantry, 250 bags of non-perishable food items and groceries from Westside Food Bank and SMC's donor-supported food closets were handed out, along with 500 meals from social enterprise Everytable, and delicious cupcakes from The Butter End Cakery.
"To see the smiles and sometimes tears on our students' faces when they realized how much food they were putting in their cars… it was heartwarming," said SMC Director of Health & Wellbeing Dr. Susan Fila, who oversees the college's food security programs.
SMC has one of the most comprehensive college food security programs in the nation. It includes 10 food closets, a centralized food pantry with refrigeration for fresh produce from the college's weekly farmers market and meals donated by Everytable in lieu of rent; a meal voucher program sponsored by SMC's Associated Students; and a partnership with CalFresh to sign up eligible students to receive benefits. SMC's food security programs are supported through partnerships with organizations like Westside Food Bank and Food Forward, grants from the California Community Colleges Chancellor's Office and other sources, and donations through the SMC Foundation.