Empathy is Everything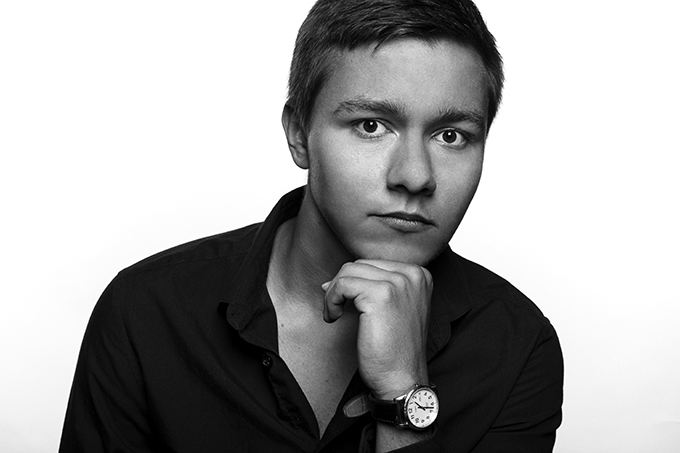 One of Alex Kierlanczyk's most vivid memories is of the day his father took him to a flea market. He was three. Of all things, Kierlanczyk asked for an old transistor radio. He later took it apart and sat in awe.
That passion for technology grew but as he got older, Kierlanczyk realized that there was something missing: a human element. After high school, he was accepted into the University of Illinois as a computer science major, where he came to terms with his identity as a gay man. Unhappy with the deep-seated masculine culture he experienced there, Kierlanczyk left to go where his heart was calling him: California, and arrived at Santa Monica College.
"I immediately fell in love with the campus and its culture," says Kierlanczyk. While he continued to struggle with his newfound identity, he says he was finally able to find "his place" among peers who embraced and accepted him.
Kierlanczyk would be deeply influenced by SMC President Chui L. Tsang, who came to speak at an Alpha Gamma Sigma meeting. Finding parallels in his life story and Tsang's – community college student, being a transplant, and so on - he asked the college president what formed him the most as a person.
"He went on for ten minutes about how he worked in a liquor store in Berkeley when he was going to school at UC Berkeley," recalls Kierlanczyk. "…and how he had to adjust his preconceived notions of people and his sense of empathy to deal with all the kinds of characters who came to the store."
If a dude like this is leading the college – this must be a special place, thought Kierlanczyk and shortly thereafter, he joined the President's Ambassadors, a select group of students who represent the college president and the institution at community functions and campus events.
Kierlanczyk has since contributed to a research team at UCLA which designed and developed a shoe-integrated sensing system to identify gait patterns in glaucoma patients, and also worked for a startup in Silicon Beach. His own startup – Optiup! – a community of individuals interested in psychology and self-improvement, has grown to almost 4,000 Instagram followers. At SMC, Kierlanczyk also found the human element missing in technology by experiencing what he calls "the best of humanity": diversity.
"Working with classmates from all walks of life, I not only gained a greater appreciation for the world, but for all the people in it," says Kierlanczyk. "I learned that leading is not commanding, but working directly with the hearts of others."
Sitting in SMC Professor Lisa Farwell's psychology class, Kierlanczyk found a name for the language to articulate the missing human element he had so long found absent in technology: empathy.
His goal today – also inspired by his Buddhist beliefs – is to instill a humanistic-centered core into technological design, to counteract what he calls "addictive, psychological reward" systems that exist in many apps and platforms today. He hopes to transfer to a premier four-year engineering program where he can dive deep into the fields of psychology, cognitive science and computer science to create standardized, ethical Application Programming Interfaces (APIs) that allow users to engage with technology without compromising the altruistic nature that exists in them. He graduates from SMC with an Associate Degree in General Science.
Beyond creating technology that will bring out the best in humanity, Alex Kierlanczyk has one simple goal.
"My goal in life is to love, understand and help as many people as I can," he says.
---
Help Support SMC Student Scholarships!
Please consider making a contribution by visiting the Santa Monica College Foundation to support the student scholarship program!