Giving Back to the Community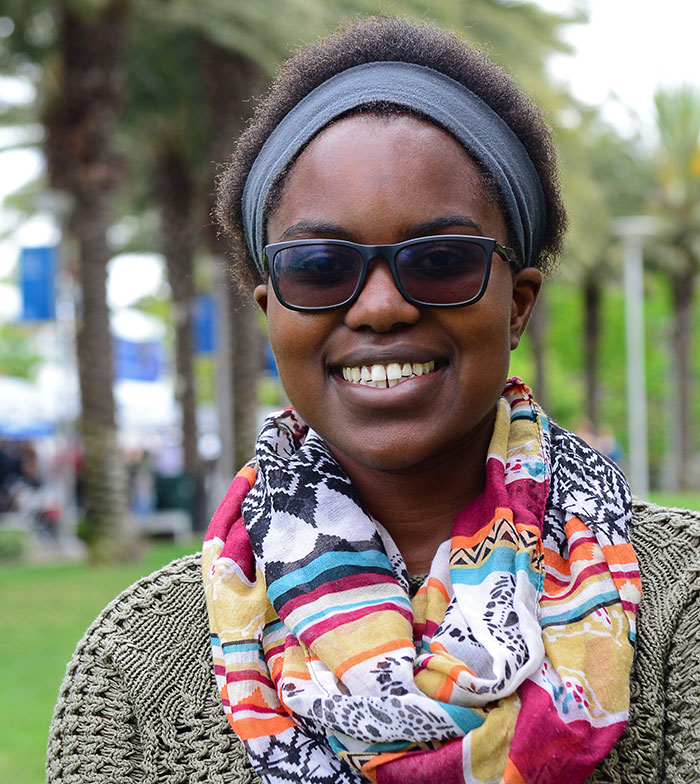 Born in Nairobi, Tamara Mmbuka was 6 years old when she immigrated with her mother and sister to the United States. She returned to Kenya in high school to connect with her heritage, then came back to the U.S., where she faced many financial challenges to continuing her education. Her mom encouraged her to attend SMC, and it did not disappoint. "I remember the first day, thinking this is a good decision." Tamara recalls the moment she decided to become a science major.
"I was watching National Geographic," she says, "and they were talking about the lotus effect and materials engineering. I thought, 'I definitely need that in my life.'" Tamara is active in SMC's STEM programs for science, technology, engineering and math majors on campus. Last year, she was accepted as an engineering intern in the Autonomous Systems Engineering Academy Program, which provides underrepresented, disadvantaged students with the opportunity to conduct research through internships and fellowships. "Tamara is bright, dedicated, and poised to make great contributions to the engineering field," says STEM counselor Jose Cue. "She is passionate about learning and civic engagement. She will be a great inspiration and role model to future students." Tamara was also selected for the renowned CCCP peer-mentoring program at UCLA, which introduces community college students to peer mentors who are current UCLA students. She enjoyed the "network of people who were willing to not only share, but also understood the difficulties that I faced as a female minority in STEM." This summer, Tamara will be a Dale Ride intern in Washington, D.C. She will be working on STEM research and funding policies with U.S. Representative Katherine Clark.
Despite her challenges, Tamara thrives academically and personally, and has never given up. Unable to transfer last year due to financial constraints, Tamara stayed another year at SMC, and asked, "How can I give back to SMC the way it's given back to me?" She is a STEM tutor helping students with chemistry, math, and physics, and also a supplemental instructor for a science-based English literature course.
From the get-go, it was really important to me to have a program for my major where people were always open and welcoming. "I'm going to miss the family I made here." Tamara graduates with an Associate degree in General Science, and plans to major in chemistry/materials science at UCLA. She hopes to work at the intersection of science and public policy.
---
Help Support SMC Student Scholarships!
Please consider making a contribution by visiting the Santa Monica College Foundation to support the student scholarship program!