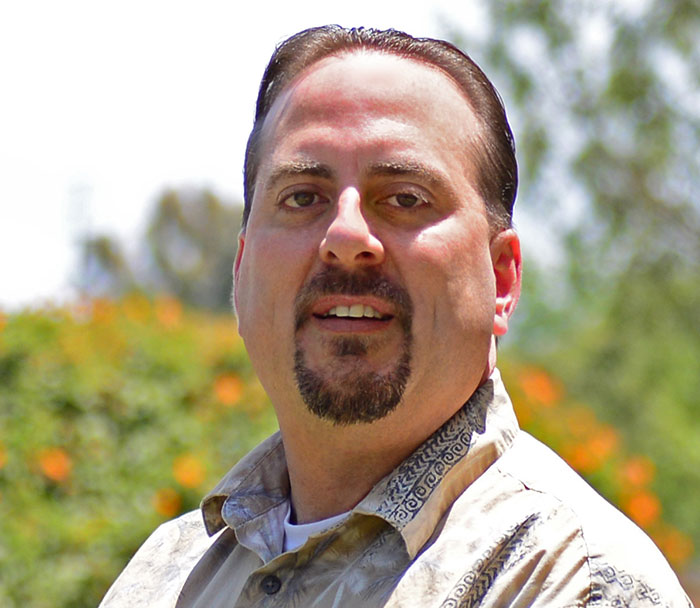 Finishing What You Started
Matthew Seifert, now in his late 40s, is a returning adult student who first attended SMC in the late 1980s, then came back in 2016.
"I grew up in Mar Vista," said Matt. "My dad was a pastor for a conservative Lutheran group. He and my mom moved to California from a small town in Minnesota, where my dad had finished the seminary and asked to be transferred to a warmer climate for health reasons, as he and his brothers were constantly sick, and his brother nearly died from pneumonia complications."
Matt's first job was in the church. "I wanted to help," he said, "but I told my dad I didn't want to do 'church work.'" So Matt found himself—along with his brothers—cleaning the church's schoolrooms and taking care of its acre-sized garden. He had also studied piano since he was 4, and so at age 10, "I became the church musician," he said, putting his skills to work playing the church's pipe organ.
Matt had always been interested in business. He saw the potential in real estate, and an older friend and mentor to him encouraged him to stop wasting money on buying new cars and, instead, to start with buying a house. So, at age 20, "We pulled funds together every way we could to buy a house in Sylmar," he says. He also embarked on a career in law enforcement, which he worked in for more than a decade and a half.
After leaving law enforcement, Matt focused on his real estate business, and for a while, life was good. However, he had undergone surgery to fix one of his knees when he was 13, then the other as a young adult, but still has problems with both of them. He also has two compressed discs in his back, and trouble with his vision. He had a radial keratotomy performed on his eyes to correct myopia, but over time, the surgery has created its own set of problems. "My vision is degenerating from the cuts made in the cornea," he said, "and even the specialists at Jules Stein can't do anything about it except give me eye drops."
Then the Great Recession hit, and real estate crashed. "Things got really difficult for us," Matt said. "Our properties lost their value, renters stopped paying the rents, we had bills we couldn't pay, and with my disabilities on top of it, it was just too much." The strain took its toll on him and his family, and his wife was pressured by her family to leave him.
Through it all, Matt relied on his faith to get him through. "Nothing can take my faith from me," he said.
Matt and his wife have since reconciled, and they were able to save their home. He says that these days he is managing a few properties, but mostly "taking a break for a while to set up my home to take care of my mother, because my dad recently passed away." He is also enjoying being a stay-at-home dad to a teenager and twin tweens. "I know the stay-at-home-dad thing is not the culture, but that is a stigma that really has to go away," he said. "My kids are happy. They're spiritually and emotionally happy, they do great in school, and they would rather hang out at home on Friday nights than just about anything."
In 2016, Matt found himself enrolling at SMC again, this time determined to finish and earn the degree he set out to attain nearly three decades ago. The Center for Students with Disabilities (DSPS) worked with him to accommodate his disabilities—especially his deteriorating vision—and made arrangements for a family member to take notes for him in class. "Leticia Montoya was really great in getting all this arranged," said Matt. "I'm also really grateful to my counselor, Robin Ramsdell, who inspired me to move forward and persevere whenever I had my doubts."
With a 4.0 grade point average since he returned to SMC to complete the last 25% of his required classes, Matt will graduate with honors and an Associate degree in Liberal Arts - Social & Behavioral Science. He plans to achieve a Bachelor degree in business with an emphasis in finance or accounting through the CSU online program.
---
Help Support SMC Student Scholarships!
Please consider making a contribution by visiting the Santa Monica College Foundation to support the student scholarship program!