Note: This information was provided at the time of print for the class schedule. For the latest information, visit Parking.
---
Transportation at Santa Monica College
Students attending SMC have many options to get to campus without driving alone. Visit smc.edu/transportation to learn about the transportation services and choices available at SMC. Use SMC's personalized trip planner corsaircommute.com to explore your all options (bike, walk, transit, carpool, and car) on one screen. It includes costs, time, route maps, calories burned and CO2.
Parking
Parking Permits
All vehicles parked on SMC property must have a valid virtual parking permit. All vehicles without a valid virtual permit will be ticketed. NOTE: Motorcycles, electric vehicles, and vehicles with handicapped placards/hang tags are NOT exempt.
Virtual parking permits for the main SMC campus, Center for Media and Design (CMD), and the Performing Arts Center (PAC) can be purchased online at smc.edu/parking or in-person at the Cashier's Office (cash or check only in person). Parking at the Bundy and Airport Arts campuses is free, but a virtual permit is REQUIRED and may be obtained at smc.edu/parking.
Parking Costs
Paid virtual parking permits are valid for parking at all campuses (main, PAC, CMD, and Bundy), but the free Bundy permit is valid ONLY for Bundy and Airport Arts. Parking is enforced Monday – Thursday,
7 a.m. – 10 p.m. and Friday, 7 a.m. – 12 p.m.
Main SMC Campus
Cost: $93.50 fall/spring, $49.50 summer/winter
Directions: Students can park in Structures 2, 3 & 4.
– Enter structure 2 from Pico at 18th
– Enter structures 3 and 4 from Pico at 16th
Center for Media and Design
Cost: $93.50 fall/spring, $49.50 summer/winter
Directions: Enter on Pennsylvania Ave.
Performing Arts Center
Cost: $93.50 fall/spring, $49.50 summer/winter
Directions: Enter at 1310 11th St. or at Santa Monica Blvd., and 11th St.
Bundy & Airport Arts Campuses
Cost: Free, Bundy permit required
Directions: Enter at 3171 S. Bundy Dr., Los Angeles
FREE Parking at Bundy and Airport Arts Campuses
Avoid the cost of parking and the frustrations of finding a spot at SMC's main campus by parking for FREE at the Bundy or Airport Arts campus. Then take one of the frequent FREE buses or shuttles to main campus. Free parking permits are required and can be obtained at smc.edu/parking.
The Airport Arts campus is within walking distance of the Bundy campus.
Additional public transit connecting SMC's Bundy campus and main campus includes the Big Blue Bus Line 14 on Bundy Drive. This line connects to the Bundy Metro Expo Station and Line 7 on Pico Blvd, which stops at SMC's main campus, located at 1900 Pico Blvd.
All satellite campuses are accessible by Big Blue Bus or Lyft Shared. Visit smc.edu/shuttles for details.
Visitor Parking: Visitor parking for the main campus is available in Parking Structure 2 for $11 for 8 hours from time of purchase. Purchase visitor parking passes at the kiosks located in the Student Services Center and/or by the Business Building. All students and visitors are expected to follow SMC's parking rules and regulations.
Street Parking: Residential and street parking is restricted on weekdays, weekends, and evenings. When parking in the area, please read all street signs carefully. PLEASE BE COURTEOUS TO OUR NEIGHBORS at all times by keeping the volume of your sound system, conversations, and other noise to a minimum.
Accessible Parking: The display of a DMV accessible placard (or plate) AND an SMC permit entitle you to park in any accessible, student, or staff parking space.
Car Alarms: Because car alarms are disruptive to other students and our neighbors, cars with activated alarms in the SMC parking areas will be TOWED IMMEDIATELY at YOUR expense.
Motorcycle and Moped Parking: Students are required to purchase a parking permit each semester at smc.edu/parking. Motorcycles and mopeds may be parked ONLY in specially designated areas of Structure 2, Structure 3, and Lot 5.
The SMC Bike Park, located on Pearl Street (near the Media Center and Math Complex), provides 400 bike spaces, 60 skateboard parking slots, a DIY repair station, and a hydration station. Additional bike racks are located by the ESL building at the southwest corner of campus, at both ends of the Science Complex, and near the Business building, Parking Structure 3, and Art Complex. Bicycles may be parked ONLY in designated areas.
The use of skateboards, hoverboards, roller skates, or roller blades is prohibited on campus.
Transit Guide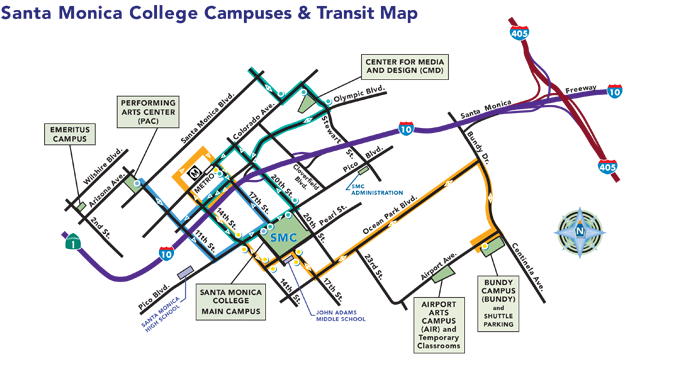 Satellite campus parking and connecting shuttles are free for students and staff with SMC ID.
Route #43 in green connects Metro Rail, main SMC campus, and the Center for Media and Design (CMD).
Route #44 in orange connects Metro Rail, main SMC campus, and Bundy Campus.
Routes #41 in red and #42 in gray connect the Metro Rail, main SMC campus, and Performing Arts Center (PAC).
For more information and schedules go to: smc.edu/transportation
Expo Train
SMC stops at Bundy, Bergamont, and 17th and Colorado.

12-minute walk to main campus, Performing Arts Center, or Center for Media and Design.

BBB shuttles to campus.

Discount student pass available online ($43/mo).

Transfer to Expo from Big Blue Bus for only $.50 using TAP card from SMC Campus Store.
Big Blue Bus
Ride Any Line, Any Time at no extra cost.

Pay your A.S. fees each semester and activate your SMC student I.D.

Main SMC Campus is served by BBB lines 7, 7R, 8, 16, 41, 42, 43, 44, and Metro's Expo train at 17th Street Station and Colorado. Note: BBB line 7 has extended to Wilshire and Western. It used to stop at Rimpau. R10 midday service has been discontinued.

Bundy/Airport Campuses are served by BBB lines: 14, 44, and Metro's Expo train at Bundy Station.

Performing Arts Center is served by BBB lines 1, 2, 10R, 41, 42, and 44, and Metro's Expo train at 17th Street Station.

Center for Media and Design is served by BBB lines 5, 16, and 43, and Metro's Expo train at Bergamot Station.

Emeritus Campus is served by BBB lines 1, 2, 3, 5, 7, 7R, 8, 9, 10R, 18, and Metro's Expo train at 4th Street Station, as well as Metro buses 4, 33, 534, 704, 733.

50¢ Transfers to Metro or other transit agency:

Pick up a special TAP card (available at the SMC Campus Store for $1). Load value, then use it to board a BBB for free. Transfer for 50¢ onto a Metro train/bus (or other transit agency that accepts TAP).
FREE rides to satellite campuses
Ride BBB free between SMC's main campus and satellite campuses (Bundy, Airport Arts, Performing Arts Center, and Center for Media and Design) during the day.

After 6 p.m., use Lyft Shared to get between satellite campuses and main campus for free. Visit smc.edu/transportation for current Lyft code.

Park at Bundy Campus for free and ride BBB to the main campus.
Carpool/Vanpool & Ride Hailing
Use "Pool" version of ride hailing when possible.

For UberPOOL discounts use uberpoolsmc2016 (up to $20) or SMC2017 for Lyft Line.

Pickup / Drop-off at Pico and 19th ONLY on main campus.

Match drivers and riders for inexpensive commutes at wazecarpool.com.

Find SMC carpool matches at commute.smc.edu

Vanpool matching at vride.com.
Apps
Always know when the next bus or train is coming. Real-time arrival data, closest stops, and fastest options.

Try Transit App, Go LA , Google Maps, NextBus.
corsaircommute.com
Plan your commute with this free tool.

See all the ways to get to campus by bus, train, carpool, bike, or foot.

Find a carpool match, and figure out what's fastest and how much it costs. Learn how many calories will be burned or CO2 created.
Breeze Bike Share
Rental bikes located at every campus.

Become a member or rent by the hour. Special SMC rates at santamonicabikeshare.com. ($7/mo for 90 mins per day).

Mobile app helps find the closest bike and station.
Bike Repair
FREE bike repairs offered during club hours – Tue and Thu by SMC Bike Club.

Free bike maintenance support available at bikerowave.org repair shop on Venice and Centinela. A perk for paying your A.S. fees.

DIY bike repair stands, pumps, and tools available 24/7 at Pearl Street Bike Lot.
E-Scooters & e-bikes
Uber, Lyft, Lime, and Jump offer scooters and bikes all over town.

Do not ride on sidewalks or on campus.

Do not park anywhere that blocks access.
Safety Escort Service
Your safety is a key element to quality education. To protect members of the SMC community, the College provides students, staff, and faculty attending evening sessions with walking escorts within the area bounded by Delaware Street, 21st Street, Ocean Park Boulevard, and 14th Street.
The FREE service is provided Monday through Thursday, from 7 p.m. to 10:30 p.m.
To request a walking escort, simply dial 4300 from any telephone on campus. An SMC escort will meet you anywhere within the service area and walk you to your destination.
Relevant Telephone Numbers
Parking Information

310-434-4608

Center for Students With Disabilities

310-434-4265

Cashier's Office

310-434-4664

College Police

310-434-4608 or 310-434-4300

Safety Escort Service (from campus phone)

4300

College Police – General Information

310-434-4608
SMC Locations
Main Campus
1900 Pico Boulevard, Santa Monica, CA 90405
Center for Media and Design (CMD)
1660 Stewart Street, Santa Monica, CA 90404
District Offices
2714 Pico Boulevard, Santa Monica, CA 90405
Airport Arts Campus (AIR)
2800 Airport Avenue, Santa Monica, CA 90405
Bundy Campus (BUNDY)
3171 S. Bundy Drive, Los Angeles, CA 90066
Emeritus Campus (EC)
1227 2nd Street, Santa Monica, CA 90401
Performing Arts Center (PAC)
1310 11th Street, Santa Monica, CA 90401
Additional Class Locations
John Adams Middle School
2425 16th Street, Santa Monica, CA 90405
Santa Monica High School
601 Pico Boulevard, Santa Monica, CA 90405