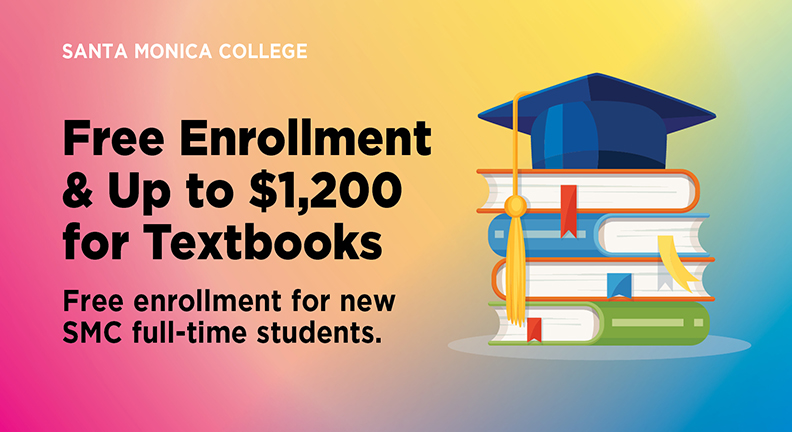 Santa Monica College Promise Perks
Free Enrollment & Fees
New full-time students (12 units or more per semester) who just graduated from high school anywhere in California are eligible for free enrollment in classes (a value of up to $2,300 based on current fees); and

Free Student ID card, free Associated Students membership, and free health fee!
Up to $1,200 Textbook Vouchers
SMC wants to help you offset the high cost of textbooks to help YOU achieve your academic goals by providing you textbook vouchers (if eligible for the California College Promise Grant). Textbook vouchers may be used at the SMC Bookstore only during the times noted.
Summer: $100 to use June 3 – July 12

Fall: $500 to use August 12 – October 25

Winter: $100 to use December 9 – January 10

Spring: $500 to use February 3 – April 24
Related content: SMC Partners with OpenStax to Increase Use of Free Textbooks on Campus
Priority Enrollment
Get access to early enrollment once you become eligible for the SMC Promise!
Who is Eligible?
You are a California resident or an AB 540 student.

You graduated from any public or private California high school in 2019 and are directly attending SMC as a first-year student.

You will take and complete 12 units or more in fall and spring. A "W" does not count as part of the 12 completed units.

Winter and summer sessions are optional. However, if you would like to use SMC Promise to pay enrollment fees or to get a textbook voucher, you must take at least 12 units (this is not an error; state law currently requires 12 units). You can, of course, enroll in fewer units and just pay out-of-pocket or through other aid, if you qualify.

Eligible students with disabilities may be approved for fewer than 12 units as a reasonable accommodation. Contact the Center for Students with Disabilities in Room SSC-155 at 310-434-4265 for more information.

To qualify during your second year of school, you must complete 12 units in Fall and Spring in your first year.
How to Get Started
All the steps below are required:
Only eligible students will see Promise Program information when logging into Corsair Connect. Once you accept the award by the stated deadline, you will qualify for the terms noted (see below).
Deadline to Accept SMC Promise
Note you only need to accept the SMC Promise once. You will automatically be eligible for the award for the terms noted below so long as you apply by the deadline and meet all eligibility requirements.
July 1: For Summer, Fall, Winter, and Spring
September 8: For Fall, Winter, and Spring
January 19: For Winter and Spring
March 1: For Spring
Contact
For questions about the SMC Promise, contact the Welcome Center: 310-434-8101.
Enrollment Fees to be Paid by SMC Promise
Under the Promise Program, SMC will pay for your classes, your Associated Students membership, health, and student ID fees! As an SMC Promise student, you do not need to pay your fees when you enroll and you will not be dropped for nonpayment. Your fees will be paid to your SMC account so long as you maintain your eligibility AFTER the term has ended:
Summer 2019: August 12

Fall 2019: December 18

Winter 2020: February 14

Spring 2020: June 17
Get Your Student ID Card for Free
Once you meet all of the SMC Promise eligibility requirements, go to the Cashier's Office in the Student Services Center to get you free Student ID card. This will allow you to ride the Big Blue Bus for free.
Academic Counseling Support
Santa Monica College Promise students will receive ongoing academic support from counselors in the Welcome Center Welcome Center or any counseling program the student may be a part of. For each semester, a minimum of at least one meeting with a counselor is highly recommended.