Got Questions?
We are here to help you. Expand the options below for details. Scroll to the bottom of the page for more options.
Hours of Operation
Admissions & Records will be open to students from 8:00am - 5:00pm from Tuesday April 12th, 2022 through Thursday April 14th, 2022.
Remote Availability through QLess
Monday 8:30 a.m. - 4:30 p.m.
Tuesday 8:30 a.m. - 6 p.m.
Wednesday 8:30 a.m. - 6 p.m.
Thursday 8 a.m. - 4 p.m.
Friday 8 a.m. - 12:30 p.m.
Add yourself to the "line" for a 3-7 minute session
We'll send you a text message to alert you when we are ready
We'll call you at the number provided
In-Person Services
Monday 8:30 a.m. - 4:30 p.m.
Tuesday 8:30 a.m. - 6 p.m.
Wednesday 8:30 a.m. - 6 p.m.
Thursday 8:10 a.m. - 4 p.m.
Friday Closed
Students must be cleared for on-campus visits by submitting proof of vaccination in advance. Information may be found at this link – Proof of Vaccination
Students must submit the daily COVID 19 screening found in the SMC Go App or at this link – COVID 19 Screening
Email or Call
Best for questions and for processing petitions, forms, documents, or something requiring investigation. Submit all documents as a single file in PDF format. Please leave a message if a team member cannot answer, including your ID number, full name, and a detailed description of the issue you are calling about.
HS Concurrent Enrollment applications and questions: concurrentenrollment@smc.edu | ph:

310-434-3522

Residency and AB540 questions, questionnaire, and proofs: residency@smc.edu | ph:

310-434-4461

or

310-434-4595

| Request a Zoom Meeting with a Residency Specialist using Meeting ID#:

847 441 4445

Enrollment Verification of any type: verification@smc.edu​
Graduation and Evaluations: TranscriptEvaluator@smc.edu
Contact your assigned evaluator based on your last name or program RN, RC, IxD):
B, I, N, S, T: warren_clarence@smc.edu
E, G, M, Q, U, Z: chambers_nicholas@smc.edu
C, D, K, O, V: pant_poonam@smc.edu
F, H, P, R, Y: stevenson_jr@smc.edu
A, J, L, W, X: soliman_febe@smc.edu
RN, RC, IxD programs:

ruezga_estela@smc.edu
Counselors Are Available
Counselors can assist you with issues such as degree requirements, selecting courses, obtaining prerequisite waivers, and evaluating your transfer coursework.
Workshops
Check back for future workshop dates!
Chat with Pearl or Watch FAQ "How to Videos"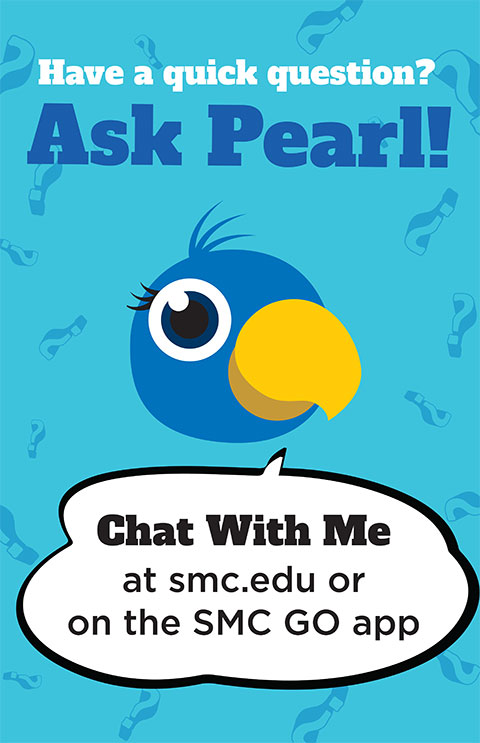 Ask Pearl your questions--click the red circle at the bottom and select "Ask a Question"


Check our expanding library of "How to Videos" showing you how to apply, enroll, add or drop a class, use Corsair Connect, etc.