June 27, 2015
Celebrate America 2015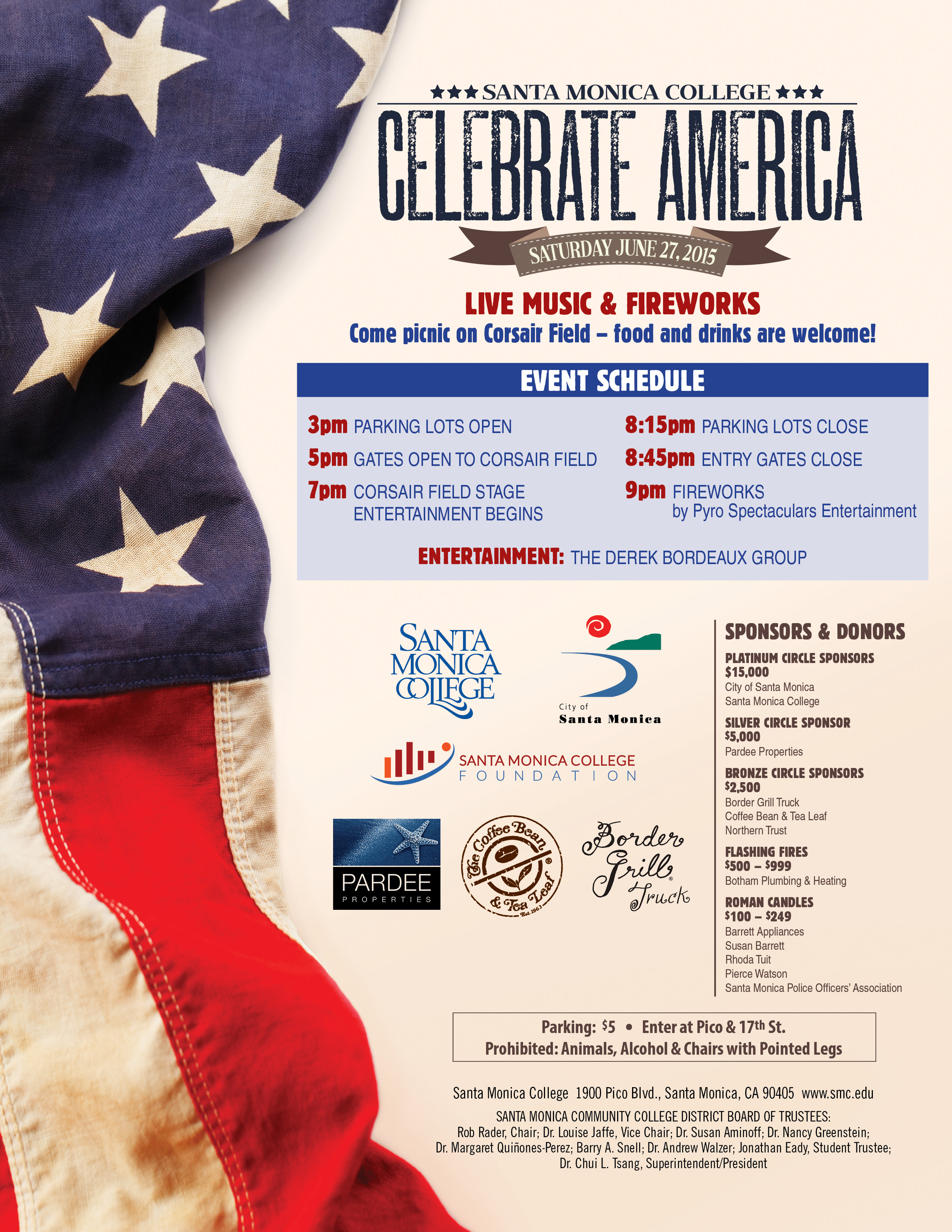 Don't miss the FREE spectacular fireworks and entertainment of "Celebrate America" – Santa Monica College's popular star-spangled salute to our nation's independence – to be held Saturday, June 27.
The celebration – the only one of its kind in Santa Monica – will feature a dazzling fireworks show by Rialto-based Pyro Spectaculars. Entertainment includes the popular Derek Bordeaux Group playing a mix of Motown classics, Jazz, R&B, and Blues standards, with Eddie Jauregui as Master of Ceremonies.
Held on Corsair Field, the festivities will also feature community service booths, food trucks – including the popular Border Grill Truck® – and food booths operated by Coffee Bean & Tea Leaf®, the SMC Veterans' Center, Big King®, and Kettle Corn and Stuff. Picnicking is welcome, but alcoholic beverages, glass containers, barbecues, fireworks (including sparklers), and chairs with pointed legs are prohibited. SMC is a smoke-free campus and ALL smoking is prohibited.
Gates open at 5 p.m., with entertainment at 7 p.m. and the fireworks at 9 p.m. The event is FREE (donations are welcome), and parking is just $5.
For more information, send email to COOK_VINESSA@smc.edu or call (310) 434-3143.
Presenting sponsors of the event are Santa Monica College and the City of Santa Monica. The event's sponsors include Pardee Properties, Border Grill Truck®, Coffee Bean & Tea Leaf®, Northern Trust Corporation, and Bourget Brothers Building Materials.