May 12th, 2016
JJ Castillo and Virginia Gustafson Named 2015-16 SMC Student Athletes of the Year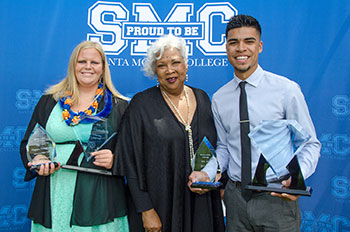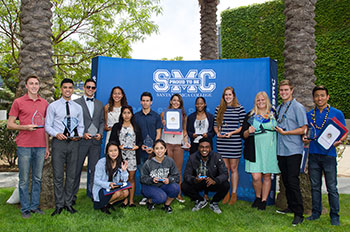 Santa Monica College (SMC) students JJ Castillo and Virginia Gustafson have been named the top 2015-16 Student Athletes of the Year. Both will receive $1,000 scholarships from the Associated Students of SMC.
Castillo and Gustafson are two of 17 outstanding SMC students selected as 2015-16 Student Athletes of the Year in their individual sports. All the student athletes were chosen as much for their academic achievement as their athletic talent and perseverance.
The awards to the diverse group of students were presented May 12 at the annual awards ceremony sponsored by the SMC General Advisory Board (a community support group), the Associated Students of SMC, Sonki Hong, Nat Trives, and Kathleen Benjamin. The awards luncheon also honored SMC alum Gary Avrech, who will be completing his two-year term as GAB President.
The 17 students are:
Erron Vaughn, Men's Basketball
Erron Vaughn was always told by his mom, "If you're going to be a student athlete, being a student always comes first." He came to SMC to focus on academics, while continuing to play the sport he loves on the SMC Men's Basketball team. He enjoys facing challenges and overcoming obstacles in the classroom and on the court, and has always looked out for his peers, lending a hand when help was needed. Erron considers SMC the start of where he wants to be: working as a scientist in the field of Environmental Science, and playing basketball in his free time.
Oshaela Gray, Women's Basketball
Oshaela Gray, from Los Angeles, has been playing basketball since she was 5 years old, started taking the sport seriously when she was 8, and has played competitively ever since. She has been a member of the SMC Women's Basketball team for two years, and has made the all-conference team twice. Oshaela's goal is to earn a Master's degree in Kinesiology and begin a career as a physical therapist.
David Berry, Men's Cross Country
David Berry, raised by his parents and grandparents, was introduced by his cousin to cross country running, and decided to join the team at Venice High School. After making the varsity team, David went on to help his school finish 5th at the city finals. On the SMC Men's Cross Country team, he has qualified twice for state finals as an individual, and worked with his team to qualify in Fresno as a team. After college, David hopes to make animated films.
Sandra Ignacio, Women's Cross-Country
Sandra Ignacio, born in Mexico and raised in Los Angeles, began running competitively in high school, and hopes to qualify for the Boston Marathon. At SMC, she made it to state finals both cross country seasons, won 2nd place for the relay team in track, became captain of the SMC Women's Cross Country team, and was twice named MVP. She plans to earn her Bachelor's degree in Psychology from UC Santa Cruz and focus her work on athletes.
Max Lyons, Men's Football
Max Lyons, one of six children raised by his mother in a single-parent home, grew up playing basketball and football, but decided to focus on football after high school. He joined the SMC Football team, was named Defensive Player of the Year in the conference, and helped SMC to an 11-0 record, the only undefeated team in the state. Max also coaches basketball and football at the Baldwin Hills Recreational Center. His goal is to transfer to a university and go on to play in the NFL.
JJ Castillo, Men's Soccer & Men's Athlete of the Year
Men's Athlete of the Year JJ Castillo moved from the Palm Springs area to attend SMC because of its soccer team and incredible transfer rate. A volunteer for the nonprofit mentoring program Generations of the Future, JJ has proved himself both on the field and in the classroom. He became captain of the SMC Men's Soccer team, and led the team to the most wins in school history, the fewest losses in school history, and a trip to the playoffs. JJ was awarded a scholarship to play soccer at CSU San Marcos, and plans to earn a degree in Business.
Brittney Chow, Women's Soccer
Brittney Chow began playing soccer when she was 5 years old. She is an active member of the SMC Women's Soccer team, which made it to the playoffs both seasons, and she received an Honorable Mention in the Fall 2015 season. Brittney's goal is to transfer to a university and continue to play soccer while earning a degree. She plans to become a physical therapist, work with athletes to help them fulfill their dreams of playing collegiate sports, and eventually own a physical therapy clinic.
Savannah Swan, Women's Softball
Savannah Swan, born and raised in Texas, began playing softball at the age of 7. Softball motivated her throughout high school, and she came to SMC for the great transfer rate and the opportunity to better her game. She joined the SMC Women's Softball team, where she has been a starter for 2 years, became team captain, and played first base, pitcher, and outfield positions. Savannah plans to transfer to UCLA or UC San Diego, earn a Bachelor's and possibly higher degree, and work in the field of Psychology.
Zhen Ren Teo, Men's Swimming
Zhen Ren Teo, who began swimming competitively at 7, came from Singapore last fall to attend SMC and major in economics. He has posted the fastest times in the state for multiple freestyle events, been the 2016 WSC Pentathlon overall champion, and broken four meet records in the 50y fly and 100y freestyle. He is also Commissioner for the Vice President of the Associated Students of SMC, a member of the Phi Theta Kappa Honor Society, and a UNICEF volunteer. Zhen's goals are to maintain a perfect GPA, transfer to UC Berkeley or UCLA, earn his MBA, and become an entrepreneur.
Nancy Rivera, Women's Swimming
>Nancy Rivera is an international student from Mexico, currently majoring in Dance. She came to SMC for the great education and competitive dance program, and was named Most Improved Swimmer last season. Nancy is a member of the Phi Theta Kappa Honor Society, involved in the SMC Latino Center's Adelante program, and participated in the Student International Forum Club. Nancy's goal is to own a dance complex in Mexico to serve professionally trained dancers, help connect them to jobs, and offer classes to newcomers in the field.
Lauren Voiers, Women's Tennis
Lauren Voiers, originally from Cleveland, Ohio, relocated to California, and decided to go back to school. She chose SMC because it came highly recommended and offered her the chance to participate in collegiate athletics. She was the 3rd seed on the SMC Women's Tennis team in 2015, and 2nd seed on the SMC team in 2016. Lauren's goal is to transfer to the Rhode Island School of Design and earn a BFA with a focus in painting. She plans to become a production designer or art director while working as a professional artist.
Gabriel Berkovich, Men's Track and Field
Gabriel Berkovich, who was often his high school's "Athlete of the Week" and placed 8th in the Washington State High School Championships 400 meter race, came to SMC for its transfer reputation and top-notch athletic program. He joined the SMC Men's Track and Field team, and has placed First in almost every 400 meter race this year. A full-time student who works full time, he also volunteers as a Big Brother and at a homeless shelter. Gabriel has passed the California Real Estate Exam, and plans to earn a Bachelor's degree and start a career in real estate.
Amanda Yager, Women's Track and Field
Amanda Yager, who moved to California last August from Austin, Texas, began running track competitively in the 9th grade and continued throughout high school, ran AAU summer track for 7 years, was a regional qualifier in women's high jump, and finished in 4th place at Nationals in the 4x8. During her first year running track at the college level, she qualified for the SMC Women's Track and Field team. Her goal is to continue running professionally, and to own a Pilates/Yoga workout studio to help others have fun while having a healthy lifestyle.
Joseph Mayer, Men's Volleyball
Joseph Mayer, of Thousand Oaks, California, joined the SMC Men's Volleyball team, was a member of the 2015 State Championship team, and was the starting setter and captain of the 2016 team. He won the Western State Conference and the CCCAA State Championship, and is currently the state's leader in assists. Joseph hopes to transfer, win a championship for his new school's volleyball team, and earn a degree. He plans to work in a sports-related field, possibly coaching volleyball, in Santa Monica.
Daniela Alvarez, Women's Volleyball
Daniela Alvarez began playing volleyball in middle school. She came to SMC for the academic excellence and the transfer rate. Daniela joined the SMC Latino Center's Adelante program, and found herself connected with motivated people in pursuit of the same dream. She plans to transfer to a university and earn a graduate degree, and credits SMC with providing her the teachers, coaches, and staff all working to help her achieve her athletic and academic goals.
Gabriel Dordoni, Men's Water Polo
Gabriel Dordoni began playing water polo in high school. He joined the SMC Men's Water Polo team and was named Second Team All Conference Player in fall 2014, and Most Improved Player in fall 2015. Gabriel plans to transfer and earn a degree in Business Administration, along with his National Institute for Automotive Service Excellence (ASE) certifications. He hopes to work at a prestigious auto company to gain experience, and someday open his own performance auto shop.
Virginia Gustafson, Women's Water Polo & Women's Athlete of the Year
Women's Athlete of the Year Virginia Gustafson, born and raised in Hawaii – and with two SMC alums as siblings – was introduced to water polo through the Girl Scouts, became captain of her high school's team, and in 2015, made the Hawaii All-Star Water Polo Team. Virginia joined the SMC Women's Water Polo team and received the Coaches Award for the fall 2015 season. She plans to transfer to a Division 1 or 2 university, earn a Bachelor's degree in Education, and help children in other countries gain access to education.