May 26th, 2016
SMC Foundation to Award Over $630,000 in Scholarships to 450 College Students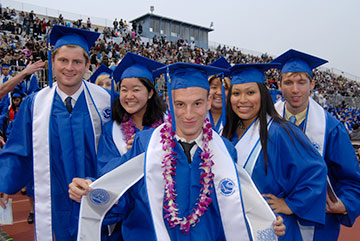 The Santa Monica College Foundation (SMCF)—a nonprofit that supports the educational endeavors of Santa Monica College (SMC) students—will hold its annual scholarship ceremony at 3 p.m. on Saturday, June 11 at the SMC Pavilion on the main campus, 1900 Pico Blvd., Santa Monica.
The SMCF will award 200 scholarships—totaling $636,500—to 450 SMC students. About 1,000 students and guests are expected to attend.
"We are incredibly grateful to the many generous donors who recognize the importance of advancing the aspirations of Santa Monica College students to meet an educational goal, and it is truly a privilege that runs both ways," said Paul W. Hosch, Chair of the SMCF. "The SMC Foundation is proud to be the medium that brings altruism and a bright future for our community and world—as we know SMC students are capable of building—together."
Donors to the various endowments—as well as those who made one-time gifts—will have an opportunity to meet the scholarship recipients prior to the ceremony. A reception with light refreshments immediately follows. Event co-sponsors include Coffee Bean & Tea Leaf, and Whole Foods Market.
Members of the public are welcome to attend the ceremony. RSVPs are required by June 7, 2016 via email to Stanwyck_John@smc.edu. Free event parking is available in any of the designated SMC parking structures. The nearest parking structure to the venue is on Pico Blvd. and 16th Street.