Nov. 7th, 2016
Students Sew Up Fashion Careers at SMC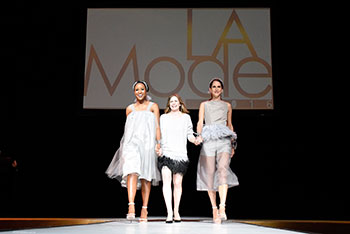 Raquel Medina always dreamed of being a fashion designer. Kenta Tanaka traveled from Japan to pursue his ambition of crafting running shoes. And while Kevin Fernando's design for his future would lead elsewhere, he knew where he wanted to begin. They all did the Fashion Design and Merchandising program at Santa Monica College (SMC).
SMC's annual LA Mode runway show—which was held this June at Barnum Hall on the Santa Monica High School campus—proffers just one reason why students travel from around the world to study here. Each year, LA Mode not only lets blossoming designers exhibit their creative wares, but also enables students to gain merchandising experience by helping assemble and market a complex production.
This combination exemplifies the program's seamless interweaving of training in both art and commerce. While students can choose to pursue an Associate degree in either Fashion Design or Fashion Merchandising, each program informs the other.
"Fashion is a business," notes Lorrie Ivas, who helms the program. "Next to entertainment, it's the second highest employment sector in Los Angeles. So it's important that our classes meet industry standards, and that we develop and maintain industry connections."
Students benefit from contact with noted designers and manufacturers, and bestselling authors and filmmakers who come to campus to share their perspectives. An industry advisory board—which includes creative, corporate, and technological leaders in the fashion industry—goes even further by providing support and numerous internship opportunities to help launch student careers. The Board's members range from California Fashion Association President Ilse Metchek, to Daniela Gschwendtner, an SMC alumna and costume designer for Dancing with the Stars and America's Got Talent. Another member, Emmy-winning costume designer Brenda Cooper, served as a judge at this year's LA Mode, and was so impressed with one of the offerings that she wanted to buy it.
The program's cross-stitching of design and merchandising appeals to students who want to prepare for the profession's challenges. "I started off looking for a community college that offered fashion design and also a business merchandising degree," says Raquel Medina. Now an SMC graduate, Medina assisted the producer for LA Mode.
Medina says SMC helped bring her dreams closer to reality by offering topflight training but as "an affordable place to go to." The small class sizes are another benefit, she adds. "I've been able to get a lot of experience I wouldn't have gotten at bigger schools." Convenient scheduling was also a factor for the Corona, California, resident. "My commute's about 90 minutes each way," she explains. "SMC offers the classes I needed on two days, while other schools required four days a week."
Other students travel from much farther away. "We have people from around the world who come specifically to attend SMC," observes Medina. "We have people from Sweden, Iran, Algeria, Mexico, Honduras, and Nicaragua. We have such a well-rounded sense of the world—and it makes our program so rich."
Kenta Tanaka, who won SMC's Global Citizenship President's Award in the spring, can vouch for the global attraction. Originally from Yamanashi, Japan, he moved to Tokyo to study industrial design before deciding that Southern California—and SMC—would be a better place to pursue his goals. Ultimately, he wants to design shoes for Nike, so he needed to find his feet (pun intended) in fashion.
"I didn't know anything about fashion before," admits Tanaka. But he is learning quickly, as evidenced by his favorite course: apparel construction (a sewing class for beginners). Although he found the process frustrating at first, Tanaka ended up crafting eight items in the class, even though only four were required.
Medina and Tanaka both say they appreciate their instructors' mentorship and professional expertise. "Their industry experience really helps," says Medina. "I've learned something new from each of my teachers. And because they're all so diverse in their backgrounds, you get a full picture of the fashion profession." The college is continually adding details to that picture to further benefit students. For example, merchandising students now take an accounting class so they can keep a ledger and know how a business actually runs.
The merchandising side, along with SMC's transfer agreements with major universities, attracted Kevin Fernando. He has since transferred to California State University, Long Beach, but came back to join the audience for LA Mode. "I love Santa Monica College so much that I still have a relationship with the school, even three years after I've left," he says.
Keenly interested in fashion's previous eras and present influences, Fernando ranks SMC Fashion instructor Jemi Armstrong's class in fashion illustration among his favorites. "What I loved was her approach—which incorporated art history into fashion—and how it blended in another realm of the arts." His SMC professors also helped Kevin get a job at Decades, a high-end consignment store on Melrose Avenue, so he could gain practical experience. "I actually got to see these haute couture pieces up close for the first time," he says.
To help keep the program's equipment as up-to-date as the education, Tukatech and AIMS 360 are making important donations of software for pattern making and grading, 3D virtual apparel prototyping, enterprise resource planning, and other key functions encompassing design and merchandising.
In addition, this fall's curriculum launched an exit portfolio class, so that every student finishing the program at SMC—whether as a merchandiser or designer—will have a website and samples to share with prospective employers. SMC's interdisciplinary Fashion Design and Merchandising program not only provides students with thorough training, but also the flexibility of figuring out which aspects of fashion best fit their interests as they design their future.
In addition to Fashion Design and Merchandising, Santa Monica College offers more than 110 Career Technical Education degrees and certificates which prepare students—in two years or less—for direct entry into today's top careers, in fields ranging from business, computer science, design technology, health sciences, and many more. Information on these is available at www.smc.edu/CTEviewbook.
Visit www.smc.edu/schedules to find courses being offered in the upcoming winter and spring semesters (enrollment begins in December). Please contact Lorrie Ivas at Ivas_Lorrie@smc.edu for more information on the Fashion Design and Merchandising program.