Nov. 8th, 2016
Debate Team Wins First Place in Fall Championships Tournament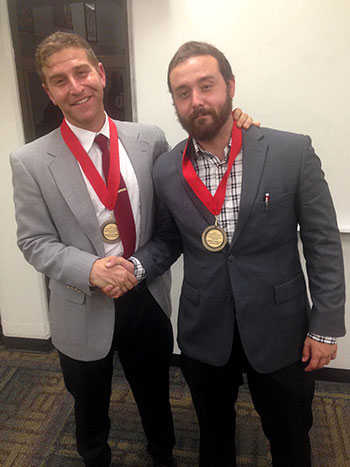 Santa Monica College (SMC) is pleased to announce that an SMC student debate team has won first place at the Pacific Southwest Collegiate Forensics Association Fall Championships tournament held at Orange Coast College from December 2-4. The SMC students on the team that won first place in the British Parliamentary debate division were Ben Kolodny and Matthew Linsky. They defeated two teams from UCLA and one from Point Loma Nazarene University in the final round.
Forty institutions—comprising two-year and four-year colleges—were represented at the tournament; 13 teams of two students each competed in the British Parliamentary debate division. In addition to the team victory, several SMC students also competed and won awards in individual speech events.
Matthew Linsky won first place in varsity impromptu speaking in a field of 42 competitors; and Ashley Grace won first place in junior informative speaking in a field of 18 competitors. Garrett Parker, a new debater on the team, received a third place individual award.
"All of our award winners joined our team this semester, but through intense dedication, commitment, and hard work, they were able to defeat teams that have many semesters—or even years—of experience," said Luis Andrade, SMC Communication professor. "The Santa Monica College debate team is stronger than ever and incredibly motivated to put in the work to succeed at nationals."
The tournament featured four preliminary debates and a final debate, the topic of which was whether public protests should be peaceful or violent. The individual speech events division featured two preliminary debates and a finals speech round.
For more information on the SMC Debate Team, contact Luis Andrade at andrade_luis@smc.edu or 310-434-4771.