Feb. 7th, 2017
SMC Selected to Pilot New STEM Teacher Prep Program with UCLA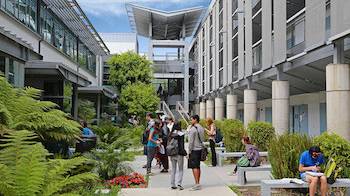 Santa Monica College (SMC) has been selected to participate in a four-year Integrated Teacher Preparation Program in partnership with the University of California, Los Angeles (UCLA). A grant from the Commission on Teacher Credentialing (CTC) will make it possible for the UCLA Teacher Education Program to partner with SMC in developing a pathway for SMC students to earn a bachelor's degree from UCLA and a preliminary teaching credential in four years, followed by a bilingual authorization certification within six months.
"Santa Monica College has long enjoyed a valuable relationship with UCLA," said SMC Superintendent/President Dr. Kathryn E. Jeffery. "We have had the highest transfer rate to the University of California for 26 years—with UCLA being a top destination for students. The SMC STEM Science and Research Initiative came into being and flourished alo​ng with UCLA. This new partnership is exciting, because it symbolizes another way in which two great institutions can combine forces to create opportunity for a wonderfully diverse student body."
The new program—called the UCLA Integrated Program (UCLAIP)—builds on the successful UCLA Teacher Education Program (TEP), which is fully accredited by the California Commission on Teacher Credentialing and part of one of the nation's top-ranked schools of education, the UCLA Graduate School of Education and Information Studies.
"SMC is proud to partner with UCLA on this important project and to prioritize excellence in teaching in the STEM fields in our high schools," said Georgia Lorenz, SMC VP of Academic Affairs. "Doing so will continue to strengthen interest and excellence in science, technology, engineering, and math, which is a priority for SMC."
SMC students pursuing an Associate degree in science or Math who are enrolled in the UCLAIP pathway will take core lower division courses at SMC to adequately prepare for their content major, and also take courses that engage them in hands-on experiences. They will then transfer to UCLA, and ultimately complete their major there, as well as teach and earn their California Preliminary Teaching Credential. At the end of their senior year, UCLAIP graduates will join other UCLA TEP graduate students for a resident year as full-time teachers in partner schools while working towards a Master's degree.
"Our partnership with SMC is an exciting opportunity for UCLA Center X to advance our efforts to prepare highly skilled, caring, social justice-oriented teachers for high needs schools across Los Angeles," said Annamarie M. Francois, Executive Director of the UCLA Center X which encompasses two graduate credential programs including the Teacher Education Program, "and to enact our shared belief in the transformational power of preparing community teachers for community schools."

The UCLAIP program—which is expected to launch in Fall 2018—will offer extra summer learning and community work opportunities to SMC transfer students prior to transferring to UCLA, as well as in their junior year at the university.
While SMC will be the lead partner—helping UCLA navigate the nuances of community college-university partnerships—the intent is to expand UCLAIP to serve students from other Los Angeles area community colleges as well. For more information on the program, please contact Annamarie Francois at francois@gseis.ucla.edu or Georgia Lorenz at Lorenz_Georgia@smc.edu.
# # # #