May 1, 2017
SMC Debate Team Wins Awards at Regional Tournament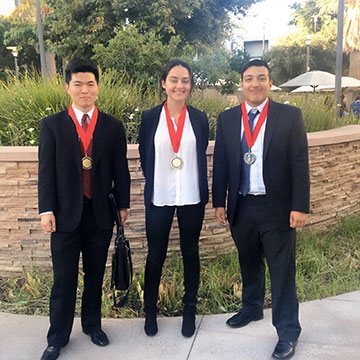 Wins Cap off Successful 2016-2017 Season
SANTA MONICA, CA—Santa Monica College (SMC) is pleased to announce that the SMC student speech and debate team won several awards at the Pacific Southwest Collegiate Forensics Association "Cool-Off" Tournament held at Rio Hondo College from April 29-30.
SMC students Leila Tovran and Edward Lee received gold medals in the International Public Debate Association (IPDA) debate division. Albert Cueva received a silver medal.
The SMC debate team also won several awards in the individual speaking events division. Edward Lee received 1st place in impromptu speaking and Garrett Parker was a finalist in extemporaneous speaking.
A total of 21 two- and four-year institutions were represented at the tournament; 86 students competed in IPDA debate and 193 students competed in individual events, including informative, persuasive, and extemporaneous speaking.
"The Cool-Off marks the end to our season of speech and debate and we're glad we ended with such strong results," said Luis Andrade, SMC Communication professor. "This year has been the strongest year for SMC speech and debate. The coaches are incredibly happy with the students' hard work and motivation. We look forward to another successful season next year."
The SMC Speech and Debate Team is coached by Communication professors Luis Andrade, Brianna Broady, and Nate Brown. For more information on the SMC Debate Team, contact Luis Andrade at andrade_luis@smc.edu or 310-434-4771.