Oct. 27th, 2017
SMC Develops Intellectual Property Curriculum for Community Colleges to Promote Entrepreneurshi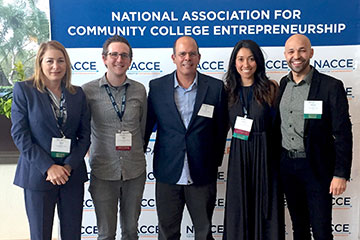 Santa Monica, CA. The National Association for Community College Entrepreneurship (NACCE), and the Michelson 20MM Foundation have launched an innovative program to provide intellectual property (IP) curriculum through community colleges across the country.
Sal Veas, chair of the Business Department at Santa Monica College, created the curriculum, which has now been introduced at six community colleges across the country, including SMC, starting this fall.
The program was made possible through a partnership of NACCE, the nation's leading organization promoting entrepreneurship through community colleges, and Michelson 20MM, which supports and invests in leading-edge technologies and initiatives with the potential to improve postsecondary access, affordability and efficacy.
The initiative provides free course materials that touch on the basics of patents, trademarks, copyright, and trade secrets for entrepreneurs at the undergraduate level. NACCE and Michelson 20MM selected SMC to lead the development of a master syllabus and a course cartridge comprised of 38 digital course modules to help support additional participating faculty. The course cartridge is supported by a variety of learning management systems.
SMC introduced the IP content in its Business courses during the summer of 2017, and will be mentoring the participating community colleges starting this fall. The colleges will adapt these materials for their respective courses. The six colleges selected for the program include: Butte College, Oroville, CA; College of Marin, Kentfield, CA; Glendale Community College, Glendale, CA; Lorain County Community College, Elyria, OH; Santa Rosa Junior College, Santa Rosa, CA; and CUNY Queensborough Community College, Bayside, NY.
IP comprises 45 percent of the country's total GDP today and represents 80 percent of the market value of all publicly traded companies in the United States.
"The modular format gave me the flexibility to easily adopt the appropriate level of depth for each area of IP, whether it was for business law or my introduction to business class," said SMC's Sal Veas.
"We are pleased and honored to be part of this exciting and vital new program," said NACCE President and CEO Rebecca Corbin, Ed.D. "Understanding the basics of intellectual property and its value and role in science, business and arts professions is a vital component in the education of the many would-be entrepreneurs studying at community colleges."
"Community colleges are the launch pad for tomorrow's entrepreneurs," said Dr. Gary K. Michelson, founder of Michelson 20MM. "Nearly half of all college graduates start at a community college. It is critical that we provide intellectual property education at community colleges. These are the breeding grounds for our future creators and innovators, and are where many of our small businesses are born."
Santa Monica College is the leader among California's 114 community colleges in transfers to the University of California, USC, and Loyola Marymount University. SMC also offers 110 career-focused degrees and certificates—in fields such as Early Childhood Education, Game Design, Animation, Film Production, Accounting and many more—which prepare students for direct entry into the job market or for transfer.
# # #