November 27, 2017
SMC Speech and Debate Team Wins Awards at Two Fall Tournaments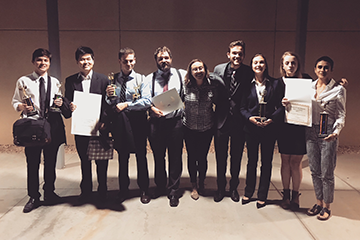 SANTA MONICA, CA—Santa Monica College (SMC) is proud to announce that the SMC Speech and Debate Team continues its winning streak, bringing home new honors from two tournaments in October and November.
On October 14, eleven SMC debaters competed in the first annual Crossman Invitational at El Camino College, at which 99 students from 20 community colleges and four-year institutions competed.
Four SMC students advanced to the elimination rounds, with three receiving Bronze awards, and one making it all the way to the Gold award. Baylynne Brunetti, Shaindi Schwebel and Edward Lee received Bronze in Debate. Andrew Mishkin won his Bronze round, then advanced to the final round, taking Gold, the top award.
And on November 11, at the Robert Barbera Collegiate Forensics Invitational Tournament at California State University, Northridge (CSUN), 10 SMC students competed in Speech events, earning a total of 10 awards. 233 students from 24 community and four-year colleges from California and other southwestern states participated at this event.
Andrew Mishkin took 2nd place in both Impromptu Speaking and Extemporaneous Speaking and Andrea Conte took 1st place in After Dinner Speaking, with Baylynne Brunetti taking 2nd place. Finalists in Impromptu Speaking included Ben Kolodny (Team Captain), Edward Lee, and Shaindi Schwebel. Kyle Lee won 3rd place in both Impromptu Speaking and Extemporaneous Speaking, and Nick Graves was a finalist in Extemporaneous Speaking.
The team's participation at both events was funded by the SMC Associated Students.
The last tournament of the Fall— the Pacific Southwest Collegiate Forensics Association (PSCFA) Fall Champs—takes place December 1 - 3 at Moorpark College, which will help determine the squad of SMC speakers and debaters who will be invited to the national Phi Rho Pi National Speech and Debate Tournament in April.
Multiple award-winner Andrew Mishkin said, "Even though we all compete against each other at tournaments, there's a communal sense of pride whenever someone from SMC brings home an award. The Speech and Debate team has given me a newfound confidence, but also a new circle of friends."
"The SMC debate team has been a great experience, especially preparing for law school," said Kyle Lee. "Competing at tournaments has helped me hone my communications skills, useful in many different aspects of life."
And Baylynne Brunetti believes that the teamwork skills she is gaining are important to her future: "As a team we constantly push each other to become better at what we do. I'm now prepared to carry this experience with me to law school and eventually to the courtroom."
SMC Communication Professor Nate Brown coaches the team along with SMC Communication professors Luis Andrade and Brianna Broady.
"The SMC Debate Team has an outstanding record of achievement," says Brown. "2017-18 has gotten off to a great start and may become a record breaking year of great communication, powerful argumentation, and bonding friendships."
For more information on the SMC Speech and Debate team, contact Professor Brianna Broady at broady_brianna@smc.edu.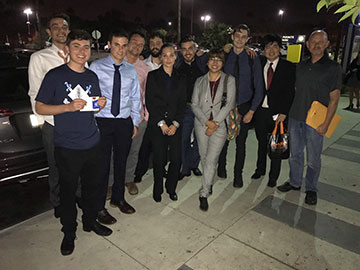 # # # #