Dec. 2nd, 2017
SMC Celebrates Opening of New Center for Media and Design and the KCRW Media Center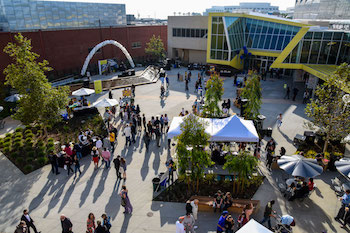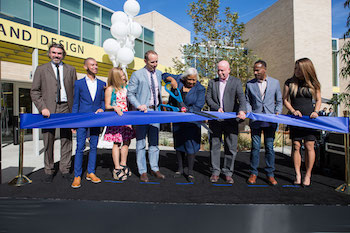 Santa Monica, CA — Santa Monica College (SMC)—along with an estimated 600 guests in attendance for the ribbon-cutting—celebrated the grand opening of its newest campus, the $115M Center for Media and Design (CMD) and the KCRW Media Center on Saturday, December 2, 2017.
The day's program honored the Santa Monica and Malibu voters whose support for the 2008 Measure AA bond provided primary funding for $115 million in new facilities at the high-tech camp us, as well as the 5,800 private donors who donated to a KCRW capital campaign.
The morning's ribbon-cutting ceremony was emceed by KCRW's Madeleine Brand , host of the news and culture show Press Play . Speakers included SMC Superintendent/President Dr. Kathryn E. Jeffery ; KCRW President Jennifer Ferro ; SMC Interim Dean of Career Education Frank Dawson; KCRW Board Chair Matt Kline ; Annenberg Foundation Executive Director Cinny Kennard ; SMC Board Chair Dr. Andrew Walzer ; Santa Monica Mayor Ted Winterer ; California State Senator Ben Allen ; SMC Associated Students President Jenni f er Chen and student trustee Chase Matthews ; architect Clive Wilkinson ; KCRW DJ Jason Be ntley and Warren Olney of KCRW's 'To the Point' and 'Olney in L.A.'
The various opening remarks were followed by a live performance by L.A.-based singer-songwriter Ethan Gruska . The SMC Cheer Squad and Samohi Viking Marching Band provided a lively finish to the ribbon-cutting ceremony.
The day's festivities continued with entertainment and live programming in the courtyard featuring KCRW DJs Dan Wilcox & Valida ; the SMC Synapse Dance Theater ; KCRW DJs Raul Campos & Travis Holcombe ; the SMC Global Motion Dance Company ; KCRW DJs Garth Trinidad and José Galván ; Anne Litt and Anthony Valadez ; and the SMC Jazz Quartet . Roughly 1,800 guests and members of the public were present for the afternoon celebration, which included tours of the new facilities and opportunities to interact with notable radio personalities.
Located in the heart of the entertainment district and the area known as " Silicon Beach "—home to roughly 500 media firms and tech startups—the Center for Media and Design unites all the SMC programs focused on media content development and design—including its first-ever baccalaureate program in Interaction Design (IxD) —on one campus.
The new KCRW Media Center marks the first time the station—which is licensed to Santa Monica College—will have a standalone building in its history. An outdoor stage, viewing platforms within the station itself, and a large screening auditorium on the campus site will allow the public greater opportunities to engage more closely with KCRW through live events and more.
The CMD campus will act as a hub for the development of new programs and professional development (many funded through grants such as the state's Strong Workforce Program ), and SMC's portion of the LA HI-TECH initiative , the Los Angeles area program established by the White House's TechHire Initiative and launched by President Obama to expand access to tech jobs.
Clive Wilkinson Architects designed the campus, which is located at 1660 Stewart Street in Santa Monica. More information on the SMC programs housed there is available at www.smccmd.org .
# # # #
About Santa Monica College
Santa Monica College is the leader among California's 114 community colleges in transfers to the University of California, USC, and Loyola Marymount University. SMC also offers over 110 career-focused degrees and certificates—in fields such as Early Childhood Education, Game Design, Animation, Film Production, Accounting, and many more—which prepare students for direct entry into the job market or for transfer.
About KCRW
KCRW creates and curates a unique mix of content centered around music discovery, NPR news, cultural exploration and informed public affairs. KCRW is driven by the spirit of Los Angeles and delivers in innovative ways—on the radio, digitally and in person—to diverse, curious communities around the corner and around the world. A community service of Santa Monica College, KCRW can be found on the air in Los Angeles, Santa Barbara, Ventura, Mojave, Palm Springs, San Luis Obispo, via the KCRW app, and at KCRW.com.