Feb. 12th, 2018
SMC Barrett Gallery Hosts Reception Saturday, February 24, for Anne Marie Karlsen "Public Displays Of Artistic Expression" Exhibition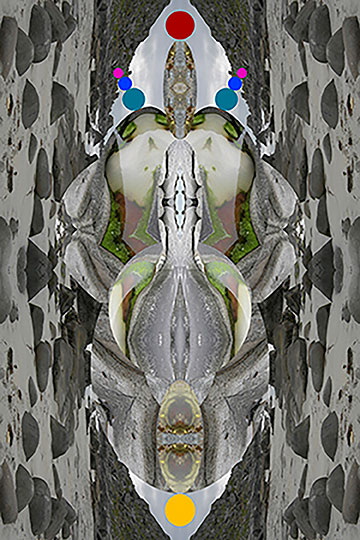 Exhibit Runs February 20-March 24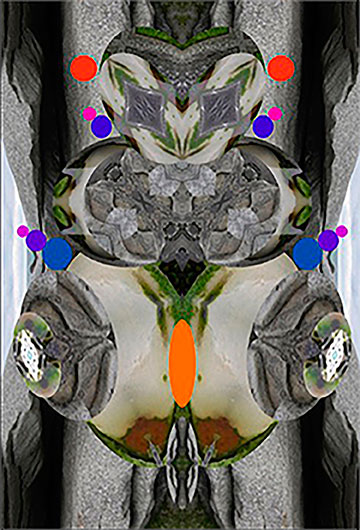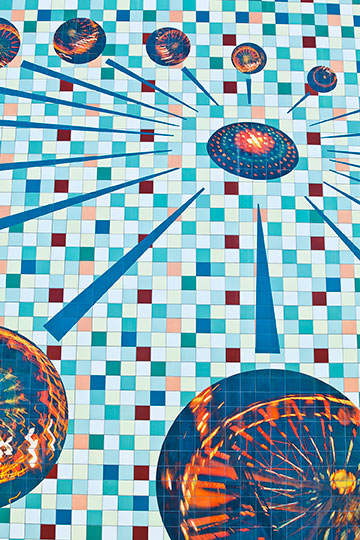 SANTA MONICA, CA—The Santa Monica College Pete & Susan Barrett Art Gallery is pleased to present "Public Displays of Artistic Expression," a survey exhibition of studio art work, along with images of public art commissions by Anne Marie Karlsen. The exhibition features Karlsen's evolving use of collage, painting, illusionism, and printmaking, and shows her "re-orientation of studio methods to her larger scale of public art projects, and how siting and audience can determine content," said independent art historian and curator Gordon L. Fuglie.
The exhibition will be open to the public from Tuesday, February 20, to Saturday, March 24, with a gallery reception on Saturday, February 24, from 5 p.m. to 7 p.m.
Karlsen, who earned her MFA at University of Wisconsin/Madison, is Professor of Art at SMC. She uses glass, ceramic tile, mosaic, metal, and a variety of other permanent materials to create pieces that offer "an extraordinarily wide range of insights, ideas, variety, freshness, and technical experimentation," said Fuglie.
Since 1992, Karlsen has completed more than 27 public and corporate arts commissions in various locations, including the North Hollywood Red Line Station; the Nordhoff Orange Line Extension Station in Chatsworth, California; FBI Headquarters and the Kedzie Brown Line Station in Chicago, Illinois; Trailside Elementary School in Anchorage, Alaska; Michigan State University's Case Hall in East Lansing, Michigan; the Raymond Renaissance in Pasadena, California; and the Capitol Area East End Complex in Sacramento, California. Her work also appears aboard Royal Caribbean's Oasis of the Seas, Allure of the Seas, Harmony of the Seas, and Symphony of the Seas.
"A bright thread running through Karlsen's studio work done in a variety of styles and media is what she calls 'my autobiographical inquiry,'" said Fuglie. "A child of Norwegian immigrants, her identity becomes a conduit for connecting to important subjects, including ethnic and cultural legacies, gender issues, social topics, mythological archetypes, and the cumulative weight of history and culture. Other interests driving Karlsen's art are the multi-level nature of the observable world and the 'visual information overload' of modern life. She is indeed an artist for our times."
Karlsen's work in the North Hollywood Red Line Station was listed in Art in America's "Best Public Art of 2001." Two of her other works – "Subdivisions" (2009) a colored glass curtain wall at the Lawndale Public Library in Lawndale, California; and "Wheels" (2010) in the Santa Monica Place Parking Structure – were named Best National Public Art by the Americans for the Arts/Public Arts Network. "Wheels," a photomontage of the Ferris wheel on the historic Santa Monica Pier, was cited as a work whose artist took risks in creating signature pieces that play with scale.
Karlsen has also been awarded numerous fellowships and residencies, including two International Artist in Residence Fellowships and an International Scholar in Residence Fellowship at Kunstlerhaus, Stadt Salzburg, in Salzburg, Austria; as well as three Artist in Residence Fellowships at the Virginia Center for the Creative Arts, in Sweet Briar, Virginia. She was also awarded the 2007 Sam Francis/Martin Sosin Chair of Excellence, a three-year fellowship from Santa Monica College.
Karlsen's studio work, which has been featured in more than 100 solo and group exhibitions in the United States and Europe, can be found in the permanent collections of museums that include the Grunwald Center for the Graphic Arts at the UCLA/Armand Hammer Museum in Los Angeles, California; the Carnegie Institute Museum of Art in Pittsburgh, Pennsylvania; the Brooklyn Museum in Brooklyn, New York; the Museum of Fine Arts in Boston; Massachusetts; the Milwaukee Museum of Art in Milwaukee, Wisconsin; and the Kulturverwaltung Stadt Salzburg, Austria.
Karlsen is also a public art consultant who has written two public art redevelopment plans. The Westside Urban Forum awarded her the Westside Prize for her work on the Santa Monica Boulevard Master Plan for the City of West Hollywood, California.
SMC's Pete & Susan Barrett Art Gallery is located at the SMC Performing Arts Center, 1310 11th Street (at Santa Monica Boulevard), Santa Monica. Please enter from the Performing Arts Center's courtyard.
Exhibits, receptions, and gallery tours and talks are free.
Gallery hours are noon to 5 p.m. Tuesday through Friday and 11 a.m. to 4 p.m. Saturday.
For more information, please call 310-434-3434.
# # #