Feb. 21, 2018
SMC Presents Popular Spring Jazz Series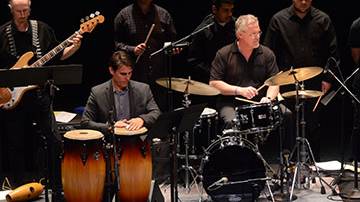 The Santa Monica College Music Department is pleased to present this year's Spring Jazz Series, featuring the Connie Han Trio, Dave Tull Quartet, and Jon Mayer Quartet.
The popular concert series opens with the Connie Han Trio on Friday, March 9. All concerts are held at 7 p.m. in the Music Hall at the Santa Monica College Performing Arts Center, 1310 11th Street (at Santa Monica Boulevard), Santa Monica.. Tickets cost $10.
The Spring 2018 lineup is:
Connie Han Trio

Friday, March 9
A rising star who is unquestionably destined for greatness, Connie Han is one of the most exciting new jazz pianists on the scene today. At age 21, she has already been featured in Keyboard magazine and performed for audiences around the world at events like the Montreal Jazz Festival.
Dave Tull Quartet

Friday, April 2
Renowned for 30 years as a world-class jazz drummer, Dave Tull has also built a reputation in the past 10 years as a great jazz singer, songwriter, and bandleader.

Jon Mayer Quartet

Friday, May 11
Master bebop pianist Jon Mayer – described by Downbeat magazine as a musician who "mixes introspective lyricism and a hard-bop drive—and his fellow jazz musicians never fail to entertain and enlighten.
Get Tickets Today!

This popular concert series brings the best of America's jazz music to SMC and sells out quickly. For tickets and information, please see www.smc.edu/eventsinfo or call (310) 434-3005 or (310) 434-4323.
# # #