February 28, 2018
SMC and City of Santa Monica to Break Ground March 13 for Santa Monica Early Childhood Lab School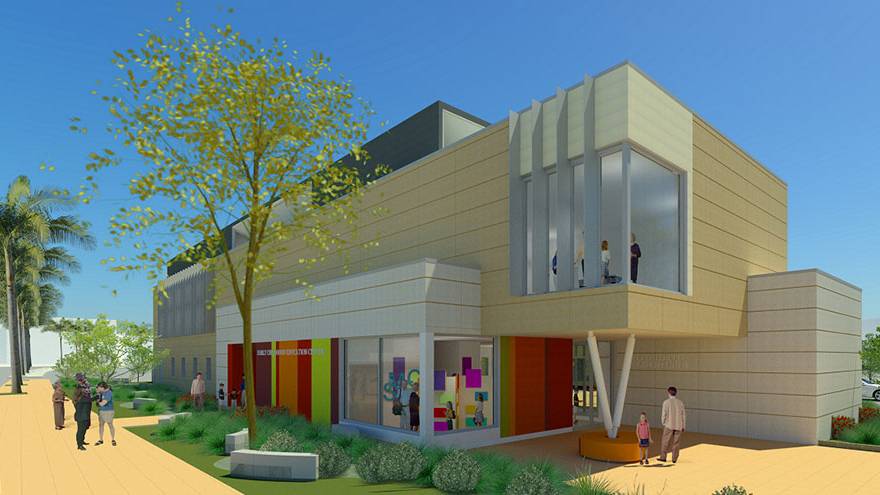 WHEN: Tuesday, March 13, 10:30 a.m. – 11:30 a.m.
WHERE: Southwest corner of 4th Street and Civic Center Drive on the Civic Center surface parking lot.
SANTA MONICA, CA—Santa Monica College (SMC) and the City of Santa Monica are pleased to announce a groundbreaking ceremony for the Santa Monica Early Childhood Lab School. The event will take place on Tuesday, March 13 from 10:30 a.m. to 11:30 a.m. on the site of the school—which will be operated by the highly-regarded local child development nonprofit the Growing Place—on the corner of 4th Street and Civic Center Drive in Downtown Santa Monica.
The Lab School will serve the functions of an infant, toddler, and preschool center for up to 110 children—a minimum of 30 percent enrollment will be reserved for Santa Monica residents, and a minimum of 15 percent for low-income families. It also will be a setting for students in the renowned SMC Teacher Academy to fulfill their practicum requirements. SMC students will observe and document child development under the guidance of the college's distinguished faculty members. SMC became the first Southern California community college to get national accreditation for its Early Childhood Education (ECE) degrees, a distinction earned in 2017.
Through a competitive process, the Growing Place was selected as the most qualified operator and collaborating partner. The Growing Place and SMC have had a collaborative relationship in the past; founder Ellen Khokha designed three Early Childhood/Education courses in Reggio-inspired practices now offered every semester at the college.
"This is an incredibly exciting opportunity for SMC and the City to work together to fulfill a demonstrated need in our community, and in so doing, develop a national model of progressive early childhood education," said SMC Superintendent/President Dr. Kathryn E. Jeffery. "The Growing Place will, without a doubt, execute a collective vision of the best possible child development, while parents and children will benefit from the latest practices in the field—a capstone of SMC's role in this partnership."
The Lab School also aligns with the City's strategic goal to help all ages Learn + Thrive and supports the work of the Santa Monica Cradle to Career Initiative. Increasing early learning opportunities through the Lab School will help close the gap in kindergarten readiness in Santa Monica where 35 percent of young children are not on track to start school.
"The Lab School will be a vital new community asset for early learning in Santa Monica where we are committed to seeing that every one of our children has a strong foundation to start kindergarten," said Mayor Ted Winterer. "It will meet the needs of families living in surrounding neighborhoods, educate our next generation of leaders while also cultivating exceptional teachers."
The Early Childhood Lab School is a unique partnership between SMC and the City of Santa Monica and will serve as a national model for high-quality early education. The 20,000 square foot building is designed by Carde Ten Architects. Project funding is through SMC's 2004 voter-approved bond Measure S, the 2016 bond Measure V, and general fund monies from the City. The Lab School is expected to open fall 2020.
The discussions by Santa Monica City Council regarding the need for a preschool and childcare center in the Civic Center area date back to 1989. In 2001, the Civic Center Working Group identified the provision of a child development facility as a priority based on a survey of residents. The City Council identified the benefits of incorporating the proposed lab school into the Civic Center project. The plan was formally approved in 2012, when both the SMC Board of Trustees and the City Council approved an agreement between the two agencies to set in motion the construction of the Santa Monica Early Childhood Lab School within the Civic Center campus.
Pauline McPeake, Executive Director of the Growing Place said that the goal of the school will be "to positively impact children, families, teachers, and programs beyond our walls."
"This Lab School's visibility in Santa Monica will provide the community with the opportunity to rethink what it means to teach young children and its responsibility to early education," said McPeake. "We envision an inspiring center where a generation of confident teachers will emerge; meaningful experiences will lead to significant learning for children; and where parents and other schools will become a part of our learning community."
Planning for the Lab School's construction and development is being spearheaded by a workgroup comprising representatives from SMC and its Early Childhood Education program, the City, the RAND Corporation, and the Santa Monica Early Childhood Task Force. As part of building its new headquarters, RAND provided funding that the City will dedicate to tuition subsidies for low-income Santa Monica families.
"Having followed the path of the Early Childhood Lab School since 1989, I am pleased to see it entering the homestretch," said RAND President and CEO Michael D. Rich. "RAND has been working on early childhood research for nearly half of our 70-year history, raising awareness of the importance of the earliest years and contributing to the development of best practices in early education—and now we are helping establish a financial assistance fund to ease the burden faced by young families. Seeing all of these threads coming together under the leadership of the City, SMC, and the Growing Place emphasizes why Santa Monica is such a special community."
SMC's offerings in the field of Early Childhood Education (ECE) include associate degrees and certificates in Early Childhood Education-Career, and Early Intervention Assistant which trains students to work with children who have disabilities and special needs as well as those at risk of development delays and challenges. The SMC Teacher Academy also offers a department certificate in ECE which prepares students to obtain an Associate Teacher permit, and an Associate in Science for Transfer in ECE which fulfills lower-division requirements for a four-year ECE degree at a California State University (CSU) campus and provides priority admission consideration into many CSU campuses.
In 2017, SMC became the first community college in California to offer a Certificate of Achievement in Transitional Kindergarten (TK), with specialized teacher-preparation courses that address the specific developmental needs of children in Transitional Kindergarten. In addition to career preparation, the SMC Teacher Academy also prepares students for transfer to the University of California. SMC holds a consecutive 27-year record as California's number one transfer college to the UC, and is also the leading college in transfers to USC and Loyola Marymount University.
More details about the groundbreaking event may be obtained by emailing Elliott_Kiersten@smc.edu or by calling 310-434-4173. For more information about the Santa Monica Early Childhood Lab School, please visit www.smc.edu/labschool.
# # # #