March 1st, 2018
SMC Signs Agreement with VA to Expand Support Services for Veterans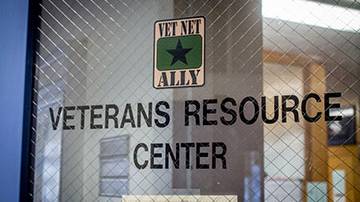 Santa Monica, CA—Santa Monica College (SMC) is pleased to announce that a recently-signed agreement with the Department of Veterans Affairs (VA) will give SMC student veterans access to a VetSuccess on Campus (VSOC) counselor, who will assist the SMC Veterans' Resources Center with counseling and support services to help them succeed in college and transition to careers in the civilian workforce. SMC will share a VSOC counselor with UCLA and is one of only 13 community colleges in California to offer this service.
"SMC is very pleased that the VA has provided this new addition to our current array of support services especially for veterans," said SMC Superintendent/President Dr. Kathryn E. Jeffery, "and our team is committed to assisting veterans, meeting their particular needs, and helping them plan for their academic and career success today and in the future."
In the past academic year, SMC served over 2,100 veterans at its Veterans' Resource Center. The center serves as a one-stop shop where veterans enrolled at the college have exclusive access to academic and career counseling; tutoring; therapy; and referrals to community resources and various veteran-serving programs in the West Los Angeles area. The VRC also offers a computer lab and assistive technology, and a "veteran lounge/study room" where they can connect with peers.
W. Anthony Roeback, Chief of the VA's Vocational Rehabilitation and Employment Service, said that the Department of Veteran Affairs is also "appreciative of this new partnership with Santa Monica College."
"The focus in this partnership is to assist SMC students who receive VA educational benefits in the completion of their educational endeavors," said Roeback. "We're excited about this opportunity to provide support to SMC student veterans."
The VSOC counselor will be on-site beginning the middle of the current spring semester and will be assigned to SMC for two weekdays, and to UCLA for three. The counselor will help streamline the complex transition process encompassing services such as referrals for VA medical and mental health services, career counseling, job placement assistance, and more.
Elaine Morton, who currently heads the SMC Veterans' Resource Center, gave credit to retired VRC Faculty Leader Linda Sinclair for the successful outcome to her efforts to bring a VetSuccess counselor to SMC. "Ms. Sinclair was a strong advocate for having a permanent vocational rehabilitation counselor on campus," said Morton. "We are pleased to offer this additional support service to our students and are indebted to her for her dedication and diligence."
U.S. Army veteran, SMC alum, and Loyola Marymount University Political Science major Domingo Tomas—who had faced poverty, a difficult childhood, and a rough transition after serving a decade in the millitary—said that the SMC Veterans' Resource Center was "a safe haven."
"That told me the SMC community cares for veterans," he said. He plans on applying to law school after graduating from LMU this spring and continuing his personal philanthropic mission of the past several years, delivering school supplies to needy children in his native Zaculeu, near the western Guatemala city of Huehuetenango.
For more information on the SMC Veterans' Resource Center and all its services, visit www.smc.edu/veterans or call (310) 434-8260.