June 6th, 2018
Three Graduating SMC Students Look Ahead with Hope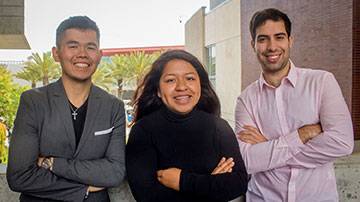 SANTA MONICA, CA —When Ryan Ang was a teenager, his father went bankrupt; he had to leave school and help support his family. Boaz Gerstl left his home in Haifa, Israel to seek a new beginning—and be who he was. Maritza Lopez would let nothing—not homelessness, the 1.0 GPA she began with, or financial struggles—stand in the way of her dream to transfer to UCLA as an art history major.
On Tuesday, June 12, at Santa Monica College's 88th commencement, Ang, Gerstl, and Lopez will walk across the stage. They are among 4,826 students who will receive 6,225 degrees and certificates from SMC, the largest graduating class in the college's history (more than 780 are expected to participate in the graduation festivities). The youngest graduate is 16 and has completed an Associate in Arts in General Science; the oldest graduate has completed a Certificate of Achievement in Computer Business Applications—she is 74.
Ryan Ang: Focusing on Policies for Change
Singapore-born Ryan Ang, student speaker for SMC's 88th Commencement, has first-hand experience with adversity.
When he was a teen, his father went bankrupt. "Creditors came to our house and seized everything for sale," says Ang, "and I remember thinking that I was about to become homeless." At 16, he left school and went to work to help support his family. Then Ang served his compulsory term in Singapore's National Service, where "they put us out on an island, and we all perspired and toiled together. It taught me how to work and get along with people from all walks of life."
He moved to Canada, completed high school there, and arrived at SMC with plans "to learn screenwriting," he says. "But I found my passion in serving the homeless through the church — they're just human beings like all the rest of us — and women empowerment means a lot to me, too. I realized that being involved in policymaking is really important, so I changed my major to political science and philosophy."
At SMC, Ang worked to develop his skills in public speaking, as well as listening to the concerns of others. He involved himself in student politics and government through the Associated Students, first as Commissioner for Director of Student Advocacy, then as Student Body Secretary. "I'm interested in politics, but with a focus on policy," he says. "I like the idea of working behind the scenes."
Ang also joined SMC's chapter of Phi Theta Kappa, the largest international honor society of two-year colleges. With a 4.0 grade point average, he was welcomed as a member, but his involvement quickly expanded. He started as Commissioner of Fellowship, then became Secretary, and is now Executive Vice President of the organization.
Acceptance letters from schools ranging from Columbia University to UC Berkeley are starting to arrive, so he will be making a decision soon. He plans to major in political science, but also wants to incorporate further studies in philosophy and economics into his educational future.
"I came to SMC with blind faith," he says, "and I am just immensely thankful for everything this college has graciously given me." Ryan Ang will be graduating from Santa Monica College with an Associate in Arts for Transfer in Political Science.
Boaz Gerstl: Always Choose the Positive
Haifa-born Boaz Gerstl left Israel when his compulsory military service ended. As a teenager, he had come out as gay, leading to difficulties with his family. "For years the situation was difficult," he says. "I came here seeking a new beginning."
With no financial assistance from his family, he was fortunate enough to have family members who live in Los Angeles. Gerstl took a job as a bank teller, saving for tuition and establishing California residency.
Life changed when he arrived at SMC. A sociology major, he completed two years' study in a year and a half, earned a 4.0 GPA, and was invited to join the Phi Theta Kappa honor society. As Vice President of the Gender and Sexuality Alliance Club, he helped launch SMC's participation in the upcoming 2018 LA Pride Parade. He was also selected for the college's prestigious Dale Ride Internship this summer, and will be going to Washington, D.C., to work for Senator Dianne Feinstein and Congressman Adam Schiff.
Gerstl attributes much of his success to EOPS counselor Julie Greenfield and many of SMC's counseling programs, including the Adelante Program and the Scholars program. "I have so much pride in this institution, and I love the motto 'Proud to Be SMC,'" he says.
Accepted at Columbia University, USC, and every UC campus he applied to — and still waiting to hear from other schools — Gerstl has not yet decided where to go. "Life will go wherever it takes me," he says, "not like a leaf in the wind, but open to the opportunities that present themselves."
Boaz Gerstl will be graduating on June 12 with three Associate in Arts degrees in Communication, Political Science, and Social and Behavioral Sciences.
Maritza Lopez: One Day, One Dream at a Time
Maritza Lopez remembers the time her father was hired to paint flowers on a blimp while she slept in the car. It was a defining moment that sparked a love for art and would lead Lopez to Santa Monica College, the first of her family to attend college. She would let nothing —not the 1.0 GPA she began with, homelessness, financial struggles — stand in the way of her dream to transfer to UCLA as an art history major, and someday either curate a museum or teach Latin American art history.
At SMC, Lopez surrounded herself with people, so she never felt "alone" and overwhelmed by her circumstances. When she was able to get into Students for Students—the first shelter in the nation to exclusively serve homeless college students and run by UCLA students at Mt. Olive Lutheran Church, a few blocks from SMC's main campus—it made a huge difference. She also gave back as Inter-Club Communication Officer, and as an Adelante Program student worker who loved getting new students excited about the possibilities at SMC.
Lopez does not want to be applauded for getting into UCLA just yet (she did). She quotes a favorite proverb in Spanish: "El que se ríe último se ríe mejor," which is roughly translated in English as "Whoever laughs last, laughs better." In other words, she wants to celebrate when she has achieved her goal. But if the past two years have been any indication, she is well on her way: one dream at a time.
Maritza Lopez is graduating from SMC with an Associate in Arts for Transfer in Art History.
Visit the Graduate Stories website to read more stories about this year's graduates, as well as those featured in previous years. More details on the June 12 commencement ceremony can be found on the graduation website. Nely Galán—former President of Entertainment for Telemundo; an Emmy Award-winning producer of over 700 shows in English and Spanish; and the New York Times bestselling author of SELF MADE, Becoming Empowered Self Reliant and Rich In Every Way—will be the 2018 commencement speaker.
For the ninth year in a row, the ceremony will also be webcast live and available on the SMC Alumni Association webpage (alumni.smc.edu). Families and friends from all over the world who are not able to attend graduation will be able to watch the ceremony and see the graduates receive their diplomas.
About Santa Monica College
Founded in 1929, Santa Monica College is the leader among California's 114 community colleges in transfers to the University of California, USC, and Loyola Marymount University. SMC also offers over 110 career-focused degrees and certificates—in fields such as Early Childhood Education, Game Design, Animation, Film Production, Accounting, and many more—which prepare students for direct entry into the job market or for transfer. SMC provides news and cultural enrichment through its radio station KCRW (89.9 FM) and the Broad Stage at the SMC Performing Arts Center, as well as lifelong learning opportunities through distinctive programs such as its Emeritus Program for older adults.