Aug. 6, 2018
Santa Monica College Unveils "Promise Program" for New, Full-Time Students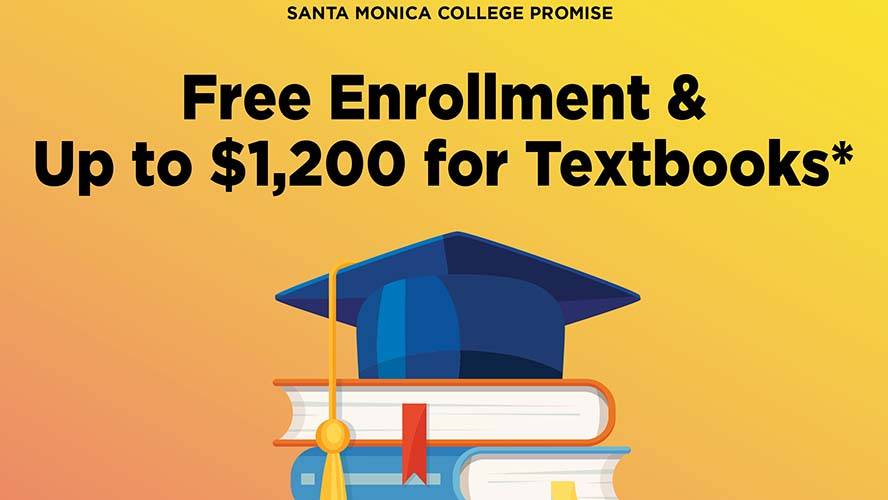 (updated August 28, 2018)

SANTA MONICA, CA—Santa Monica College (SMC) is offering free enrollment and $1,200 vouchers for textbooks to new, full-time students who graduated from any California high school this year. The program—called "Santa Monica College Promise"—is effective immediately for students interested in attending SMC this fall semester, which begins August 27, or in spring 2019.
To be eligible for SMC Promise, students must have just graduated from high school in 2018, and be headed straight to SMC as first-year students. They must also be "full-time"—enrolled in 12 units or more per semester—to be eligible for free enrollment and to have payment of their Associated Students fees (which unlock benefits ranging from student discounts at select vendors to free "Any Line, Any Time" passes for the Big Blue Bus), health, and student ID fees covered by the college.
Another top benefit available to students who enroll in SMC Promise are textbook vouchers—$500 for the fall semester, $200 for winter semester, and $500 for spring—to help offset the high cost of textbooks. These vouchers will be available to those who receive the California College Promise Grant, which waives enrollment fees for eligible students.
In addition, SMC Promise students will be enrolled in the First Year Experience (FYE) program—which provides priority registration and dedicated counseling support—to help ease the transition to college and ensure students are on the fastest track possible to their four-year school or career of choice. Students will be required to meet with a counselor at least twice every semester.
"An overwhelming majority of SMC students—as in community colleges nationwide—attend college part-time, because often they are working to support themselves and/or their families financially," said Dr. Jennifer Merlic, SMC Dean of Instruction. "Educational research indicates strongly that those who attend full-time—even if just for one semester—are much more likely to "persist" and earn a degree or certificate than those who attend part-time. So, at Santa Monica College, we are looking at how we may help more students achieve their academic aspirations. We encourage students to attend full-time if at all possible, and will offer them extra support along the way, because their success is our end goal."
A recent report released by the Center for Community College Student Engagement at the University of Texas at Austin analyzed transcript data of 17,085 students from 28 community colleges, and found that 34 percent of students who went full-time for even one semester had an edge over part-time students. 34 percent of students who attended college full-time even for a while earned an associate degree or a certificate, compared to only 23 percent who enrolled part-time throughout their time at a community college.
For more information on SMC Promise, please contact the college's Welcome Center at (310) 434-8101 or WelcomeCenter@smc.edu. Detailed information on eligibility and the application process is also available at www.smc.edu/freetuition.
# # # #
About Santa Monica College: Santa Monica College is a California Community College accredited by the Accrediting Commission for Community and Junior Colleges (ACCJC) of the Western Association of Schools and Colleges (WASC). For 27 consecutive years, SMC has been California's leading transfer college to UCLA, UC Berkeley, and other University of California campuses. The college also tops in transfers to the University of Southern California, and Loyola Marymount University. More than 110 career training degrees and certificates at SMC—in fields ranging from the traditional (Accounting, Early Childhood Education, Nursing) to the emerging (Interaction Design, Sustainable Technologies, Technical Theatre)—offer professional preparation for students interested in directly entering the job market, transferring to a four-year school, or upgrading specific skills.