September 10, 2018
SMC to Break Ground for New Malibu Campus Sept. 21
Flexible-Use Campus in Malibu's Civic Center to Include Los Angeles County Sheriff's Substation and Emergency Operations Center
Architectural rendering of the art classroom/lab within SMC's new Malibu Campus at 23555 Civic Center Way in Malibu. The groundbreaking for the campus—that includes a Los Angeles County Sheriff's Substation and Emergency Operations Center—will be held Friday, Sept. 21 at 11 a.m. on the site.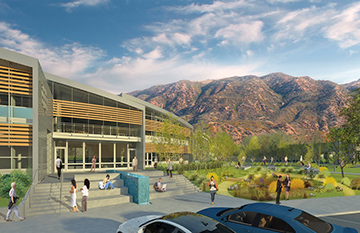 Entrance view of the SMC Malibu Campus, which is expected to open in early 2022.
Aerial view of the SMC Malibu Campus; the groundbreaking will be held Friday, Sept. 21. The three-acre campus, SMC's first in Malibu, will include a two-story educational building with dedicated labs for science and art; a multipurpose physical activity space; a 100-seat lecture hall with raked seating; a computer lab; and two general education classrooms. It will also house a Los Angeles County Sheriff's substation, with a multi-purpose room doubling as an Emergency Operations Center.
All Renderings Courtesy of QDG Architecture.
September 10, 2018
SANTA MONICA, CA—Santa Monica College (SMC)—in collaboration with the office of Los Angeles County Supervisor Sheila Kuehl—will break ground on a brand-new SMC Malibu Campus and Los Angeles County Sheriff's Substation, providing a permanent location for offering college classes and for housing Los Angeles County Sheriff personnel. The groundbreaking ceremony will take place on Friday, Sept. 21 from 11 a.m. to 12:30 p.m. on the site of the new campus at 23525 Civic Center Way in Malibu.
SMC Superintendent/President Dr. Kathryn E. Jeffery; SMC Board of Trustees Chair Barry Snell; Los Angeles County District 3 Supervisor Sheila Kuehl; Los Angeles County Sheriff Jim McDonnell; County of Los Angeles CEO Sachi A. Hamai; and City of Malibu Mayor Rick Mullen are among those expected to speak at the event.
The three-acre campus, SMC's first in Malibu, will include a two-story educational building with dedicated labs for science and art; a multipurpose physical activity space; a 100-seat lecture hall with raked seating; a computer lab; and two general education classrooms. Designed by QDG Architecture with numerous sustainability features and fulfilling the city's "dark skies" standards, the campus will also provide space for an interpretive center to support Malibu's unique culture and history.
A one-story wing of the structure will house the Los Angeles County Sheriff's substation, with the multi-purpose room doubling as an Emergency Operations Center. The campus is expected to open in 2022—with an estimated total cost of $50 million—which includes costs for construction, contributions to the City of Malibu for clean water facility improvements, and full prepayment of rent to the County.
"SMC's Malibu Campus builds on a legacy of valuable educational services that the college has offered to the Malibu community in the past, ranging from art to general education and noncredit offerings," said Dr. Kathryn E. Jeffery, SMC Superintendent/President. "We've envisioned how that legacy might be further enhanced so that Malibu community members have the best possible learning experience right in their own backyard. Special thanks to the voters who approved the 2004 bond Measure S and the 2016 Measure V to make this campus a reality!"
Dr. Jeffery added, "It took teamwork to bring the Malibu Campus from vision to actuality. Multiple agencies—including the County of Los Angeles, the City of Malibu, and Santa Monica College—collaborated extensively to find creative solutions to fulfilling community needs within an overall vision of education, public safety, and clean water improvements for Malibu."
An important partnership has been the Malibu Public Facilities Authority, formed on October 12, 2004, through a Joint Powers Authority agreement between the City of Malibu and Santa Monica College to pursue planning for clean water facilities and an educational campus in the city and the acquisition of property. The Authority includes two City of Malibu councilmembers and two members of the SMC Board of Trustees. A vital second partnership was forged In April 2011, when the County of Los Angeles and SMC entered into a Memorandum of Understanding that would provide a site for the new campus and would include a community Sheriff's substation to be built as part of the project. This will be the first time since the early 1990s that Malibu has had a police substation within city limits.
Along with the police substation, an existing antiquated emergency communications tower will be updated, and the multipurpose community room will double as an emergency operations center, if and when needed.
"The new SMC campus in Malibu will be a great addition to the educational and cultural opportunities in the community," said Supervisor Kuehl. "This revitalization provides numerous opportunities for SMC and the County of Los Angeles Public Library to collaborate and also enhances public safety with an on-site Sheriff's substation, as well as improved emergency communications systems and emergency services. It's a terrific example of the opportunities for collaboration between the County and one of our County cities that will provide benefits to our residents for years to come."
As part of its responsibilities towards the Authority's goal of providing clean water facilities for the Malibu Civic Center, SMC contributed $2.5 million for the acquisition of Legacy Park, which serves as a storage site for storm water, and an additional $2.5 million towards facilities for the treatment of wastewater. The 15-acre Legacy Park—which opened in October 2010 immediately to the south of the campus site—is widely considered one of the most innovative urban runoff and storm water projects in California, and has won numerous awards. The wastewater treatment facility—and its complex system of piping, treatment, and discharge through injection wells—has just opened, and is now successfully in operation.
"Malibu is excited about the valuable benefits that the new SMC campus will bring to our community," said Malibu Mayor Rick Mullen. "Students here will have access to SMC's great curriculum close to home, and the Emergency Operations Center and Sheriff's Substation will be tremendous assets to our public safety and emergency preparedness and response capabilities. We look forward to a long and mutually beneficial relationship with SMC."
SMC's educational offerings in Malibu—which, along with the city of Santa Monica, lie within the single-college district's "boundaries"—extend as far back as the 1970s and early 1980s when the college offered a full program of about 70 general education classes. Over time, the difficulty of securing a permanent site for classes led to a reduction of SMC's Malibu offerings. In more recent years, SMC has offered a few classes at the Malibu Senior Center in City Hall as part of the college's noncredit Emeritus Program for older adults, in addition to a small program of evening credit classes at Webster Elementary School.
When unveiled, the new Malibu campus will offer classes that are likely to include what was offered before physical space became a constraint. Hence the building includes a classroom for art featuring wet sinks; a lecture hall that will have raked seating with capabilities for music and film; and open floor spaces for dance and yoga. In addition, the general-purpose classrooms will host first-year and/or dual enrollment general education classes and some specialization classes in disciplines such as geology, life science, or ecology, to tie into the rich and varied coastal features nearby.
Those interested in attending the groundbreaking should RSVP to Shari Davis at 310-434-8668. For more information about the event itself, please contact Kiersten Elliott at Elliott_Kiersten@smc.edu or (310) 434-4173. There is ample parking on premises.
About Santa Monica College:
Founded in 1929, Santa Monica College is a California Community College accredited by the Accrediting Commission for Community and Junior Colleges (ACCJC) of the Western Association of Schools and Colleges (WASC). For 27 consecutive years, SMC has been California's leader in transfers to UCLA, UC Berkeley, and other University of California campuses. The college also tops in transfers to the University of Southern California and Loyola Marymount University. More than 110 career training degrees and certificates at SMC offer professional preparation for students interested in directly entering the job market, transferring to a four-year school, or upgrading specific skills. SMC provides news and cultural enrichment through its NPR radio station KCRW (89.9 FM) and The Broad Stage at the SMC Performing Arts Center as well as lifelong learning through distinctive programs such as its Emeritus Program for older adults.
# # # #