September 24, 2018
Santa Monica College Debate Team Brings Home Top PSCFA Awards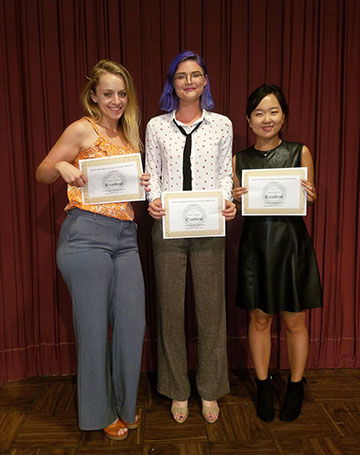 SANTA MONICA, CA—The Santa Monica College (SMC) student Speech and Debate Team won several awards at the Pacific Southwest Collegiate Forensics Association (PSCFA) "Warm Up" Tournament held at El Camino College on Saturday, Sept. 22, 2018.
Three of the 10 SMC students who competed won high-level awards in International Public Debate Association (IPDA) debate, in which each competitor engages in four rounds of one-on-one debate, with only 30 minutes to prepare before each round. 34 students from 13 two- and four-year institutions from Southern California and Arizona participated in the competition.
SMC students Shaindi Schwebel (co-team captain), and new debate team members Hyeji Jang and Kelsey Molle each received an "Excellent" award for winning 3 out of their 4 debate rounds. (Winners of 4 out of 4 rounds win a "Superior").
"Our first tournament of the semester proved how much potential this new team has," Co-Team Captain Shaindi Schwebel said. "I was reminded of how much I love debating, and how rewarding it is to watch other people love it too. Win or lose, we had a ton of fun. I'm really excited to see how much our team can achieve this year!"
New team member Hyeji Jang added, "As a freshman, I am ecstatic to start off my first semester with the SMC Debate Team on a high note . . . the tournament has electrified me as well as my fellow teammates to get in the spirit of debating and competing. I feel more motivated to practice and hone my debating skills, and—hopefully—bring back multiple awards to proudly hang on the team room's wall!"
Kelsey Molle, also a new team member, stated that she was "pleasantly surprised" to not be "as nervous as some other first timers and novices." "I am sincerely looking forward to our future tournaments, and the journey ought to be just that much more enjoyable since I get to grow closer with such a competitive, lively, and witty team," said Molle. She added that in spite of "quite the busy schedule," she is "determined to continually improve throughout this semester and the next in order to get to the Phi Ro Pi National Championships in Reno, Nevada in April 2019."
The Associated Students of Santa Monica College sponsored the SMC Speech and Debate Team's presence at the competition. For more information on the team, contact Nate Brown at brown_nate@smc.edu or 310-434-8781.
Santa Monica College is a California Community College accredited by the Accrediting Commission for Community and Junior Colleges (ACCJC) of the Western Association of Schools and Colleges (WASC).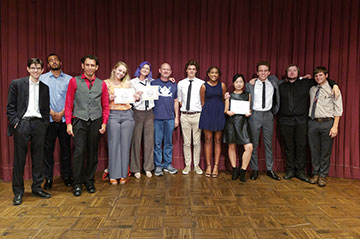 # # #