October 22, 2018
SMC Debate Team Wins Top Awards at Intercollegiate Tournament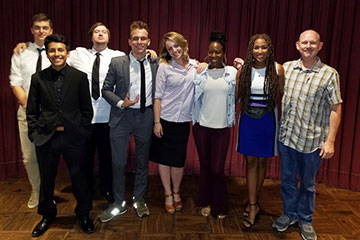 SANTA MONICA, CA—The Santa Monica College (SMC) student Speech and Debate Team won several top awards at the Crossman Invitational Debate Tournament held at El Camino College on Sunday, Oct. 14.
Five of the nine SMC students who competed won high-level awards in International Public Debate Association (IPDA) debate, in which each competitor engages in four preliminary rounds of one-on-one debate, with only 30 minutes to prepare before each round. Thirty-seven students from nine two- and four-year institutions from Southern California, Arizona, and Illinois participated in the tournament.
SMC students Alexys Davis and Dominic Smith both won first place in their division. Brandon Chase won second place and was also ranked best speaker. Layla Akbar-Grant and Shaindi Schwebel both won third place awards.
The SMC team also won the third place sweepstakes award, which measures overall team success as compared to other two-year school teams.
Alexys Davis reflected that debate has taught her life lessons. "Some of the rounds that you feel completely strong about may be some of the rounds [where] you showcased more of your weaknesses," she said. "Debate has taught me to be more optimistic about my strengths and weaknesses and encouraged me to be more level headed about how I formulate and distribute my talking points."
Dominic Smith said that engaging in competitive debate has enabled him to "refine not only myself but how I reach people." "Before winning gold at the Crossman Invitational, I was a bit shaky. Now, I'm motivated!" he added.
Brandon Chase, who was ranked Best Speaker, stated that "…without the ability to communicate, the ability to think becomes redundant. Without the ability to object, one becomes subject. Speech and debate is such a fun and enhancing experience . . . I wouldn't substitute it for anything."
"I believe if you don't stand for something, you will fall for anything," said third place winner Layla Akbar-Grant. "Debating is a great way to practice standing your ground as someone else is trying to disagree with you. Applying these skills to my future path in law is going to give me a thicker skin, a more open mind, and respect for other people's opinions."
The Associated Students of Santa Monica College sponsored the SMC Speech and Debate Team's presence at the competition. For more information on the team, contact Nate Brown at brown_nate@smc.edu or 310-434-8781.
Santa Monica College is a California Community College accredited by the Accrediting Commission for Community and Junior Colleges (ACCJC) of the Western Association of Schools and Colleges (WASC).
# # #