Nov. 5th, 2018
SMC First CA CC to Host ASU Transfer Services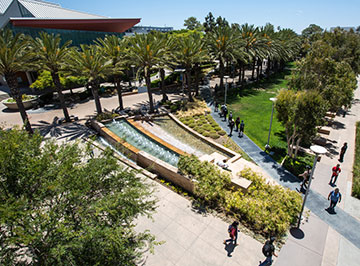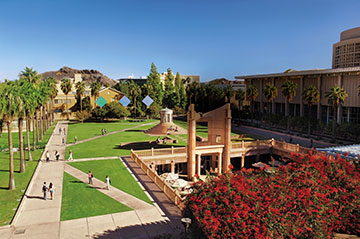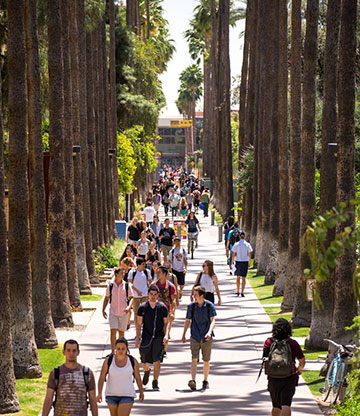 SANTA MONICA, CA—Santa Monica College (SMC) is now the first California community college to host an onsite transfer services program manager from Arizona State University (ASU), the Phoenix-based top-ranked public research university. SMC students who are interested in transferring to ASU or are concurrently enrolled in an online program at the four-year campus—ranked #1 in the U.S. for innovation by U.S. News & World Report—can now avail themselves of academic guidance and support services right on SMC's main campus in Santa Monica
The assignment of an exclusive ASU transfer services manager is the latest development in a series of collaborations between the university and SMC. In 2017, SMC won a $2 million Award for Innovation grant from the California Department of Finance in partnership with ASU, to develop innovative technology to increase completion rates and ultimately make college more affordable.
ASU boasts a student body that includes more than 12,000 California residents, including more than 7,000 through ASU Online. Designed for California community college students, ASU developed the Guaranteed Program for Admission - transfer partnerships designed to allow for a smooth transition to ASU.
"Over the years, Santa Monica College and Arizona State University have cultivated an increasingly collaborative relationship, with a common goal of providing an accessible, high-quality academic pathway for students who want to make a difference in their own lives and in their communities," said Dr. Kathryn E. Jeffery, SMC Superintendent/President. "Having an ASU staff member on SMC's campus elevates the relationship and underscores the university's commitment to receiving community college transfer students and guaranteeing their success."
SMC, in partnership with ASU, offers the Transfer Admission Guarantee (TAG) Program. Students who participate in the TAG program at SMC receive guaranteed admission, for up to two years, into their major of choice if they meet all program requirements. Additionally, students receive tailored guidance and support to ensure that they can transfer the maximum number of credits that will apply towards their degree at ASU.
Dr. Maria Hesse, ASU Vice Provost for Academic Partnerships, said that the idea of having an onsite staffer came about from noticing an unusually high number of transfer students from SMC.
"In just the past four years, SMC had 500 students transfer to ASU," she said. "It may not seem large in comparison to the students SMC transfers to the local University of California and California State University campuses, but from the perspective of an out-of-state university, that's a large number—from one college in California."
Fidel Mahangel, ASU's California transfer services program manager at SMC, will be involved with traditional university recruitment duties. In addition to recruitment, she will provide university support services for students who are enrolled at ASU Online and are not leaving Southern California, helping them feel more connected to the Sun Devil community.
Roughly two-thirds of the SMC to ASU transfer students in the past four years have enrolled in the university's online programs (ASU's online bachelor's degree program is ranked no. 4 in the nation by U.S. News & World Report). Popular majors among SMC transfers to ASU include Business, Communication, English, and more.
"I'm seen as a connector and a first point-of-contact," said Mahangel. "ASU is a large institution and my goal is to make sure that students are able to get in touch with the right folks."
Mahangel, who holds a Master of Public Administration degree from Cornell University, has also worked in educational policy analysis with the Michelson 20MM Foundation and helped identify flexible transfer pathways and postsecondary options with College for America, allowing youth caught in the juvenile justice system to earn college credits toward a degree.
Those interested in setting up an appointment with Fidel Mahangel can do so by visiting the Transfer Center at SMC. She can also be reached by email at ASUFidelMahangel@asu.edu.
For information on all the Transfer Admission Guarantee (TAG) Programs at SMC—including those forUC Davis, UC Irvine, UC Santa Cruz, CSU San Marcos, Western Oregon University, Loyola Marymount University (LMU), LA Film School, and more.
In addition, students who successfully complete the coursework requirements of the SMC Scholars Program receive priority consideration for admission to UCLA College of Letters and Science. Santa Monica College has been California's leading transfer college to the UC campuses for 27 consecutive years, and also leads in transfers to the University of Southern California and LMU. Each fall, SMC hosts the largest college fair in California; this October, over 170 California, U.S., and international colleges and universities participated.
ASU's California footprint includes a recent expansion into the historic Herald Examiner building in Downtown Los Angeles, the ASU California Center in Santa Monica – which offers academic programs in journalism and film and an initiative for technology entrepreneurs – and other partnerships, including with the Los Angeles County Museum of Art.
# # # #
About Santa Monica College
Founded in 1929, Santa Monica College is a California Community College accredited by the Accrediting Commission for Community and Junior Colleges (ACCJC) of the Western Association of Schools and Colleges (WASC). In addition to being California's leader in transfers toUCLA, UC Berkeley, the University of Southern California, and Loyola Marymount University, SMC also offers more than 110 career training degrees and certificates. SMC provides news and cultural enrichment through its NPR radio station KCRW (89.9 FM) and The Broad Stage at the SMC Performing Arts Center as well as lifelong learning through distinctive programs such as its Emeritus Program for older adults.
About Arizona State University
Arizona State University has developed a new model for the American Research University, creating an institution that is committed to access, excellence and impact. ASU measures itself by those it includes, not by those it excludes. As the prototype for a New American University, ASU pursues research that contributes to the public good, and ASU assumes major responsibility for the economic, social and cultural vitality of the communities that surround it.