Dec 18, 2018
Free Family Portraits for Woolsey Fire Victims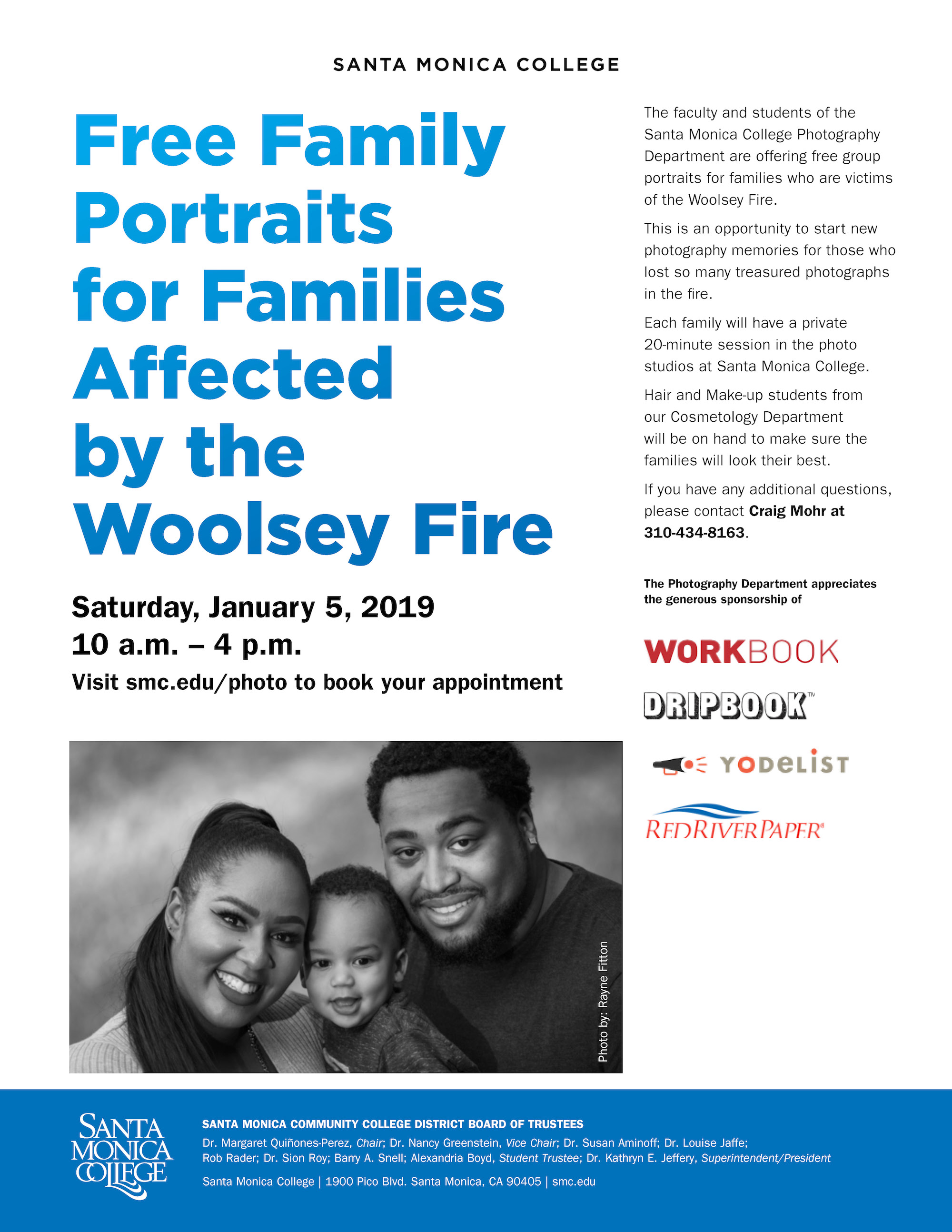 SANTA MONICA, CA—The faculty and students of the Santa Monica College (SMC) Photography Department are offering free group portraits to families who were affected by the Woolsey Fire. Each family will get a private 20-minute photo session on Saturday, January 5, 2019, from 10 a.m. to 4 p.m. in the photo studios (Drescher Hall, Room 110) at SMC's main campus, 1900 Pico Blvd., Santa Monica.
Those interested can book appointments through the Photography Department's website. The sessions, which will be scheduled on a first-come, first served basis, includes hair and makeup touch-up services to be provided by SMC Cosmetology students. SMC Fashion Design & Merchandising students also will be on hand to assist with any last-minute wardrobe styling adjustments required. Each family will be provided a complimentary matted 8x10 archival black-and-white print, as well as 10 digital images for personal use.
SMC Photography Instructor Blue Fier said that The Old Topanga Fire of 1993, which caused widespread destruction in Malibu, was the original impetus for the project. "I remember seeing families, friends, and people of all ages being interviewed by TV newscasters," said Fier. "What touched me was that nearly all of those whose homes had been burnt said they were glad they grabbed their family photo albums... or that they regretted not having taken them."
At the time, Fier took family portraits for free as a personal project. This time around, after the Woolsey Fire in November 2018, Fier thought it would be an ideal project for SMC students. He spoke to SMC Photography professor Craig Mohr about how they could undertake this meaningful project on a larger scale. Mohr brought in SMC's Cosmetology and Fashion departments to collaborate. And that was that.
"This is an opportunity for those who lost treasured photographs in the fire, to start anew," said Mohr. "We are also grateful that students from the Cosmetology and Fashion Design & Merchandising departments have joined in the collaboration, to help families look their very best!"
The student photographers participating in the project are enrolled in Josh Withers' Photo 31 (Lighting for People 1) course, and in Photography Department Chair Josh Sanseri's Photo 32 (Lighting for People 2) course.
The Santa Monica College Foundation has also partnered with the Santa Monica-Malibu Unified District to raise funds for over 150 families of students and employees who lost homes and/or had their homes damaged in the Woolsey Fire. Donations can be made at the Woolsey Fire fundraising page.
SMC's Photography Department offers both an Associate of Arts degree as well as a Certificate of Achievement in Photography; see www.smc.edu/photo for more information. SMC's Cosmetology department offers a number of options—including an Associate Degree and Certificate of Achievement in Cosmetology, and department certificates in esthetician, nail care, and business/salon entrepreneurship. More information is available at www.smc.edu/cosmetology. And SMC's Fashion Design & Merchandising department offers an Associate Degree and Certificate of Achievement in two areas: fashion design and fashion merchandising.
The free family photo sessions are sponsored by Workbook, Dripbook, Yodelist LLC, and Red River Paper. Additional inquiries may be directed to Craig Mohr at (310) 434-8163. Free parking is available in campus parking lots adjacent to Drescher Hall on Pico Blvd. (Lots 3 and 4); a map of SMC's main campus is available here.
# # # #