February 1, 2019
SMC Alum & Maroon 5's Jesse Carmichael on Art, What Fans Can Expect Sunday, Fatherhood & More
SANTA MONICA, CA—In just about two days—on Sunday, Feb. 3—three-time GRAMMY® Award-winning band Maroon 5 will take the stage at the most-watched concert of the year: the Pepsi Super Bowl LIII Halftime Show. GRAMMY-nominated rapper Travis Scott and Atlanta native Big Boi (hip-hop icon and one-half of hip-hop duo Outkast) will join them on stage at the Mercedes Benz Stadium in Atlanta, where the New England Patriots and Los Angeles Rams will face off. Previous performers have included Beyoncé, Madonna, Bruce Springsteen, Katy Perry, Prince, Coldplay, and Justin Timberlake, to name a few.
Santa Monica College (SMC) alum Jesse Carmichael will be on that stage Sunday. Carmichael—Maroon 5's keyboardist/rhythm guitarist—studied at the Southern California community college, known mostly for being the state's number one transfer institution to the University of California. Carmichael studied music, psychology, and more—all while launching a career with a band that would go on to become one of the 21st century's greatest pop acts. He also has a solo project called 1863.
"Jesse was a star student—straight As, very humble and modest," says David Goodman, his SMC music professor. "I don't think he learned as much from me as I learned from him." Carmichael met Maroon 5 frontman Adam Levine and bassist Mickey Madden while they were students at Brentwood School. Their friendship and artistic relationship have endured over an illustrious career. The Los Angeles band would go on to become "the most successful group in the history of the Billboard Hot 100" with 12 "Top 10" entries and earned 20 "Top 40" hits, the only group to ever do so. Maroon 5 has sold over 36 million albums, 48 million singles worldwide, and earned gold and platinum certifications in more than 35 countries.
Santa Monica College's Public Information Office caught up with Carmichael on Wednesday, Jan. 30 to talk about his musical influences, art, fatherhood, his relationship with Adam Levine—and what fans can expect from Maroon 5 this Sunday. Here are a few excerpts from the exclusive interview:
When was the first time you realized that you wanted to pursue music?
I think it was when I was about seven . . . I started playing the piano, an electric piano my parents got. I loved classical music and Bach's Prelude No. 1 in C major - The Well-Tempered Clavier was the piece I loved the sound of; I had a piano teacher show me how to play it.
Then my sister started to play guitar—I loved the sound of the guitar and started to take lessons in seventh grade. That's when we started going to Brentwood High School in Los Angeles where I met Adam (Levine) and Mickey (Madden)—we all became friends. Adam was already a good guitar player, and he started to show me more and we started to write songs together.
Tell us about Kara's Flowers—your first band with Adam—and how that first record deal came about.
We were in 10th grade. It was the day that we recorded our first demo tape. We played at a beach party in Malibu that night and a producer was walking his dog on the beach and heard us; he came up and I had a [demo] tape in my coat pocket and gave it to him. The next day, they gave us a recording contract. We went on to record our first pass at an album and we had switched to a major label by the time we were done with high school. We thought we were going to be a big band because it was a major label—but it was a shifting time in the music world and we sounded like Green Day meets The Beatles. At that time, Backstreet Boys and Britney Spears came out, no one really wanted to hear [our kind of] music anymore. The record label dropped us but they had to pay us to leave so we got to take a little time off— and that's when I went to Santa Monica College, while we were figuring out what to do after the "failure".
So you took several music courses at SMC, in 2000-2001 and again in 2005?
Yes, I was always trying to fit in continuing education after high school and when we weren't on the road. I fell in love with the college; I thought all the teachers were great. We came from a school that aimed at getting kids ready for Ivy League college experiences; a lot of people who went to our high school went on to schools like Harvard. When I went to Santa Monica College, it was the same level of care [I had received] from the teachers at Brentwood. I took some UCLA Extension courses as well . . . but I really fell in love with the music program at SMC and Dr. [David] Goodman was such a great teacher. It was a very inspiring time.
(Editor's note: Carmichael studied popular harmony and arranging; tonal counterpoint; and orchestration at Santa Monica College)
So you just heard about the music program at SMC and decided to enroll?
Yeah—we lived nearby, too; I had an apartment on Centinela and Santa Monica Boulevard for a while, then I moved to Culver City in 2005. The college campus was beautiful and I loved the people I met there. I took other classes as well: American Government, Psychology, and Statistics. I finished my whole two-year certification [lower-division college coursework] at SMC. I was thinking at some point I would transfer to a school like UCLA, but everything took off with the band and I never moved on to any other college experience. Although someday, I will, because—this pertains especially to music—learning is such a lifetime experience. The more I learn about music, the more I realize what I did not know . . .
Whom would you count among your greatest influences, not just in music but also in life?
My parents come to mind, first. From the classical music world: Bach, Mozart, Chopin, and Stravinsky . . . all the way up to Steve Reich. And film composers Danny Elfman, Hans Zimmer… it's inspiring for me to see people who've come from rock and electronic music backgrounds segueing into that [film] world. My father was a filmmaker—I grew up loving photography and film and I'm now getting more into that world myself, doing scoring work, shooting, editing, directing and writing. That's going to be part of the next chapter in my life.
Anyone who is passionate about their craft is inspiring, and people who are selfless with their time and doing charity work—bringing awareness of climate change to the world and tackling the problems of inequality.
Your schedule while on tour must be hectic—how do you take care of yourself?
It was a learning process to figure out how to find balance in the midst of a lot of travel and uncertainty and the inability to make plans for the future. But I have found that balance . . . I have a wonderful fiancé, Tara, and we have a six-month-old baby, Hendrix, and we're just so happy with the family side of life. Balance is the key word; I have explored a lot of things like yoga and meditation. Exercise in general—any kind—is helpful. And eating good food and having a positive outlook and perspective.
Tell us more about Hendrix.
Hendrix already loves music. I hold him on my lap when I play the piano, he watches my hands and reaches out to touch the keys . . . he'll push one key down in a very purposeful way and listen to the sound. He's quiet and curious.
We played music when Tara was pregnant, and actually, we did it in an intentional way. There's an app we found called Nuryl, developed by a guy named Rick Beato . . . a musician and teacher who has a bunch of great YouTube videos. He developed this program with his wife when they were pregnant with their first child. We definitely recommend this to any parents out there or parents-to-be!
What is your average day like when you're on tour?
We get to a hotel – probably in the nighttime – and check into our rooms. Everybody over the years has learned to travel with just the right amount of stuff. I have a portable studio set up in a backpack and rolling piece of luggage that I can set up . . . I've been working on film scoring practice and other musical endeavors. We usually have a trainer on the road with us so we will go to the gym in the morning after we eat, then we go to sound check, play the show, eat some more food . . . then we're off!
What about when you are not on tour?
I have a home studio now so I don't have to travel to get to where I'm working and we've just been in a family bubble for the last six months. We spend time with the boy and we have two dogs so we'll take a hike with them from our house in Laurel Canyon. We are both working on trying to find the balance of spending time with each other, with the baby and on the things that we love to do—and staying healthy.
Tell me more about 1863—your solo project. How did that come about? Where did the name come from?
1863 came to me when I was looking for a name for a side project and I had just gotten a T-shirt from a friend . . . the company had printed on the inside of the shirt this Gothic script that said: "1863: Abraham Lincoln signed the Emancipation Proclamation" and that spoke to me. Because I love this idea of the pursuit of freedom and the pursuit of equality on every level of life, whether we're talking about society or the individual.
I have been so lucky with Maroon 5, to have financial stability in my life. So that everything I do with a side project is only motivated by a need to express something. In that sense, it feels like a very free realm for me. I am interested in pursuing a type of freedom within myself that will then hopefully radiate outwards in my interactions with other people.
Are you reading anything right now?
I'm reading a novel by the Japanese author Haruki Murakami, one of my favorite authors and this is his new book called Killing Commandatore. The last thing I read from him was 1Q84. I think of him as a very mystical psychedelic writer . . . he can bend time and space. I find that things start to happen in my life in a parallel way—synchronistic things, like the music he recommends in his books, will take me on a certain journey and it starts to creep into my dreams!
How would you describe your—at this point, long-term—relationship with Adam (Levine)?
Adam is one of my musical heroes and I am so grateful that I got to grow up with him, and I am really looking forward to what kind of music we will make together as a band moving forward. After a lot of intense efforts on our part and transitions in the band where we started to work with outside songwriters for the last couple albums, there seems to be a time coming where we will all be more settled in our homes and with our families and less busy on the road. It is possible that some future Maroon 5 music will be a little more collaborative and experimental . . . we'll see. In the meantime, we already have some new songs coming together for a new album, a continuation of the super-catchy, forward-thinking pop music that we have been focused on for the last couple albums.
What can we expect from Maroon 5 this Sunday?
We are so (laughs) excited about the show we put together for the Super Bowl—it is a really good selection of songs and we've got some great guest artists joining for the performance. The production design for the stage, lights, video, and pyrotechnics is really exciting. I just think it's a really great moment in the band's career to get to show a lot of people who don't know a lot about [Maroon 5]. . . maybe they've only heard songs on the radio, but now they're going to see what we do live. The kind of guitar player Adam is, for example, I don't think a lot of people know what a truly amazing guitar player he is. And the whole vibe of the band—live—is much more rock 'n' roll and high-energy. So I think that could surprise a lot of people.
What advice do you have for students or up-and-coming musicians who want to follow in your footsteps?
We always were so focused on how much we love music. We've organized our lives so that we could work as hard as possible on music and on top of that we were really lucky to have so many great situations just show up in our lives. Like that producer walking his dog on the beach . . . those are the kind of things you can't control. The stuff you can control is really just a question of discipline, love, and passion for exploring whatever creative realm [you] are interested in. It's about finding the balance between personal effort and trusting that something else is guiding you . . . you can think of music as a living entity that goes out and finds ways to show up in the world through people who are passionate about it. I think it's the same for any other creative endeavor.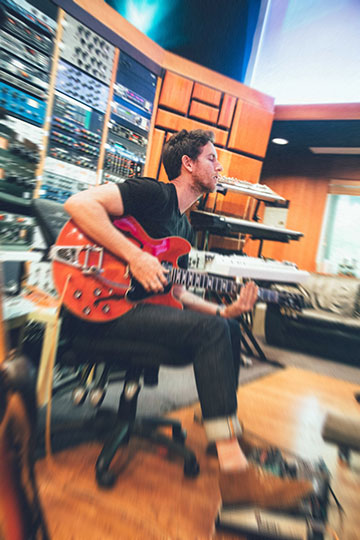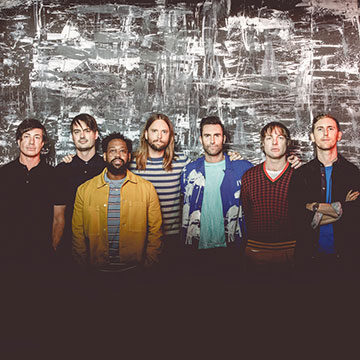 # # #
An expanded version of this interview—with more details—will run in the January-February issue of Santa Monica College's newsletter SMC in Focus.
For more information on Maroon 5, visit: maroon5.com and on social media: facebook.com/maroon5 and twitter.com/maroon5
About Santa Monica College
Founded in 1929, Santa Monica College is a California Community College accredited by the Accrediting Commission for Community and Junior Colleges (ACCJC) of the Western Association of Schools and Colleges (WASC). In addition to being California's leader in transfers to the University of California system, the University of Southern California, and Loyola Marymount University, SMC also offers more than 110 career training degrees and certificates. SMC provides news and cultural enrichment through its NPR radio station KCRW (89.9 FM) and The Broad Stage at the SMC Performing Arts Center as well as lifelong learning through distinctive programs such as its Emeritus Program for older adults.