March 8, 2019
SMC at Airport ArtWalk 2019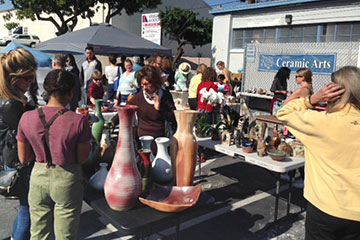 SMC Students to Be Showcased in Santa Monica Airport ArtWalk March 23
Ceramic Arts and Art Mentor Program Students to Demonstrate and Exhibit Work at Popular Cultural Event
SANTA MONICA, CA—Santa Monica College (SMC) Ceramic Arts and Art Mentor Program students will take part in the 13th Annual Santa Monica Airport ArtWalk on Saturday, March 23. The popular and free cultural event is scheduled for noon to 5 p.m. along Airport Avenue, located on the south side of Santa Monica Airport, between Bundy Dr. and 23rd St.
The event is presented by the City of Santa Monica Airport and Cultural Affairs, with support from the Museum of Flying, Santa Monica College, and other airport venues. Free parking, shuttle, and bike valet will be available for The ArtWalk.
The ArtWalk features live music, children's improv workshops, art sales, a stamp hunt, and more. The festive afternoon for the whole family is a great way to explore the Museum of Flying, The Ruskin Group Theatre, and the many galleries and art studios along Airport Avenue. Snacks and beverages will also be available for purchase from a variety of food trucks.
SMC at The ArtWalk
SMC's Ceramics and Art Mentor studios are located at the College's Airport Arts Campus, 2800 Airport Ave. Ceramics students will demonstrate their creative process, from molding and wheeling the clay through baking and glazing the finished designs. Additionally, there will be a special sale of student ceramic and glass works.
Students in the SMC Art Mentor program will also exhibit their work and discuss their process in a large common-area studio. The Art Mentor program provides highly talented students with an opportunity to work one-on-one or in small groups with mentors.
For more information, visit the Santa Monica Airport ArtWalk website at smgov.net/airportartwalk or follow the ArtWalk on the event page on Facebook ("Santa Monica Airport ArtWalk 2019").