March 19, 2019
Free Income Tax Prep Ends April 6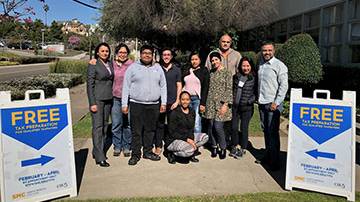 Free Income Tax Prep for Low-Income Households at SMC Runs Through April 6
Part of a Regional Volunteer Income Tax Assistance Program, SMC Volunteers Have Filed Well Over 200 Returns
SANTA MONICA, CA—Santa Monica College (SMC) Accounting student volunteers will continue to provide free income tax preparation to low-income households—that made under $54,000 of income in 2018—through Saturday, April 6. The free Volunteer Income Tax Assistance (VITA) Clinic takes place every Friday and Saturday, from 9 a.m. to 3 p.m. at the SMC VITA Office at 3400 Airport Avenue, Suite 76, in Santa Monica. Appointments are strongly encouraged; details and scheduling information are available at www.smc.edu/VITA.
"Overseeing and managing SMC VITA has been an immense joy for two reasons," said Cesar Rubio, SMC accounting professor, and SMC VITA site coordinator. "Firstly, I get a chance to continue mentoring my tax students in applying the tax law we learned in class, and watch them grow as tax professionals. Secondly, I get a chance to serve low-income SMC students and community members, including individuals with disabilities, senior citizens, and veterans. It has been an honor to serve them and to offer our tax preparation expertise to those who need it!"
A total of 25 tax-preparers from Rubio's Accounting 17: Income Tax Preparation course have taken turns volunteering each weekend since SMC VITA 2019 began providing services in February. To date, they have filed well over 200 tax returns, and that number is expected to rise.
Yin-Chi Kuo is an SMC Accounting major and a VITA volunteer. He remembers being nervous on his first day. "However, my first client was a patient guy, which made me less nervous. While he was waiting for his tax return to undergo a quality review, he told me that . . . it is a great thing that we provide free tax preparation. [He said that] if he went to a regular tax prep service, he [would have] paid a couple hundred dollars. On the other hand, our VITA program provides a great-quality service without any fees!"
Kuo added that he gained more confidence and that the experience helped him with communication skills and made him feel "needed by others in the community." Particularly, he enjoyed ". . . when they say 'thank you' and shake my hand."
Sarah Fitzpatrick, who is studying for a Small Business Tax Practice department certificate at Santa Monica College, said: "As tax preparers, we have a tremendous responsibility to the public. Participating in VITA provides me an opportunity to demonstrate that I have the integrity and ability to do the job."
The experience of volunteering was also, for Fitzpatrick, personal. "Each client is different, and I enjoy fitting their financial year into a tax return. A few have come in to file final returns for their deceased loved ones. I have a great deal of compassion for their circumstances because I know how it feels to lose someone. Hopefully, we can make the filing process a little less stressful for them."
In its second year at SMC, the grant-funded VITA program originated at California State University, Northridge (CSUN), where it has been ongoing for several decades. VITA has been a win-win program—providing cost-free tax assistance for low-income families and individuals and, at the same time, real-world experience for student volunteers who are equipped to be IRS certified tax preparers. CSUN expanded the program to four other Los Angeles-based CSU campuses—known collectively as the "CSU 5"—and to six community colleges: Santa Monica College, College of the Canyons, East Los Angeles College, Los Angeles Mission College, Long Beach City College, and Mount San Antonio College.
SMC's Accounting program offers several options to prepare students for employment as accountants and auditors, a field that is projected by the Bureau of Labor Statistics to grow 10 percent from 2016 to 2026, faster than the average for all occupations. Options of study at SMC include an Associate in Science Degree in Accounting; a Certificate of Achievement-Staff Accountant; a Certificate of Achievement – CPA Track Candidate; a Department Certificate in Small Business Tax Practice; and a Department Certificate in Business Bookkeeping.
Santa Monica College students who go on to test in sections of the CPA exam consistently perform at par with—and, by some measures, even outperform—their peers from four-year universities. The most recent study of SMC Accounting students success in the CPA exam was conducted in 2016: on average, the 21 SMC candidates passed 43.1 percent of all sections of the CPA exam, outperforming the average performance of all California community colleges (34.8 percent), California State University campuses (36.2 percent), and private and for-profit institutions (42.5 percent).
For more information on the Accounting Program at SMC, visit www.smc.edu/accounting. For information on SMC VITA, write Cesar Rubio at Rubio_Cesar@smc.edu or call 310-434-4846.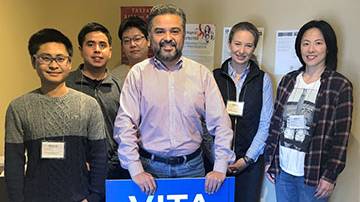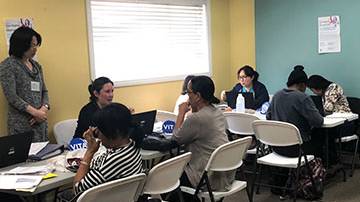 # # #
About Santa Monica College
Founded in 1929, Santa Monica College is a California Community College accredited by the Accrediting Commission for Community and Junior Colleges (ACCJC) of the Western Association of Schools and Colleges (WASC). In addition to being California's leader in transfers to the University of California system, the University of Southern California, and Loyola Marymount University, SMC also offers more than 110 career training degrees and certificates. SMC provides news and cultural enrichment through its NPR radio station KCRW (89.9 FM) and The Broad Stage at the SMC Performing Arts Center as well as lifelong learning through distinctive programs such as its Emeritus Program for older adults.