April 1, 2019
Chem Club Receives Highest ACS Honor
American Chemical Society Awards Highest Honors to SMC Chemistry Club
Santa Monica College only California Community College to Receive "Outstanding" Honor for Second Consecutive Year
SANTA MONICA, CA—The American Chemical Society (ACS) gave an "Outstanding" award to the student-run Santa Monica College (SMC) Chemistry Club at a March 31 ceremony held in Orlando, Florida. This marks the second consecutive year that SMC is the only California community college to receive the highest honor bestowed on student chapters by the world's largest scientific society. The ACS also gave the SMC Chemistry Club the Green Chemistry Award for its promotion of "green chemistry."
Out of 400 student chapters from across the nation who submitted reports of work accomplished in 2017-2018, only 69 were recognized with the Outstanding award. Besides SMC, these included clubs from such institutions as the University of Arizona, University of California-Riverside, UC Davis, and UC San Diego. In addition, 92 student chapters received the "Commendable" award—one step under "Outstanding"—including those from UCLA; Pasadena City College; Pepperdine University; Cal Poly, San Luis Obispo; Emory University, and more. And 145 student chapters received "honorable mention" while 72 were recognized as "green chapters."
ACS president for 2018 Peter K. Dorhout, Ph.D. commended the SMC Chemistry Club's faculty advisors—and chemistry professors—Jennifer Hsieh and Travis Pecorelli in a letter: "Few faculty members are willing to make the great commitment of time and energy that a successful chapter requires," wrote Dorhout. "Professor Hsieh and Professor Pecorelli's efforts certainly represent the best in undergraduate science education and mentoring around the country. We extend our warmest congratulations to the students and Professor Hsieh and Pecorelli for setting such a fine example for other chapters and being exemplary chemistry ambassadors!"
Among the activities conducted in 2017-2018 by the SMC Chemistry Club which won it the Outstanding award were community outreach and professional development-focused events. These included two visits to the CREST (Childcare, Recreation, Enrichment, Sports, Together) program at Will Rogers Elementary School and Grant Elementary School in Santa Monica where SMC students led schoolchildren in hands-on science demos that involved extracting DNA from strawberries and exploring the non-Newtonian properties of Oobleck (a cornstarch and water slurry).
The club also hosted approximately 60 John Adams Middle School (JAMS) students in SMC's chemistry labs where they performed a UV/VIS spectrophotometry experiment to determine the concentration of FD&C yellow dye #5 in Mountain Dew. Notably, the club spearheaded the first annual community SMC STEM Festival on April 21, 2018—an interdepartmental collaboration between faculty and students across STEM fields—featuring hands-on experiments, live demos, and interactive workshops.
Plus, the club hosted a panel of alumni to talk about transferring and applying for lab research positions and brought guest speakers such as art conservationist Chrysanthe Pantages; UCLA Chemistry Professor Dr. Hosea Nelson; and SpaceX engineer Michael Shier. Field trips were part of the busy 2017-2018 year for the Chemistry Club: they toured the Getty Conservation Institute; the Fossil Lab at the La Brea Tar Pits; and the Ballona Wetlands.
In a true demonstration of the SMC club's interdisciplinary reach, its 2017-2018 president Tarik Meziab is an English/Creative Writing major who will also soon be receiving an Associate Degree in General Science. "The SMC Chemistry Club strives to contribute to both the SMC and the Santa Monica community, and the steady evolution of our outreach events shows our dedication to achieving this goal," said Meziab. "Our outreach events reached upwards of 80 families and 100 K-12 students, allowing them to develop a lifelong interest in science. During my time as the club's president, the advisors and officers did outstanding work and I have the utmost confidence that the club will continue to develop this rich legacy."
Faculty advisor Jennifer Hsieh said that the work of the Chemistry Club is important "on many levels." "For our students, it's an opportunity to gain leadership and communication skills while sharing their passion for the sciences with the community," said Hsieh. "For outreach participants, it's an opportunity to engage in very exciting hands-on science experiences while increasing scientific literacy . . . I have come across people that are intimidated by science and it's my hope that through our outreach efforts we'll break down that barrier."
The Chemistry Club meets every Tuesday, and students from any major/area of study are welcome to join. The club is currently planning the 2nd Annual SMC STEM Festival coming up on Saturday, May 4 at 10 a.m. on SMC's main campus at 1900 Pico Blvd. Club representatives' presence at the ACS meeting where the Outstanding award was received was made possible by financial assistance from the SMC Associated Students, the SMC Foundation, and the American Chemical Society.
Founded in 1876 and chartered by the U.S. Congress, the American Chemical Society is the world's largest scientific society with a mission to advance the broader chemistry enterprise and its practitioners for the benefit of Earth and its people. ACS student chapters are organizations for undergraduate students with an interest in the chemical sciences. Members participate in a wide range of programs and activities that enhance their college experience and prepare them for successful careers. For more information, visit the American Chemical Society website.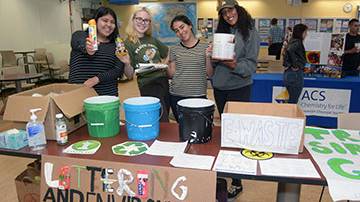 ####
About Santa Monica College
Founded in 1929, Santa Monica College is a California Community College accredited by the Accrediting Commission for Community and Junior Colleges (ACCJC) of the Western Association of Schools and Colleges (WASC). In addition to being California's leader in transfers to the University of California system, the University of Southern California, and Loyola Marymount University, SMC also offers more than 110 career training degrees and certificates. SMC provides news and cultural enrichment through its NPR radio station KCRW (89.9 FM) and The Broad Stage at the SMC Performing Arts Center as well as lifelong learning through distinctive programs such as its Emeritus Program for older adults.