April 19, 2019
2nd Annual SMC STEM Festival May 4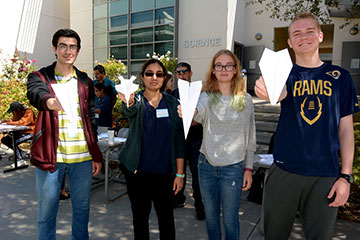 SMC to Hold Community STEM Festival on May 4
A Day of Fun and Learning with Live Demos, Hands-on Experiments and Workshops for Children of All Ages
SANTA MONICA, CA—Santa Monica College (SMC) will hold its 2nd Annual SMC STEM Festival in celebration of Earth Week, from 10 a.m. to 1 p.m. on Saturday, May 4. Entry to the festival is free. It will feature hands-on experiments, live demos, and interactive workshops for children of all ages. Participants will meet in the college cafeteria at 10 a.m. Parking in Lots 3 and 4 is free on the day of the festival.
"Santa Monica College's STEM faculty and students are pleased to invite community members, students, and families to engage in exciting STEM activities on this day of learning," said SMC Associate Professor of Chemistry Jennifer Hsieh, one of the festival's organizers. "We promise it will be fun!"
Live demos and experiments will include learning about the non-Newtonian properties of Oobleck - a cornstarch and water slurry; extracting genomic DNA from strawberries; "exploding" Peeps marshmallows in a vacuum chamber; learning principles of gravity and physics by launching emojis using a gigantic slingshot; and much more. The festival's highlights include a coding activity, a video game motion capture booth, a hydrogen fuel cell demo, where an SMC Chemistry professor will exhibit—and talk about—a fully functional cell that SMC students built, as well as a free lecture at the SMC Drescher Planetarium.
The SMC STEM Festival—an interdepartmental collaboration between faculty and students across STEM fields—is spearheaded by the student-run SMC Chemistry Club, which recently received the highest honors from the American Chemical Society for the second consecutive year. Among activities conducted in 2017-2018, which won the club the "Outstanding" award from the world's largest scientific society was the 1st Annual SMC STEM Festival held in 2018.
To attend, please register for the 2019 SMC STEM Festival. The college cafeteria—on the ground floor of the Cayton Center—is located on SMC's main campus at 1900 Pico Boulevard. Signs will be posted on campus with directions from Lots 3 and 4 to the cafeteria. Please see a detailed map of the SMC main campus.
For more information on the STEM Festival, please contact Jennifer Hsieh at hsieh_jennifer@smc.edu or call 310-434-4887. Learn more about SMC's highly regarded STEM Program.