May 8, 2019
SMC Debate Team Members Win Awards at Season's Last Tournament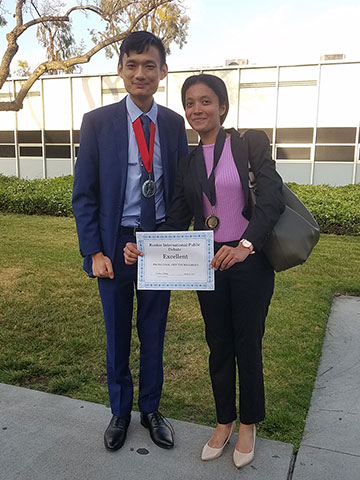 SMC Debate Team Members Win Awards at Season's Last Tournament
SANTA MONICA, CA—The Santa Monica College (SMC) Speech and Debate Team has won three second place awards at the Pacific Southwest Colleges Forensics Association (PSCFA) Cool-Off tournament held April 27 - 28 at Cerritos College.
Chern Xun Gan won second place in both International Public Debate Association (IPDA) debate and also in Impromptu Speaking. And new team member Arundhati Ghosh, in her first tournament ever, also won second place in IPDA debate.
In addition to Chern Xun and Arundhati, five other SMC students competed at the PSCFA Cool-Off: Brandon Chase, JP de Oliveira, Joshua Chang, Will Stonehouse, El Hussein, and Miguel Sanchez.
Over 100 students from 22 California and Arizona community colleges competed at the tournament in a variety of events, including debate, oral interpretation, platform speaking, and limited preparation speaking.
"It was kind of hard to compete at the last round of the debate tournament but it was a learning experience," said Arundhati Ghosh, "I learned some new ways of effective and efficient debating. It was a new experience for me!"
Ghosh debated about whether corporations ought to be held to the same moral standards as the actions of individuals, whether ethical concerns outweigh economic concerns, whether Disney does more harm than good, and whether philosophy should be valued over science.
This was the last tournament of the year for the SMC Debate Team. The team competed and won several awards at seven tournaments this year, including the PSCFA Warm-Up; the Crossman Invitational; the PSCFA Fall Champs; the Tabor-Venitski Championships; the PSCFA Spring Championships; the Phi Rho Pi National Championships; and the PSCFA Cool-Off.
The SMC Debate Team's presence at this tournament was sponsored by an SMC Foundation Chair of Excellence Grant, an SMC Foundation Margin of Excellence Grant, the Associated Students of Santa Monica College, and Santa Monica College.
For more information on the SMC Debate Team, contact Nate Brown at brown_nate@smc.edu or 310-434-8781