May 16, 2019
Law Pathway's Largest Cohort Yet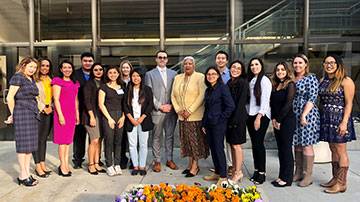 SMC's Law Pathway Celebrates Third & Largest Group of Graduates
Distinctive Pre-Law Program Has Prepared 34 Traditionally Underrepresented Students for Law School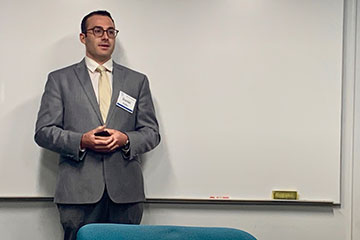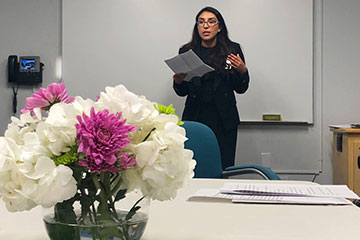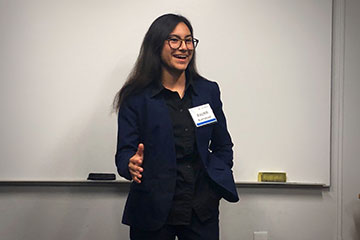 SANTA MONICA, CA—The Law Pathway Program</strong> at <strong>Santa Monica College (SMC) — that prepares traditionally underrepresented students to become competitive applicants to law school — celebrated the third group of students to successfully meet the requirements of completion. An informal ceremony held Tuesday, May 14 at SMC's main campus recognized the 34 graduates.
This third cohort marks the largest group of graduates yet the program's inaugural cohort in 2017 had 10 students; in 2018, 16 students graduated from the SMC Law Pathway Program.
This year's 34 graduates are transferring to universities including UCLA, Columbia University, UC Irvine, and California State University, Los Angeles. Their successful completion of the Law Pathway Program has earned them priority admission review at eight California law schools Santa Clara University School of Law; UCLA School of Law; UC Davis School of Law; University of San Francisco School of Law; Loyola Law School; USC Gould School of Law; UC Irvine School of Law; and UC Berkeley School of Law.
The May 14 celebration featured two Law Pathway graduates Xochitl Buenabad and Aileen Rodriguez as 'graduate speakers'. Karen Funk—UCLA student and SMC Law Pathway 2018 graduate—also spoke about how the SMC Law Pathway Program influenced her current academic pursuits. Daniel Kolko—J.D. candidate at the UC Irvine School of Law, also an SMC UCLA alumnus—was the keynote speaker.
"At Santa Monica College, you get to define what your future will look like," said Kolko. "You're given a platform from which you can take off as far as you aspire to. This is a school that truly cares about ensuring that the student body has this opportunity."
A former SMC student trustee, Kolko discovered his passion for law at Santa Monica College while spearheading "Consent Month," a student initiative to promote awareness for domestic violence and sexual assault through a month of interactive educational events on campus. He was also an SMC Dale Ride intern who interned for Senator Dianne Feinstein in Washington, D.C. and later served as a judicial intern for Los Angeles Superior Court Judge Maureen Duffy-Lewis.
Xochitl Buenabad—the program's youngest graduate—said that she has wanted to be a lawyer since she was 14. "At 17, I'm reading the constitution and I'm passionate about it!" she quipped, and went on to say that her experience in the program and in college has proven that "if you want something badly enough . . . it will happen for you."
The rigorous pre-law program at SMC requires completion of nine courses and offers mentoring, exposure to careers in law, networking opportunities, tailored counseling and leadership training, and an experiential learning component at participating legal organizations including the American Civil Liberties Union (ACLU), Bet Tzedek, and Neighborhood Legal Services of Los Angeles County.
"The backbone of the Law Pathway Program is the incredible staff at SMC, our advisory council, and California Law, Inc. whose mission is to establish a pipeline of diverse students into law so that the legal profession reflects the diversity of California," said Edna Chavarry, Director of Academic Affairs Initiatives at SMC. "We are actively working to grow a program that is a robust pathway for traditionally underserved students towards a career in law."
Chavarry added that UCLA School of Law and UC Berkeley Boalt Hall School of Law as partner institutions were new additions this year.
SMC Political Science professor Christina Gabler, who teaches constitutional law and the capstone course "Experiential Learning in the Law," said, "It has been such a privilege to watch the students support each other through their successes and setbacks as they navigate this new, professional world. They will be leaving SMC with not only the academic preparation that this college provides but also the unique professional experience that is the Santa Monica College Law Pathway."
Gabler stated that the graduates gained firsthand experience in the legal profession through their work with Catholic Charities Los Angeles; Neighborhood Legal Services Los Angeles; and the legal counsel for United Teachers Los Angeles; among other professional firms and organizations.
SMC formed the Law Pathway Program after joining the California Law Community College Pathway to Law School Initiative in 2015, a collaborative effort between California Law Inc., The State Bar of California's Council on Access & Fairness and 29 community colleges and 8 law schools. The collaborative was designed to help diversify the legal profession and smooth the path to law school for underrepresented students. Thuy Thi Nguyen—current president of Foothill College and former Interim President and CEO of the Community College League of California—was the architect of the Initiative and the founding board chair of California L.A.W. Pathway, the nonprofit that coordinated this unprecedented "2+2+3" program.
SMC's Law Pathway team includes Edna Chavarry; Dana Nasser, who teaches Business Law; Political Science professor Christina Gabler; counselor Vicenta Arrizon and career services advisor Joan Kang. Applications for the coming 2019-2020 academic year will be accepted beginning August.
The May 14 celebration was made possible by generous donations from the Law Pathway Advisory Council.
For more information, visit the Law Pathway program's website or contact Chavarry_Edna@smc.edu