June 14, 2019
8,000 Attend Historic Graduation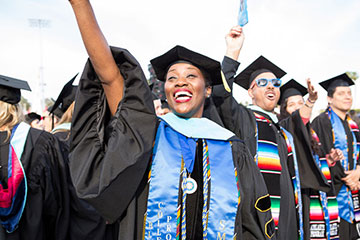 Santa Monica College Celebrates Historic Moment with Largest Graduating Class
Approximately 8,000 Attend 2019 SMC Commencement, CA Secretary of State Delivers Inspiring Address
SANTA MONICA, CA—On a quintessential Southern Californian evening, roughly 8,000 people gathered in Corsair Field to celebrate the largest-ever graduating class in Santa Monica College's history. SMC's 2019 Commencement Ceremony, held at 6 p.m. on Tuesday, June 11 featured California Secretary of State Alex Padilla as commencement speaker.
This year, SMC awarded 9,110 degrees and certificates to 5,905 students among whom were 24 recipients of a Bachelor of Science in Interaction Design. The two youngest graduates were 17; the oldest, Saul Isler, is 85. More than 750 graduates participated in the commencement ceremony, which also featured SMC Superintendent/President Dr. Kathryn E. Jeffery as master of ceremonies; a welcome by SMC Board of Trustees Chair Dr. Margaret Quiñones-Perez; a faculty challenge by SMC Art History Professor and Academic Senate President Dr. Nathaniel Donahue; and a student challenge by Maya Thompson.
Secretary Padilla delivered an inspiring commencement address, delving into his personal life story, the struggles of his family, and the power of education to transform lives. He graduated from San Fernando High School in 1990. Padilla recalled his graduation subsequently from Massachusetts Institute of Technology (MIT) 25 years ago as ". . . a special day for me, but an even more special day for my parents."
He told the graduates his parents' story: how Santos and Lupe Padilla came to the United States from Mexico in the 1960s, Santos with "a first-grade education, a dream, and an incredible work ethic" and Lupe ". . . the lucky one, she was able to finish elementary school. She, too, came to the United States with big dreams and an even bigger heart."
Until his retirement, over a span of four decades, Secretary Padilla's father worked as a short-order cook, while his mother cleaned houses. In speaking of how he and his siblings went on to change the trajectory of their family's lives with higher education and careers in education and public service, Padilla said: "Think about that. In one generation, my family has gone from being immigrants, cooks, and house cleaners, to public servants like myself, standing before you as a constitutional officer for the state of California."
Padilla stated that while the American Dream "is under attack at times, [it] lives on." He encouraged the graduates to register to vote and exercise their constitutional right to make their voices heard, and urged them to use their education and skills to "keep this state golden."
The commencement festivities concluded with an "Alumni and Friends" reception in the SMC quad. For the tenth year in a row, Santa Monica College also shared the event with a worldwide audience through a live webcast. To see more photos and read more about the 2019 commencement ceremony, head over to the SMC Graduation webpage.