July 1, 2019
Station 1 STEM Interns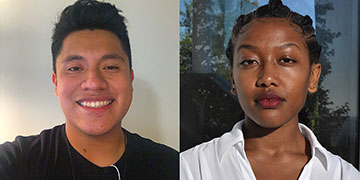 SMC Students Begin Prestigious STEM Residential Summer Fellowships
Through Station 1 Frontiers Fellowship, Students Will Intern for 10 Weeks at Harvard & MIT Spin-Out Startup
SANTA MONICA, CA—Santa Monica College (SMC) STEM students Mariamawit Jembere and Kelvin Noha Martinez have been selected for—and begun—a prestigious 10-week residential 2019 Station 1 Frontiers Fellowship Program in Cambridge, Massachusetts. Jembere is interning at the Harvard University Kennedy School of Government, Ash Center for Democratic Governance and Innovation, Data-Smart City Solutions; Martinez at the MIT spin-out startup company Superpedestrian.
The two SMC students join a select group of fellows from across the nation and the world. Selected by Station 1—a nonprofit organization whose mission is to provide students with socially-directed research and internship opportunities—Jembere and Martinez will receive competitive living expenses and travel stipend, and will benefit from interdisciplinary experience and mentors; get access to a creative, collaborative learning space; receive hands-on experience through a 270-hour research and development STEM project; and much more.
SMC computer science major and sophomore Mariamawit Jembere studied in her native Ethiopia from elementary school through 11th grade. She moved to the U.S. to attend a charter school for her senior year of high school, and came to Santa Monica College upon the recommendation of a high school counselor, who felt that attending SMC might help Jembere determine the STEM major best for her.
"I applied to SMC with an undecided major and started taking diverse courses—a little bit of everything," said Jembere. "The professors, counselors, and students I networked with were very influential. They helped me navigate different career options and inspired me to pursue my current major. I now feel more confident and ready to take the next step. But even now, if I was given a second chance, I would still choose to attend SMC!"
Jembere is a first-generation college student. Her favorite subject is Math, and she wants to base her career on technology and learning, and change the technological resources provided in school, especially high school. "I come from a country where even chalk and markers are a privilege to have in a classroom setting," she said. "But I have a firm belief that high school is where the future and foundation of students are built—and it is important to invest in youth through high-quality teaching regardless of race, age, financial status, or other factors."
Through the Station 1 Frontiers Fellowship, Jembere will be interning at the Harvard University Kennedy School of Government, Ash Center for Democratic Governance and Innovation, Data-Smart City Solutions, which is a civic data resource for an international audience of government officials and civic leaders interested in learning how to use data and technology to make local government more effective.
As for Kelvin Noha Martinez, a rising junior studying Applied Mathematics at SMC, his summer internship has taken him to the exciting MIT spin-out startup company Superpedestrian, a leading transportation robotics company that develops core technologies for micro-mobility. The company invested over three-and-a-half years in research and development to produce its Vehicle Intelligence Technology, setting a new standard in electric bike drive systems. Martinez will interact with the embedded software team to create models for detecting and classifying shocks and high-G events.
It's a perfect match for Martinez, whose career goal is to "use [my] educational background in order to develop or assist in creating new technologies that would enhance research and new discoveries to live better lives." He sees his goal coming true through the creation of "machines that eradicate trash/waste, a technology that can clean our oceans' waters, or develop the next big rocket!"
All his dreams said Martinez, "may sound crazy and impossible," but "as I learned, dreams and goals start somewhere." After graduating from Hollywood High School in 2017, he came to SMC because he was not sure about his financial aid status, and wanted to avoid any massive student loans. His journey has been full of bumps—"I changed majors who knows how many times!"—and he has had to struggle financially.
In his first year at SMC, he also worked at Panda Express, eventually becoming an assistant manager. "I feel proud of my accomplishment because it has been a difficult journey – balancing school, work, and tending to my family's needs. The mark I want to leave for others is that anything is possible. When you put in the work when you fail and bring yourself back up again . . . giving up is just forfeiting the chance you had to succeed." Martinez hopes to transfer to either UCLA, UC Santa Barbara, Cal Poly Pomona, or Cal Poly, San Luis Obispo.
To learn more about Station 1, visit their website: station1.org. Santa Monica College's STEM Science and Research Initiative—funded by a five-year $6 million U.S. Department of Education grant—collaborates and networks with programs and institutions like Station 1, Base 11, and UCLA's Undergraduate Research Center to provide research and internship opportunities to SMC STEM students, who have also received internships at NASA's Jet Propulsion Laboratory; NASA's Community College Aerospace Scholars; USC Viterbi School of Engineering; The Henry Samueli School of Engineering at UC Irvine; Caltech; and many more. Please visit the SMC STEM website for more information.