September 20, 2019
SMC Photo Silent Auction for the Hungry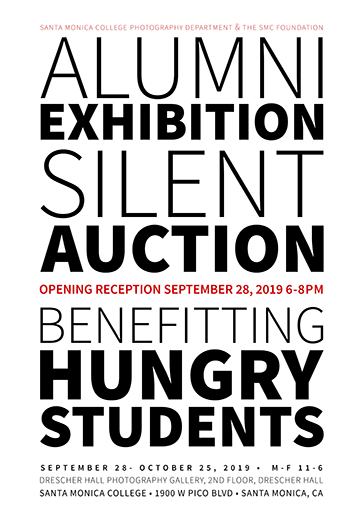 SMC Photography Department Alumni Exhibition Silent Auction & Opening Reception September 28
Exhibition Runs September 28-October 25
SANTA MONICA, CA — The Santa Monica College Photography Gallery and the SMC Foundation have joined hands to raise funds for hungry SMC students with the Santa Monica College Photography Department Alumni Exhibition Silent Auction.
An opening reception and kickoff for the silent auction — with 100 percent of proceeds going to feeding students — will be held September 28 from 6 p.m. to 8 p.m. in the SMC Photography Gallery. The gallery is located opposite the elevators on the second floor of Drescher Hall, on the main SMC campus at 1900 Pico Blvd., Santa Monica.
The exhibition, which runs through October 25, will feature exciting personal and visually captivating works created by some of the most impressive alumni to graduate from SMC's Photography Department.
The silent auction runs through October 25. Silent auction sheets will be available in the gallery, and the auction includes a 'buy it now' option.
SMC Photography Gallery exhibits and receptions are free.
For gallery hours and more information, please call 310-434-4289 or 310-434-3547.