September 24, 2019
SMC Students, Volunteers Clean Coast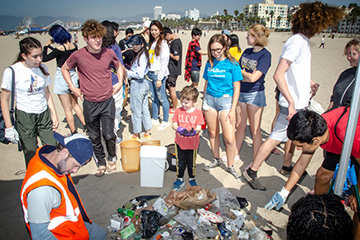 Hundreds of SMC Students, Volunteers Help Clean up Coast
On Coastal Cleanup Day 2019, Santa Monica College's Adopted Beach the "Inkwell" is Cleared of 264 pounds of trash by 821 Volunteers
SANTA MONICA, CA—On Coastal Cleanup Day 2019—held Saturday, Sept. 21—approximately 100 Santa Monica College (SMC) students and employees volunteered to help clean up the coast, right at home. A total of 264 pounds of trash and recycling were collected from a one-mile stretch of the Santa Monica beach known as the "Inkwell." Adopted by SMC as its 'section,' this historic site is where SMC student Nick Gabaldón and other African Americans challenged Jim Crow racism and helped open public beaches for all.
Hundreds joined the SMC volunteers to help: there was a total of 821 volunteers including K-12 students, and community members (including those who work for local employers—90 employees from Cedars Sinai Medical Center, for example).
"What inspires me is the lasting education people get by experiencing a day like this. It is what's right about humanity: coming together for a common cause, cleaning the beaches before the storm season sets in, making new friends while we learn about the damage that decades of the disposables economy has caused," said SMC Life Sciences Professor and Department Chair Dr. Alexandra Tower. "It inspires me to see others inspired, and it's what keeps me looking forward to a zero-waste, sustainable future."
The day also had an educational component—marine scientist and Marine Biology Samohi teacher Benjamin Kay had his Team Marine volunteers sift the trash to learn what is recyclable, what is not, and how products can be designed to be more recyclable. Kay also teaches part-time in SMC's Life Sciences department.
SMC's Sustainability Manager Ferris Kawar also added that it was "encouraging to see students come down early on a Saturday morning to work shoulder to shoulder with others to clean up the beach that has provided so much enjoyment to them all summer."
Coastal Cleanup Day is the largest volunteer event in the U.S. To facilitate the day, Heal the Bay partners with the Ocean Conservancy, to oversee the site captains in Los Angeles County (SMC is considered "site captain" for the Pico Blvd./Bay St. site). At last report, 13,914 Angelenos participated across 79 sites and collected 30,000 pounds of trash from creeks, beaches, and parks.
Santa Monica College is widely recognized as a leader in sustainability among college campuses, not just in California, but also nationwide. SMC is the only California Community College to have a bike-friendly university certification: the college won a Silver-level Bike Friendly University award from the League of American Cyclists in 2018 in recognition of the college's achievements in promoting a bike-friendly culture.
SMC's commitment to sustainability is visible in the Center for Environmental and Urban Studies; an organic learning garden; first-of-its-kind academic and career programs in fields like Recycling and Resource Management and Solar Photovoltaic Installation; active student clubs; a recycling program for electronic waste; and much more. Learn more about all things sustainability at SMC.