October 17, 2019
Solidarity with & Advocacy for Undocumented Students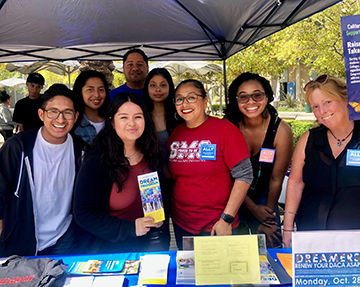 Solidarity with & Advocacy for Undocumented Students Continue at SMC
Part of California Community Colleges "Undocumented Student Week of Action" October 14 – 18, 2019
SANTA MONICA, CA—Santa Monica College (SMC) employees and students shared their immigrant stories and messages of hope for undocumented students at a mini resource fair on the quad of the SMC main campus on Wednesday, October 16. The event was part of a weeklong lineup of activities held at the college October 14-18 for Undocumented Student Week of Action.
Other events this week included walk-in workshops covering such topics as mental health resources and California Dream Act application assistance; a presentation by CHIRLA (the Coalition for Humane Immigrant Rights) on student advocacy & updates on DACA (Deferred Action for Childhood Arrivals); a keynote address "Owning Your Narrative & Forming Your Own Identity" by Ernesto Rocha "aka Undocubae"; and much more.
The SMC Board of Trustees had passed a resolution at their October 1 meeting—following a California Community Colleges Board of Governors resolution—declaring October 14-18, 2019 the third annual Undocumented Student Week of Action. SMC joined the California Community Colleges in supporting undocumented students as part of a state-wide effort among community colleges and partner organizations to "encourage the California Community Colleges to engage in activities supporting undocumented students" and to "urge Congressional members to uphold California values and create a pathway to citizenship for undocumented students, which will permit them to complete their educational goals and achieve their highest potential."
For more information on SMC's DREAM Program which provides academic, career, and personal counseling and other services to undocumented students, please contact Associate Dean of Special Programs Nicholas Mata at Mata_Nicholas@smc.edu or go to the SMC DREAM Program web page.
About Santa Monica College:
Founded in 1929, Santa Monica College is a California Community College accredited by the Accrediting Commission for Community and Junior Colleges (ACCJC) of the Western Association of Schools and Colleges (WASC). For 28 consecutive years, SMC has been California's leader in transfers to UCLA, UC Berkeley, and other University of California campuses. The college also tops in transfers to the University of Southern California and Loyola Marymount University. More than 110 career training degrees and certificates at SMC offer professional preparation for students interested in directly entering the job market, transferring to a four-year school, or upgrading specific skills. SMC provides news and cultural enrichment through its NPR radio station KCRW (89.9 FM) and The Broad Stage at the SMC Performing Arts Center as well as lifelong learning through distinctive programs such as its Emeritus Program for older adults.