October 25, 2019
Debate Wins 3 First-Place Awards at Crossman Invitational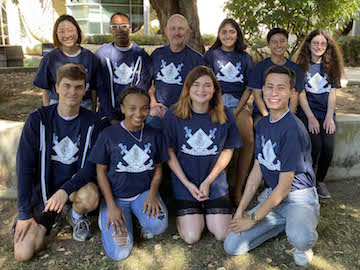 SMC Debate Team Wins Three First-Place Awards at Crossman Invitational
SANTA MONICA, CA—The Santa Monica College (SMC) Speech and Debate Team won three first-place individual and team awards at the Crossman Invitational Tournament held Oct. 19-20 at El Camino College.
A total of 21 SMC students—the largest group at an event in team and SMC history—competed in three different events. Rachel Sun took first place in the Novice division, and Dom Smith took first place in the Open division of the International Public Debate Association (IPDA). The SMC team also took first place in the Sweepstakes—by earning more points than any of the other 15 community colleges, including teams from Pasadena City College, Moorpark College, and Los Angeles Valley College.
On day one of the tournament, 13 students competed in the team event of National Parliamentary Debate Association (NPDA). Teams from 16 community colleges and six universities competed, including UC Berkeley, UC San Diego, and Concordia University.
SMC's Xochitl Buenabad, Dexter Cypress, and Ariyana Tavakoli advanced to the octo-finals. Debate topics included the importance of the rights to privacy; reforming sentencing of non-violent criminals in California; whether the method of conducting presidential debates needs reform; and whether the U.S. should pass the Horse Racing Integrity Act.
On day two, SMC dominated in the event of International Public Debate Association (IPDA), with 17 SMC students in competition. Nine advanced to the elimination rounds and won awards. Dexter Cypress, Brandon Chase, Yusef Vestle, Kelsey Molle, Gabby Montgomery, and Jules Shinbrot won third place. Genevieve Faherty placed second. And two—Dom Smith and Rachel Sun—finished with first place trophies.
Some of the IPDA debate topics included universal basic income; the consideration of paying college athletes; forgiveness of student loan debt; and the advantages and disadvantages of rent control.
Dom Smith, who took first place in the Open division, debated against Nicolas Graves of UC San Diego, who is an SMC Debate Team alum. "If someone had to beat me, I'm glad it was [someone from] SMC," Graves said. Smith won every round in which he debated that day.
"Competing in IPDA after having competed in NPDA the day before really helped me elevate my organizational and argumentation techniques," said Rachel Sun. "I also found that having a little knowledge about foreign relations and politics is very helpful because all the resolution topics and previous research is cross applicable to other foreign relation topics."
Team captain Brandon Chase said, "No matter how many tournaments I go to, I always feel like I've learned so much. Each one is its own unique adventure, and there's never a dull moment. The crazy thing is you can win against the best of the best, and lose to the worst, so you never truly know how you did until you get your ballots. I'm just incredibly proud of our team. We had the biggest team ever sent to a tournament, and half of them made it into the elimination rounds! Our hard work and dedication is paying off!"
Xochitl Buenabad said that watching her teammates succeed alongside her was "a rewarding feeling."
The Associated Students of Santa Monica College sponsored the SMC Speech and Debate Team's presence at the competition. For more information on the team, contact Nate Brown at brown_nate@smc.edu or 310-434-8781.
Santa Monica College is a California Community College accredited by the Accrediting Commission for Community and Junior Colleges (ACCJC) of the Western Association of Schools and Colleges (WASC).