October 25, 2019
"The Ongoing Moment" 2019 Edition Launch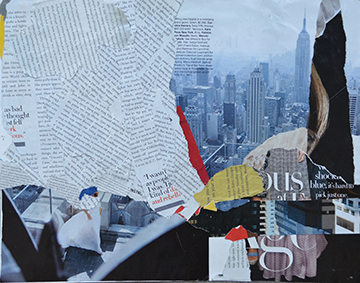 The Ongoing Moment Opening Reception and Author Readings at SMC's Emeritus Art Gallery November 14
Collaborative Art and Writing Exhibit Runs November 14-January 15
SANTA MONICA, CA — SMC's Emeritus Art Gallery is pleased to announce The Ongoing Moment: Literature and Art from SMC Emeritus, a journal/exhibition of original writing and art created by Emeritus students in the memoir writing class led by author Monona Wali and the watercolor studio class taught by artist Catherine Tirr.
The free exhibition will run November 14 through January 15 in the SMC Emeritus Art Gallery, located on the first floor of SMC Emeritus, 1227 Second Street, Santa Monica. An opening reception with author readings — also free to the public — will be held Thursday, November 14, from 5 p.m. to 6:30 p.m. Author readings will start at 5 p.m. in Room 107, and be followed by a reception with light refreshments in the gallery. Additional details are available by calling 310-434-4306.
Gallery hours are 8:30 a.m. to 4:30 p.m. Monday through Friday. The gallery will be closed for Thanksgiving November 28-December 1.
In the introduction to this year's edition, Wali and Tirr write:
Stories and art revealed by the quiet mind, the mind finely attuned to the inner voice, are what animate this year's issue of The Ongoing Moment. The challenge to write and paint in order to discover, to hear, to acknowledge and become aware of the voice deep inside can only be taken up when the mind is still, and memory and imagination are alive and hungry for expression.

The stories in this issue of The Ongoing Moment meet the challenge head on. In the Thursday and Monday writing classes, the students have evolved into sophisticated and generous listeners. They listen for the heart of the story, for what the writer has come to say, and they offer feedback that reflects their careful listening so the writer can know their strengths and know where the story needs revision. The diversity of voices is astonishing; the stories revealing the very best of what happens when the writer engages deeply with memory and experience.

The artists this year searched for images that would convey the abstract concepts of tranquility and silence, and to do that they sought out idyllic spaces. With the increasing noise and barrage of information and disinformation, it has never been more important to shut down the chatter and quiet the mind. For some, it was an immersion in nature; for others, the actual activity of making art. The resulting paintings and collages are sometimes as complex as the network of capillaries visible when looking at the sun through closed eyelids, and sometimes as simple as a gesture. It has been an interesting theme to consider and develop, and especially fruitful for those lucky enough to find moments of stillness in a frenetic world.
"The Ongoing Moment shows synergy between the work of our writers and artists. Students and faculty take great care in composing their works, and in arranging their work together," said SMC Emeritus Associate Dean Dr. Scott Silverman. "It is a refreshing take on the typical gallery experience."
This year's edition of The Ongoing Moment features written works by Cynthia Allen, Peter Bergquist, Lois Bostwick, Sara Bragin, Dorothy Chin, Betty Cota, Dorothy Curtis, Judy Davidson, Terry Dicks, Fran Feinman, Linda Fenster, Amy Greenwood, Dinah Hatton, Michael Higgins, Marie Kennedy, Teri Kinne, Leonia Kallir Kurgan, Pamela Lane, Esther Lanier, Jeanne Lee, Tamar Levin, Nancy McKeever, Rhoda Newman, Anne Pellant, Esther Pearlman, Beth Rubin, Veena Sadana, Joe Samuels, Arlene Cydna Shapiro, "Original" Mike Smith, Marsha Straubing, and Frima Telerant.
Artwork in this year's edition was created by Marilyn Alquizola, Jill Benham, Jeanne Blessing, Angela Boies, Hector Chao, Ilona Finta, Linda Freedman, Marjorie Grace-Sayers, Wendy Hagar, Marcia Harris, Kathleen Higgins, Susan Katz, Sun Lau, Gail Lonseth, Francine Lucey, Sandra Mano, Lore Meline, Florence Mesker, Barbara Milliken, Judi Morse, Alice Mouradian, Janice Nishida, Roman M. Pecot, Helene Poletti, Lori Pollack, Paula Ross, Zahra Surur, Estelle Tuvman, Akemi Watanabe, and Adam Yu.
Copies of The Ongoing Moment will be available for purchase at the reception and at SMC Emeritus throughout the week, while supplies last. The cost is $10 per copy.
SMC's widely praised Emeritus program, founded by Santa Monica College in 1975 to serve the lifelong learning interests of older adults, offers more than 120 noncredit adult education classes and special programs that serve more than 3,000 students each year.