December 12, 2019
Debate Team Wins Awards at PSCFA Tournament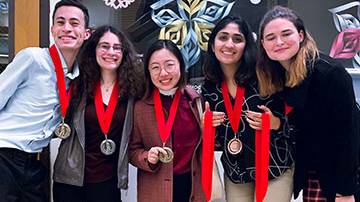 SMC Debate Team Wins Several Awards at PSCFA Tournament
Concludes Most Successful Semester in Team's History
SANTA MONICA, CA—The Santa Monica College (SMC) student Speech and Debate Team competed at the Pacific Southwest Collegiate Forensics Association (PSCFA) Fall Champs Tournament at Moorpark College on Dec. 6-7, and won several awards in two different debate events. These wins cap off what has been the team's most successful semester in its history. Over three fall tournaments, SMC students have won 10 Gold, 9 Silver, and 12 Bronze awards.
Thirty-five colleges and universities from California, Arizona, Utah, and Virginia competed at the PSCFA Fall Champs, including University of Utah, Cal State Northridge, San Diego State University, and Grand Canyon University. In addition to one Gold award for a two-person team, the SMC debaters won two individual Gold, two Silver, and three Bronze awards. The team also took home two 1st place Sweepstakes trophies, including 1st Place for Limited Entry, and 1st Place for Novice Entry.
On Friday, Dec. 6, three pairs of students competed in the team event of National Parliamentary Debate Association (NPDA). SMC students Ariyana Tavakoli and Dexter Cypress advanced to the final elimination round and won against Pasadena City College on the topic, "The Democratic Party has shifted too far to the left."
"Fall Champs was the tournament that made me realize how proud I am to be a part of such an encouraging and amazing team," Tavakoli said. "It gave not only me, but the entire team the chance to show who we really are and I can't wait to see what the future holds!"
On Saturday, Dec. 7, seven SMC students advanced to the elimination rounds of IPDA debate (International Public Debate Association). Andrew Gamboa, Gabby Montgomery, and Ariyana Tavakoli took Bronze awards. Jules Shinbrot and Kelsey Molle took Silver awards.
Rachel Sun and Dexter Cypress won their final rounds, taking Gold awards, both against debaters from Maricopa Community College. In her final round, Sun debated on the topic, "Courts are for the law; not justice," while Cypress debated on the topic, "The US should lower the minimum legal drinking age to 18."
Sun said that she was "very grateful for such an enriching and fulfilling debate experience this semester." "I am forever thankful for all the encouragement and guidance I've received from my team members and our coach, Nate Brown," she added.
Andrew Gamboa—whose Bronze award was his first trophy, at the fifth tournament of the semester—said, "Personally, my time in Communication Studies 22 (Introduction to Competitive Speech & Debate) felt like being with family. A class of ambitious individuals who care about one goal: winning and being better debaters. Because of this similarity, we became friends with each other; these friendships became a major supporting role for the vast majority of us winning awards. A family supports and cares for each other—there is no other class at Santa Monica College that embodies this value more than the Speech and Debate Team!"
The Associated Students of Santa Monica College sponsored the SMC Speech and Debate Team's presence at the competition. For more information on the team, contact Nate Brown at brown_nate@smc.edu or 310-434-8781.
Santa Monica College is a California Community College accredited by the Accrediting Commission for Community and Junior Colleges (ACCJC) of the Western Association of Schools and Colleges (WASC).