December 17, 2019
First Responders Free Portraits Jan. 10-11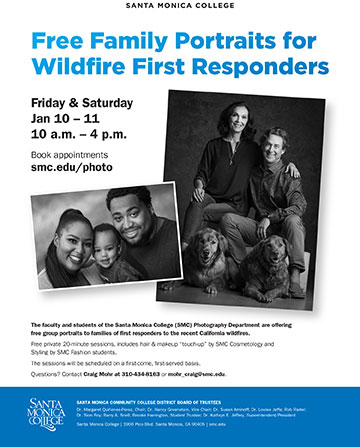 SMC Photo Dept. to Offer Free Family Portraits Jan. 10-11 For Wildfire First Responders
Private 20-minute Sessions; Includes Hair & Makeup by SMC Cosmetology and Styling by SMC Fashion Students
SANTA MONICA, CA—The faculty and students of the Santa Monica College (SMC) Photography Department will offer free group portraits to families of first responders who helped save life and property during the recent California wildfires.
The photo sessions—to be scheduled on a first-come, first-served basis—will take place on Friday, Jan. 10 and Saturday, Jan. 11, 2020 from 10 a.m. to 4 p.m. Those interested can book appointments through the reservation link available on the SMC Photography department website.
Each family will receive a private 20-minute session in the photo studios at SMC's main campus at 1900 Pico Blvd. in Santa Monica. The package includes hair and makeup touch-up services to be provided by SMC Cosmetology students; SMC Fashion Design & Merchandising students will also be on hand to assist with last-minute wardrobe styling adjustments. Archival B&W matted prints and a flash drive with all the images from the session will be provided to families.
The SMC photo studios are located on the first floor of Drescher Hall. Free parking is available in adjacent lots on Pico Blvd. (Lots 3 and 4); view a map of SMC's main campus.
The student photographers participating in the project are enrolled in classes taught by the entire department's faculty under the guidance of Chair Josh Sanseri. In January 2019, the SMC Photo, Fashion and Cosmetolgy Departments offered free family portraits for those who had lost their homes in the Woolsey Fire.
"The overwhelming gratitude we and our students received from those who'd lost so much in the Woolsey Fire last year touched all of us deeply," said Craig Mohr, SMC Photography professor, "And when the devastating fires struck again this fall, we knew that we had to do something again – this time round, for the fire responders who worked tirelessly and in grave danger to save life and property. It's our way of saying, 'thank you' from the bottom of our hearts!"
The Santa Monica College Foundation partnered with the Santa Monica-Malibu Unified District to raise over $51,000 for families of students and employees who lost homes and/or had their homes damaged in the Woolsey Fire.
SMC's Photography Department offers both an Associate in Arts degree as well as a Certificate of Achievement in Photography; see the SMC Photography department website for more information. The SMC Cosmetology department offers a number of options—including an Associate Degree and Certificate of Achievement in Cosmetology, and department certificates in esthetician, nail care, and business/salon entrepreneurship. And SMC's Fashion Design & Merchandising department offers an Associate Degree and Certificate of Achievement in two areas: Fashion Design and Fashion Merchandising.
Additional inquiries about the free portrait sessions may be directed to Craig Mohr at 310-434-8163 or Mohr_Craig@smc.edu.